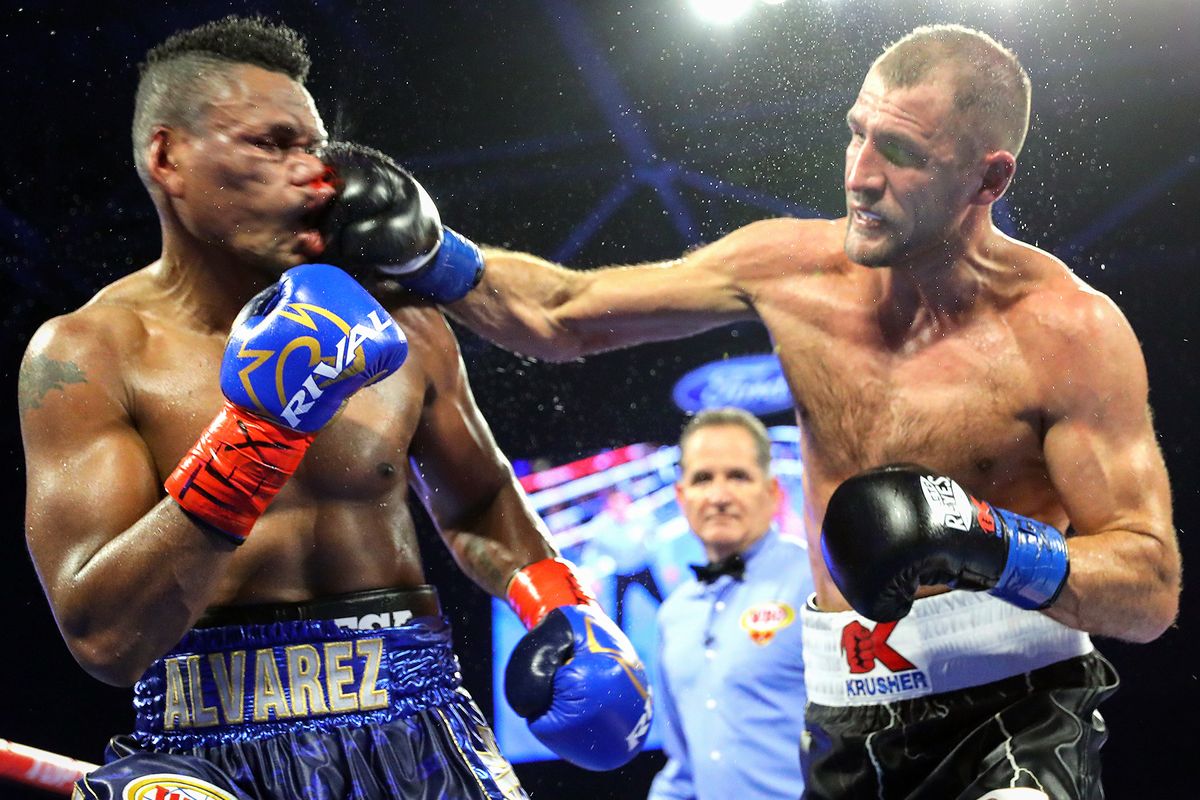 Sergey Kovalev lands a right hand against Eleider Alvarez. (Photo courtesy of Top Rank Promotions.)
It was a night of redemption for Sergey Kovalev, as the light heavyweight claimed the World Boxing Organization belt for the third time in his career by defeating Eleider Alvarez by unanimous decision (120-108, 116-112 x2) Saturday in Frisco. SportsMap.com scored the bout 117-111 for Kovalev.
The fight was the first for Kovalev under new trainer Buddy McGirt. From the outset Kovalev (33-3, 28 KO) looked like a completely different fighter from each of his previous career fights. Instead of his usual all pressure style, the heavy handed Russian seemed happy to box with Alvarez (24-1, 12 KO,) landing three and four shot combinations, and getting out of the pocket and back to safety. Alvarez looked puzzled by Kovalev's new tactic throughout the fight. Kovalev outlanded Alvarez in 11 of 12 rounds finishing with 213 landed punches to Alvarez's 111.
The win sets up plenty of interesting potential fights for Kovalev, including the possibility of a unification bout with WBA light-heavyweight champion and fellow Russian countryman Dmitry Bivol. But Kovalev will need to get another win prior to any fight: he is due in court in March on felony assault charges.
LOPEZ PASSES TEST AGAINST MAGDALENO
Diego Magdaleno was supposed to be a big step in in competition for super-lightweight prospect Teofimo Lopez. After the bout ended, it looked like Lopez could have stepped higher. Lopez (12-0, 10 KO) battered Magdaleno throughout the fight before closing the show with a brutal knockout in the seventh round.
The fight was marred by poor officiating and poor work from Magdaleno's corner. Magdaleno (31-2,13 KO) should have never been allowed to leave his corner for round seven; he had been bloodied and badly beaten and appeared to have no chance to stage a comeback. But Magdaleno's corner allowed him to continue and the 32-year old veteran was quickly knocked out after a pair of hooks dropped him to the canvas for good. Magdaleno's corner took exception to Lopez's celebration. Lopez completed a backflip in the center of the ring and home run swing celebration while Magdaleno continued to lay motionless on the canvas.
VALDEZ SHAKES OFF RING RUST IN KO OF TOMMASONE
Featherweight titleist Oscar Valdez made his return to the ring after an 11th month injury layoff, knocking out the overmatched Carmine Tommasone. Valdez (25-0, 20 KO) appeared to be rusty early in the fight, missing badly on looping hook attempts. But Valdez found a home for the power shots by round three, knocking down Tommasone (19-1, 5 KO) three times en route to a knockout victory.
Tommasone looked like a worthy opponent early in the fight, causing Valdez's early troubles with landing power shots. But once Valdez figured Tommasone out the fight was virtually over. Tommasone had no power behind his punches and pressed the issue, overpowering the featherfisted Tommasone.
The night wasn't all bad for Tommasone. Despite being knocked out just minutes prior, the 34 year old Italian national dropped to one knee and proposed to his girlfriend during the post fight interview. She said yes, moving Tommasone's record to 1-1 on the evening.

I can't win.
For the past two years, I was an Optimum cable TV subscriber. The service was pretty decent, unless it rained somewhere in the Northern Hemisphere. But I had a bigger gripe. Despite living only a short, 25-minute drive from Minute Maid Park, I couldn't watch Houston Astros and Houston Rockets games. Optimum cable does not carry Space City Home Network (formerly AT&T SportsNet SW). How annoying and exceedingly dumb is that?
They say that people can get 150 stations on their cable lineup, but they really watch only five stations. Mine are Tennis Channel, ESPN, QVC, CNN and Space City Home Network. If you added up my total hours of TV watching, Space City Home Network would be No. 1. That's the best part of Astros and Rockets – they're almost always on.
Because I was an Optimum subscriber, I had to follow Astros games on radio while watching pitch-by-pitch stats flash on my phone. I believe this is how fans followed baseball games during the Dark Ages.
Two weeks ago, I was fed up to here. I called Optimum, said I'm quitting, come get your stupid cable boxes.
And I switched to DirecTV. I got my Astros and Rockets back. Wednesday night, I watched the resurgent Rockets defeat the OKC Thunder. After three years of torment, the Rockets are playing aggressive, entertaining and winning basketball (at home, anyway).
Except now I can't get Houston Texans games. I can't win.
That's because TEGNA, the mega-powerful broadcast company that owns KHOU (Channel 11, Houston's CBS affiliate), is in a pee'ing match with AT&T, the owner of DirecTV and U-verse cable companies that service thousands of Houston subscribers.
Here's a shocker, the dispute is over money. TEGNA, based in Tysons, Virginia, wants to hit DirecTV and U-verse with a big rate bump. DirecTV and U-verse say they don't want to have to pass along the rate increase to their customers.
Yadda, yadda, on Nov. 30 DirecTV and U-verse pulled the plug on Channel 11 and began running a message blaming greedy TEGNA for the whole mess. TEGNA, in turn, blames skinflint DirecTV for not paying a fair price for its stations' programming. So far, DirecTV and U-verse customers have been deprived of watching the Houston Texans' thrilling victory over the Denver Broncos, the SEC championship game between Alabama and Georgia, and all other CBS programming.
Like most disputes between heartless billion-dollar companies, it's the little guy who gets kicked in the keister. The Texans have five games remaining on their 2023 schedule – all of them are scheduled to air on CBS. And get this, if the TEGNA vs. DirecTV and U-verse drags on, guess which network has the 2024 Super Bowl?
How long will the TEGNA vs. DirecTV and U-verse squabble last? Who knows? It's not like either side has rent coming up in a few weeks and needs the money. The sides reportedly are far apart.
Fans have every right to fire their displeasure. But make sure your aim is true. I keep reading bitter complaints against KHOU on social media. KHOU is not the villain. KHOU is a victim.
KHOU would love to air Houston Texans games. KHOU posts some of its highest-ratings for Texans games. Affiliates get several minutes during NFL games, plus pre-game and post-game shows, to sell local advertising spots at a premium price. KHOU salespeople are missing out on tasty commissions because two of Houston's most popular cable carriers aren't airing CBS programming.
If you stare at the Channel 11 screen while Mr. Announcer describes DirecTV's side of the conflict, one solution is for subscribers to hook up an old-fashioned antenna to bring in KHOU programming. And you thought the days of dangling aluminum foil from rabbit ears were gone? Or putting Junior on the roof and telling him, "Move five feet to your left and point the antenna east, let's see if that works."
A similar TEGNA-DirecTV disruption occurred in 2020. That one lasted two weeks. The clock is ticking on the Texans-Jets game this Sunday. The Texans are favored by 3.5 points. It's a gift – take the Texans.
SportsMap Emails
Are Awesome