Local farms need a helping hand.
Volunteering at a local farm does wonders for your mental health!
May 26, 2019, 6:50 am
Jovan Abernathy is an international marathoner and owner of Houston Tourism Gym. To claim your free tour, contact her at info@tourismgymhtx.com
I don't know if you noticed this, but a lot of my stories begin with me at a brewery. This is no acceptation. So, I was at Sigma brewery having a lonely beer, turned to the left and noticed another lonely beer drinker. We began talking. I am a fan of talking to strangers. What makes Houston so great is that we take time to get to know each other.
Thomas and I (Oh, his name was Thomas) bonded over beer and our love for scripted wrestling (think WWF and GLOW of the 80's). We laughed at pictures of the Doomsday Wrestlers in the brew room and videos of my cousin, DeDe, when she was a Powerful Woman of Wrestling in the late 80's.
Thomas and I became fast friends. It turns out that he owned Finca Tres Robles, the only privately owned farm in the inner loop. I had been looking for a unique activity for my tourists to get involved in. We made plans for me to tour his farm.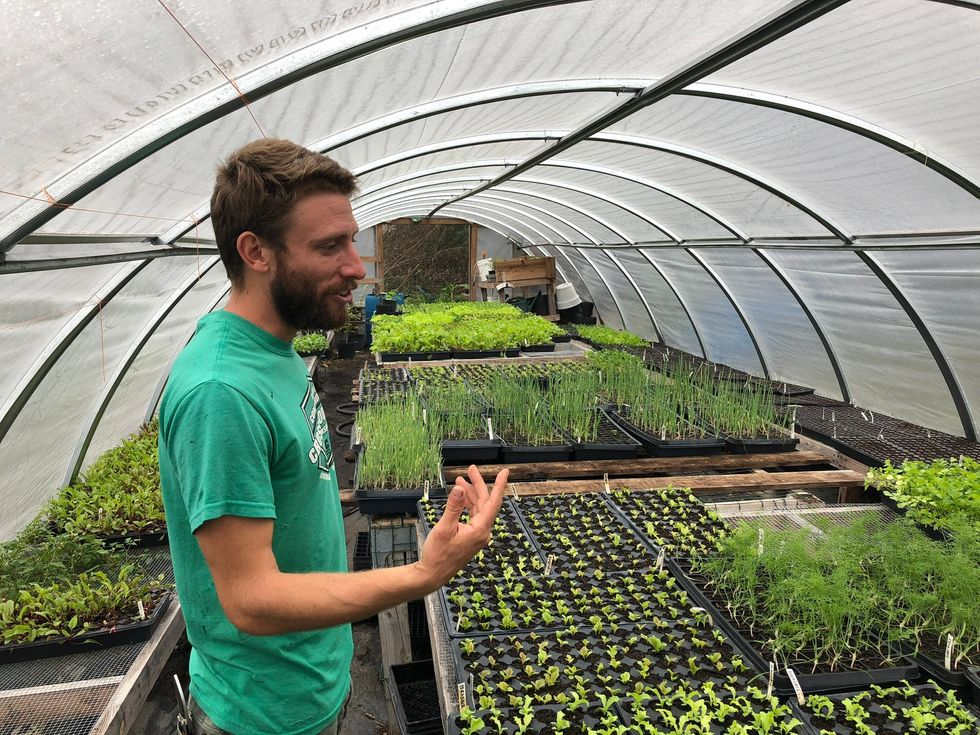 ​Thomas explains what's growing in the greenhouse.
Author's own.​
The following Saturday, I turned off of Navigation onto Greenwood before stopping at the farm gate. Thomas meets me at the gate. I can tell he is just as excited as I am. The farm is 1 sq. acre. Picnic tables lined the front next to the farm stand. String lights hung from a tree. There were banana trees to the right, rows of vegetables down the middle of the farm, and greenhouses to the left.
Thomas begins to tell me a bit about the farm and what is in season. As Thomas is talking, I'm taking pictures of the vegetation. Let's take a break here.
Did you ever watch Portlandia? The episode where they go to the restaurant and learn that the chicken on special was organic and cage-free. Before they order, they excuse themselves to visit the actual farm to make sure that the chicken is actually cage-free and organic. Thomas is the real life example of this integrity.
He never had intentions of being a farmer. Thomas became curious of where our food was actually coming from and was it actually healthy? His quest led him to Maine where he served on an organic farm as an apprentice for 4 years. During this time, he found that farming really aligned with his true, inner self.
Moving back to Houston, he began looking for a farm to work on. He couldn't find one that fit his standards, so he and his brothers started Finca Tres Robles. They had no experience in farming what-so-ever and depended on the "fail forward" philosophy. Thomas and his brothers have found a way to produce good looking, tasty vegetables using no pesticides and all recycled products. According to Thomas, failure is a part of being a farmer. So much is out of your hands. You can do everything right on your end and still not have a good crop. "I wish everyone had this experience. Perfection is a non reality. It's pretty liberating."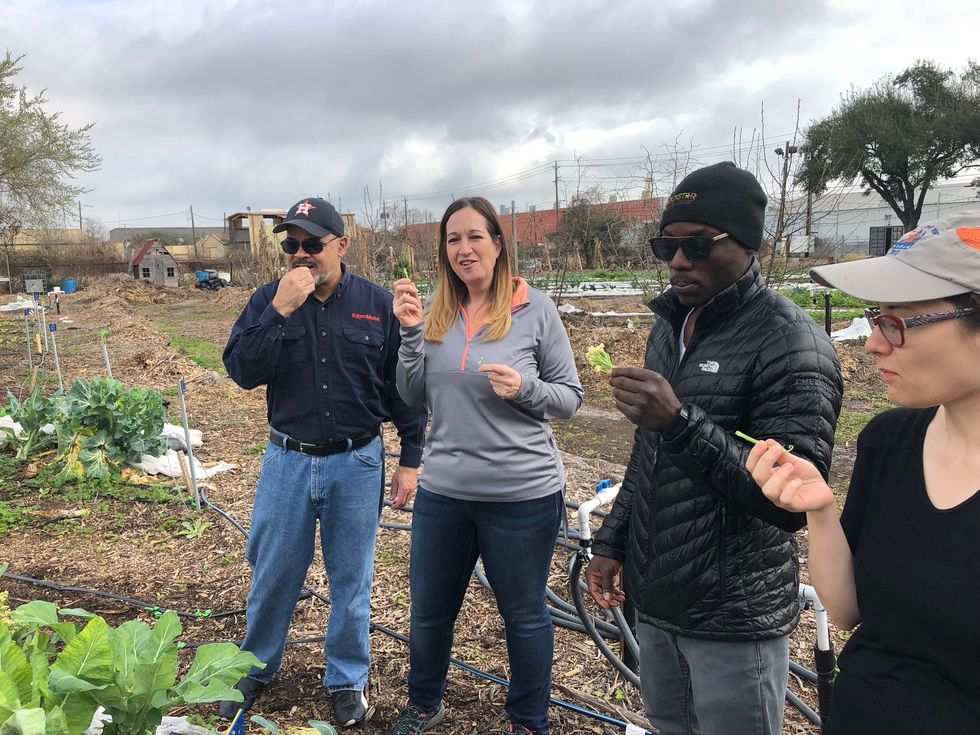 Volunteers getting a taste of wholesome food.​
​Author's own.
The next month, I bring my "tourists" to volunteer on Finca Tres Robles. Let's make things clear of why we are even discussing this in the health and fitness section of SportsMap.com Farming is proven to do amazing things for your mental health. There is nothing like being tactile with your food, pulling it out of the ground, feeling the soil in your hands, and just learning the entire ecology of the earth. One thing that Finca Tres Robles wants to teach Houston is that your food should be good for you and taste good and this is how it is done.
The morning that we volunteer, everyone gathers at the picnic tables. We are waiting for Thomas to give us a tour and give us our assignments. We are all impressed with this small space that not too many people are aware of. Everyone agrees that the green leafy vegetables are the best they have ever seen. We are in disbelief that for a farm that uses no pesticides, there are so few holes in the leaves.
After the tour, Thomas takes us to our assignment. Finca Tres Robles needed some weeding. Everyone dropped to their knees and began pulling. It was really relaxing to feel the earth in your hands. To see worms and bugs crawling on the dirt. We got to know each other and tell stories about ourselves the entire time we were weeding. When our work was complete, we all stood up, brushed the dirt off of our clothes, feeling proud and relaxed.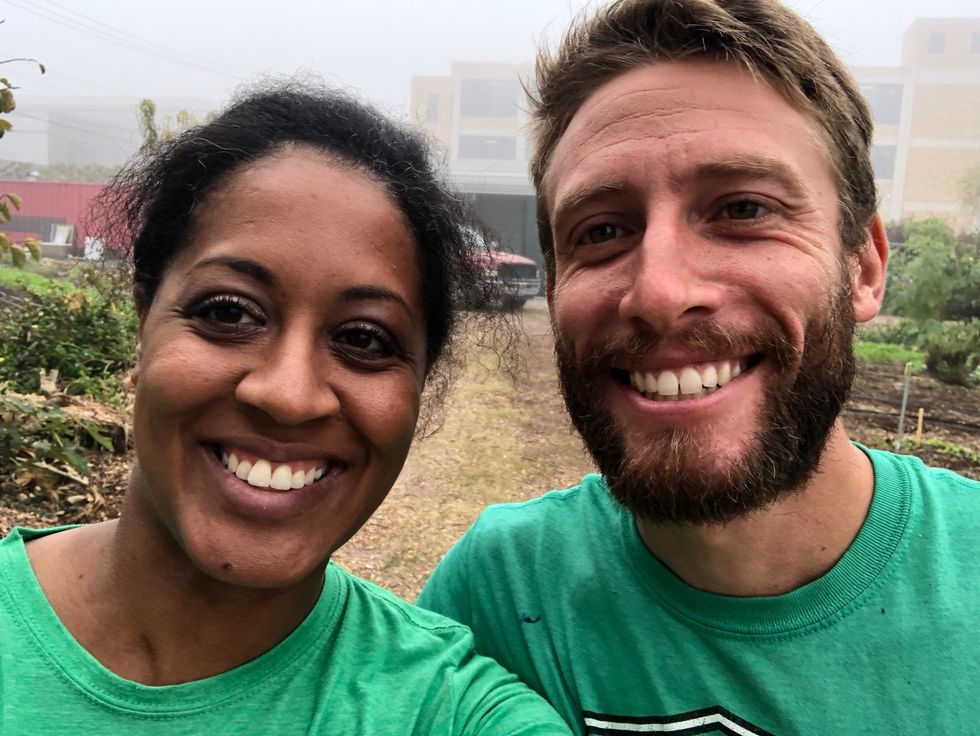 Author's own.​
It has been over a year since I met Thomas and volunteered at Finca. Recently, I called him to catch up. I was happy to hear that Finca Tres Robles is still going strong. In fact, they have been selected to consult for a farm project with Lyndon B. Johnson Hospital. The project is the first public, urban farm on a hospital campus. Thomas is excited that such a big organization was recognizing the value of farming.
I ask about what is new for the season. "One of our best sellers is Misome," which is an Asian green that has a mild, mustardy flavor with tender, bright green leaves. "Also, summer burr gherkins. I call them African cucumbers. We harvest them when they are about the size of an egg. They look like mini watermelons and have a crisp cucumber flavor." I get a kick out of his passion for food. He sounds like a chef.
I bet you are wondering how you can get involved. Take your pick. You have until mid July to subscribe to their CSA farm share program. You can enjoy the same volunteer experience that my "tourists" and I had every 3rd Saturday. You can tour Finca Tres Robles every 2nd Saturday and Pick it yourself every 4th Saturday.
It's not all work and no play, enjoy free yoga at Finca Tres Robles every Wednesday at 7pm. Or you could join them for their 5th Anniversary Abundance Farm Dinner on Sunday, June 2nd. $65 gets you a 4 course meal with cocktails or beer from Sigma Brewery.
Follow Finca Tres Robles on Instagram, Facebook, and Twitter at @FincaTresRobles.