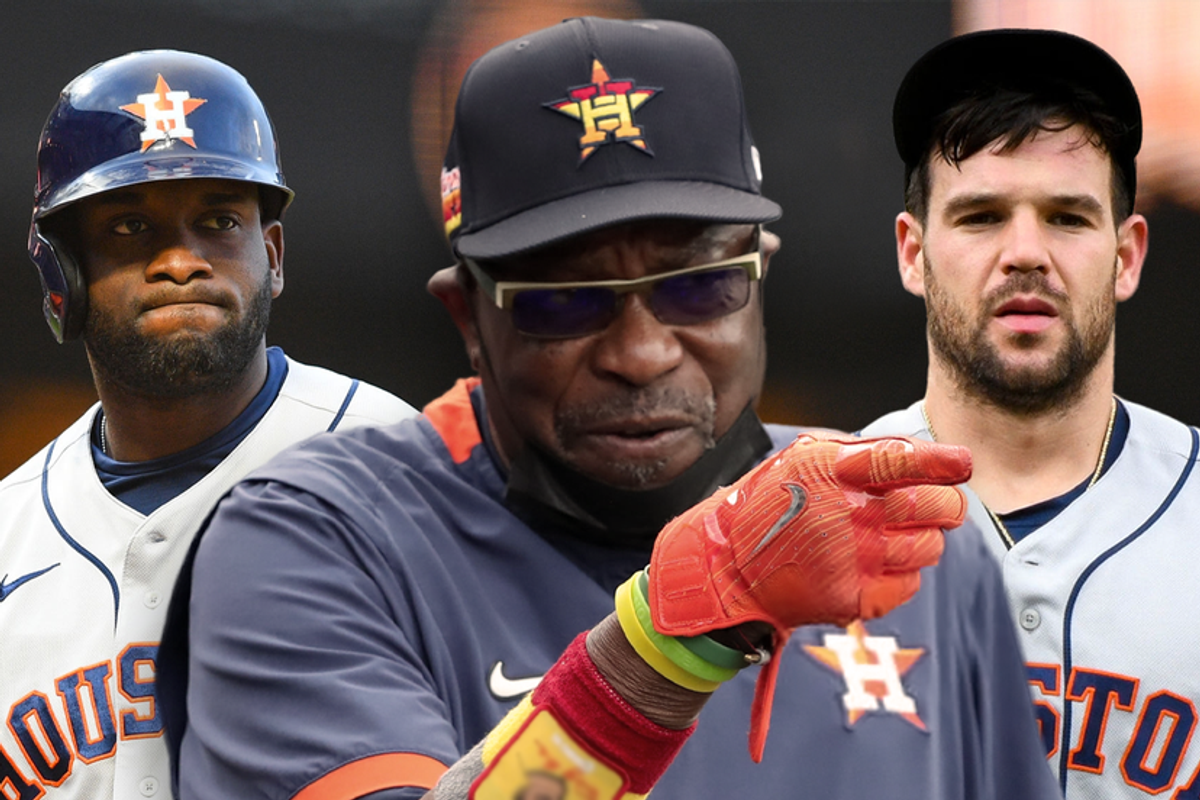 The Astros have a surplus of young talent. Composite image by Jack Brame.
The 2021 Astros season has been a bit of a ride so far. The start of the season saw this team being seen as a possible threat to make the ALCS, but were they seriously considered a World Series contender? There were holes on this roster that many thought would prevent them from reaching such lofty heights. To be more specific, it was the outfield depth, bullpen, and starting rotation. Those positions were the ones in which most people looked at with some trepidation going into this season. Fast-forward to 19 games left before the regular season ends, and the Astros are running away with the AL West, and are about four to five games behind the Rays for the overall lead in the AL. This turnaround can be attributed to those three key positions that were called into question when the season started, and what was believed to be a shaky minor league system.
Starting rotation
When you lose a guy like Justin Verlander for the season before it starts, it's a major blow to your starting staff. Zack Greinke and Lance McCullers Jr were expected to be the leaders of the starting rotation. They have been pretty consistent and held things down, but there are other guys who've made positive impacts as well. Framber Valdez, Luis Garcia, Jose Urquidy, and Cristian Javier have all contributed to the success of this staff. Javier has been more of an arm out of the pen lately, but that doesn't diminish what he means to this staff. Valdez, Garcia, and Urquidy have all proven themselves worthy of holding down starting positions in this rotation.
Bullpen
One other area that was a red flag when the season stated was the bullpen. Javier has bounced between the bullpen and rotation, but settled as a long relief guy lately. When they added Phil Maton and Kendall Graveman to the bullpen through trades, it changed the way we see the bullpen altogether. No longer do fans fear a small lead. Instead, they patiently wait for what's to come. Usually, it's another Astros win. Occasionally, there have been some letdowns, but not nearly as often as it was earlier in the season.
Outfield
Once upon a time, Myles Straw was a thing in the outfield. Since then, Jose Siri and Jake Meyers have made names for themselves. Straw was seen as a sacrificial lamb of sorts in the Maton trade. Since Meyers has lived up to the hype, and Siri has played well in limited action, Straw has been a forgotten man. While Michael Brantley, Kyle Tucker, and Chas McCormick have held it down, the new guys are giving the outfield an infusion of youth.
Farm system
Another thing that has stuck out to me is how some of these guys have been promoted from what was once considered a dwindling cesspool of a minor league system. Hailed as one of MLB's most promising a short time ago, the Astros' minor leagues have been raided to keep their run as a dynasty alive. With a ring in hand and another World Series appearance to show, I consider it worth it. With this team on the verge of prolonging said dynasty, I'm also for whatever keeps it going. Whether it's trading the future for a chance to win now, or getting young guys playing time now who'll be a part of something long term, I'm here for that as well. The minors weren't as devoid of talent as once was thought. General manager James Click isn't a hapless bum scrambling to fill Jeff Luhnow's shoes. This team has what it takes to win it all and still compete for years to come!
Rockets' Alperen Sengun recently was a guest on Paul George's podcast and spoke about a conversation he had with James Harden.
He said Harden told him he was proud of him. This led George to saying he thinks this means the torch has been passed from Harden to Sengun.
Which made us wonder, is this now Sengun's team? Or is that a little premature and the true leader of the team is head coach Ime Udoka or Fred VanVleet?
Plus, Jalen Green has responded positively from being benched. Is this proof that Ime Udoka has the team taking more accountability and heading in the right direction?
Be sure to watch the video above as we break it all down!
If you enjoy the videos, subscribe on YouTube for our latest content.
Related Articles Around the Web
SportsMap Emails
Are Awesome