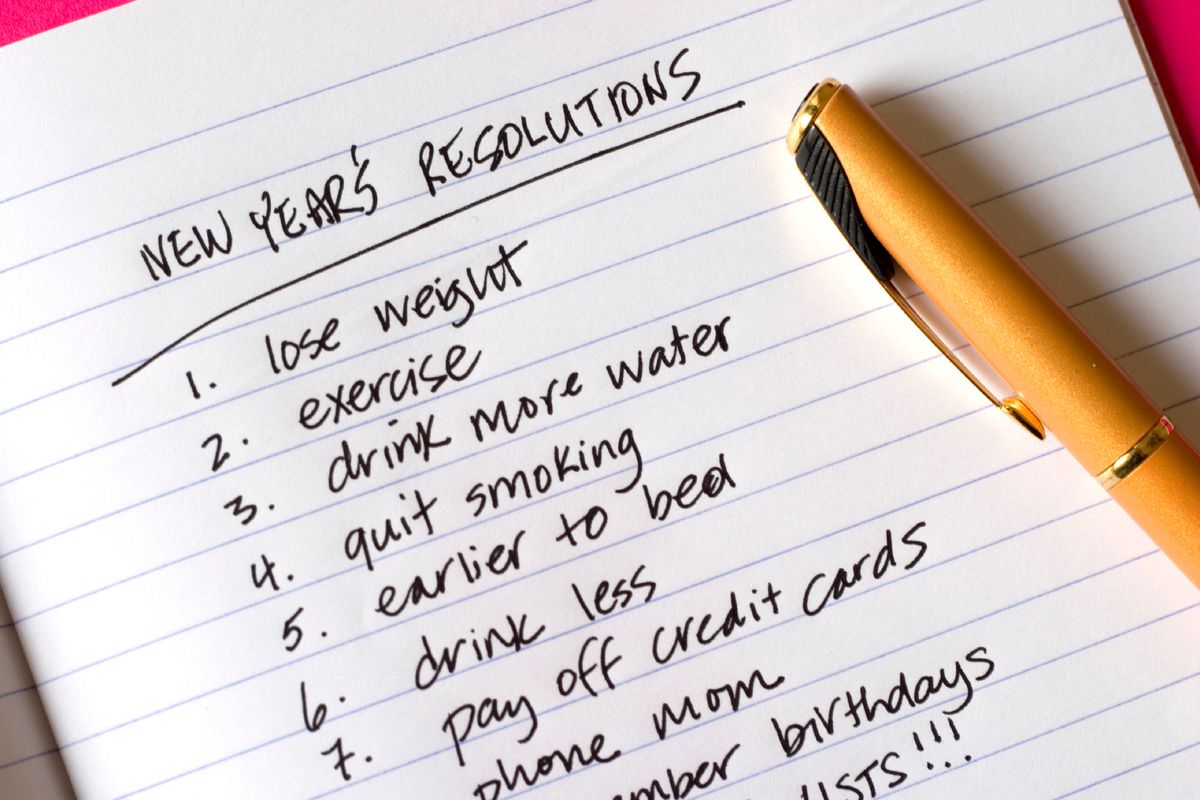 If I had to guess what the No. 1 New Year's resolution most Americans will be making, I bet we could safely say it has to do with health and fitness. As a matter of fact, according to a Nielsen poll, 37% of Americans resolved to stay fit and healthy and 32% would like to lose weight in the new year. So where do you line up here? If it's within the 69%, here are some tips below on how to kick start your new years resolution now! Without the slow start on Jan. 1! But first, whip out those pens and jot down your goals. This is important to list them out, as it will hold yourself accountable.
Prep your body
Before going on any serious diet, you should prep/detox your body. When you detox your body, you are getting rid of waste. Everyone builds waste in their body, no matter how healthy they eat. Your body absorbs toxic chemicals from the air, environment, as well as food. After you start your diet, (and likely start to lose weight), it is important to continue to flush out the toxins. Pesticides and plastics are stored in fatty tissue, and once the weight melts away, those toxins get released in the process.
In order to detox, take a look at your diet. If you know you are putting harmful items in your body you know you are not supposed to: sugar, processed meat & grains, etc. Cut those out asap, for at least 10 days, this will help reduce any cravings you have for that certain food after 10 days. There are several ways to detox, but keeping a clean diet, while drinking juices is a safe detox. There are many fads to "juicing." However often when only drinking juice, with no food, your body is fatigued and always hungry. Be sure to start a natural detox, with whole fruits, vegetables, lean protein, whole grains and healthy fats. And when you are looking to make or buy juices, be sure they are filled with plenty fruits and vegetables. Kombucha is another drink you can try while whipping your body into shape. Kombucha has actually become the new hot drink in 2018. It is a fermented tea that has plenty of antioxidants. Kombucha is very beneficial in probiotics and has plenty of health benefits!
Once you prep your body the transition to eat clean will be smooth in the new year! Detoxing also helps kick start your metabolism. And hopefully it won't just become your diet, it'll become your lifestyle!
Bring your spouse or friend along for the ride
Let's face it, breaking out of old habits and into new ones is always much easier with a partner in crime. Try to make it a habit of your household. When everyone that surrounds you is in the same health mind set, as far as diet, exercise…everything, it will make your life much simpler.
Research
Since you are planning far in advance...Do your research! You should research how you want to approach your detox and what juices to make. As well as the most important, (your New Year's Resolution), whichever diet you choose to start in January. Especially the one you are looking to continue as a lifestyle. While doing your research one item you may overlook is your sleep! Be sure in this transition that you are getting a full eight hours of sleep! You don't want to miss out on any hours. Sleep deprivation can increase hunger and make you feel sluggish during your workout. Here are some tips to keep in mind: Stay hydrated, low sodium, try to eliminate sugars and alcohol, do eat veggies, fiber, and protein.
So why wait? Kick start your New Year's Resolutions now. Tons of gyms are doing their promotions now!
After a quiet offseason the Houston Astros finally made some moves this week to bolster their roster by adding backup catcher Victor Caratini in free agency.
The club also acquired some bullpen help by trading for Royals reliever Dylan Coleman.
Astros GM Dana Brown also garnered a lot of attention this week by proclaiming Jake Meyers will get an opportunity to be the everyday starter in center field.
And while the Astros have been connected to several free agent relief pitchers by various media outlets, it appears Houston isn't looking to spend much money.
On the other hand, the Yankees went out and traded for superstar outfielder Juan Soto, and have shot past the Astros when it comes to World Series odds.
Which begs the question, have the Astros done enough to compete with the Yankees in 2024?
To be fair, we've seen this movie before. The Yankees historically out spend every team, but they've been a little more conservative over the last few years.
But now, they look like the Yankees of old when it comes to payroll.
Plus, we heard rumors a few weeks ago that the Astros might be looking to trade Jake Meyers. And now all of a sudden he's getting the first crack at the starting job in center?
Could this be a smoke screen from Dana Brown to try to elevate his trade value? We've seen the Astros value defense in center field before, they let George Springer walk and replaced him with Myles Straw.
Be sure to watch the video above as we decipher what the Astros are really trying to accomplish this offseason, and successful they can be in the AL in 2024.
SportsMap Emails
Are Awesome