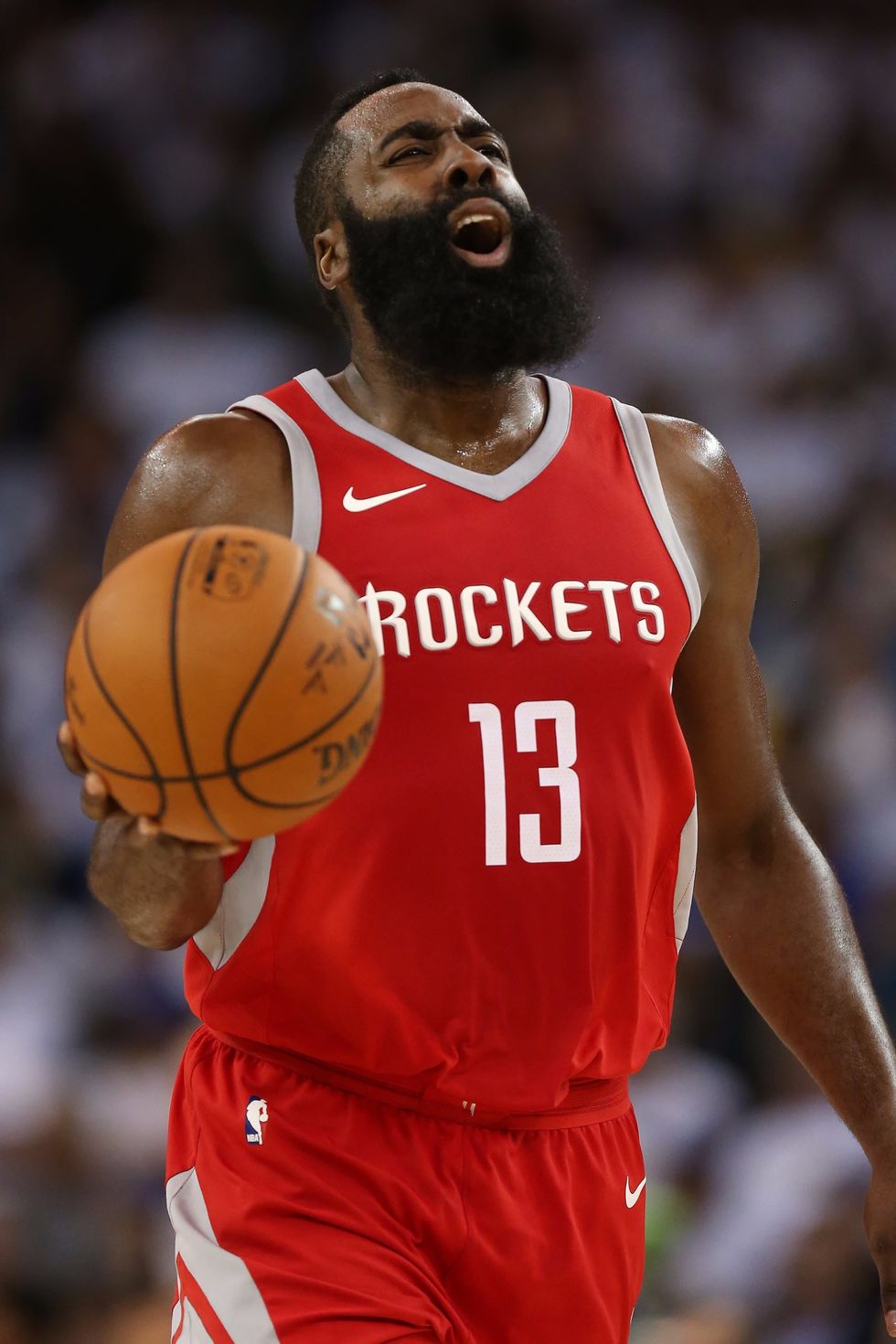 James Harden is playing at an elite level once again. Ezra Shaw/Getty Images
With nearly one quarter of the season in the books, the Rockets have resoundingly established themselves as one of the elite teams in the NBA. Through 20 games, the 16-4 Rockets are currently tied for their third best start in the past 30 years, trailing only the 1997 (18-2) and 1994 (19-1) teams. In case you may have been distracted by the attempt of a football team the Texans have strained to field, don't worry. I'm here to help take a deeper look at what's led to the Rockets incredible start to the season.
If you're assuming that the obvious place to start is James Harden, you are correct. In last year's MVP runner-up performance, Harden began the season averaging just over 26 points per game. Through twenty games this season, Harden leads the league in scoring, averaging 31.6 points per game. That includes a career high 56 point performance versus the Jazz. In addition he leads the league in assists, at 9.8 per game. And in true Harden form, he also leads the league in free throw attempts, heading to the charity stripe for an average of 9.3 attempts per game. It's too early in the season to make a big deal out of anything, but Harden's blistering start to the season--despite Chris Paul's 14 game absence--should soon catch the eye of the sports world once football finally crowns a victor (I'm calling Eagles over Patriots).
The other obvious key to the Rockets' great start has been not only the addition of Chris Paul, but more importantly his actual debut on the court. Although sidelined for 14 games, Paul has proved invaluable when he plays. In spite of his lowest career points average (10.8)  for a season at the moment, Paul is on track for his third best season in assists (10.8). Again, a six game sample size is fairly small to consider in terms of potential impact, however there are two other factors to consider regarding Paul's contributions to the team that paint a more compelling picture. The first is that the Rockets are undefeated with Paul in the lineup. The second is that the Rockets average 9 more points per game with Paul in the lineup than without. As I've mentioned before, it seems as though--at the moment--all of the concerns about Harden and Paul coexisting on the same court have been put to rest. It simply looks like a great point guard is jelling with a great shooting guard from here.
The third key to the Rockets' success would have to be the increased level of production from 23-year-old center Clint Capela. Capela was always expected to be a productive member of the team, but no one could have expected the leap he would make this season. Capela finished last season averaging 12.6 points and 8.1 rebounds. So far this season Capela is averaging 13.3 points and 11.2 rebounds through 20 games. In addition, he leads the entire league in field goal percentage at 67.1% and ranks sixth in the league in player efficiency. Through a combination of those stats and a simple eye test, you can see that Clint Capela, unlike the failed experiment that was Dwight Howard, understands his role in the system and is absolutely thriving. Most promising out of all of Capela's stat improvements is his free throw percentage. Here's a quick perspective:
2015-2016: 37.9% free throw percentage
2016-2017: 53.1% free throw percentage
2017-2018: 67.1% free throw percentage
There are few better indicators of a player putting legitimate effort into improving their game than their free throw shot. Traditional and advanced metrics would suggest that Capela is essentially a frontcourt machine that runs the floor like a guard.
Behind yet another MVP-caliber performance from James Harden, the recent contributions from newcomer Chris Paul, and impressive development of Clint Capela, it seems inevitable that the Rockets look poised to perpetuate their white-hot start to the season.
Luka Doncic had 41 points, nine rebounds and nine assists, and the Dallas Mavericks prevented the Houston Rockets from advancing to the quarterfinals of the NBA In-Season Tournament with a 121-115 victory on Tuesday night.
Kyrie Irving added 22 of his 27 points in the second half for the Mavericks, who had already been eliminated. Their victory allowed the New Orleans Pelicans to win Group B in the Western Conference with a 3-1 record.
Doncic fell just short of his 59th career triple-double. That would have tied him for ninth place all-time with Larry Bird. He shot 15 of 29, 3 of 10 on 3-pointers.
"Sometimes we take him for granted, and we shouldn't," Mavericks coach Jason Kidd said. "He's about winning, but it just so happens he's a walking triple-double.
"The Mavericks, who trailed by nine points in the third quarter, grabbed the lead for good at 99-98 with 6:25 to play on a drive by Irving. Leading 103-100 with 5:25 left, they went on an 8-2 run that included three free throws by Derrick Jones Jr. when he was fouled by Dillon Brooks on a 25-footer with the shot clock about to expire.
Jabari Smith Jr.'s 3-pointer with 8 seconds left pulled the Rockets within 119-115 before Dallas closed it out.
Doncic played after sustaining a low-grade sprain of his left thumb on his non-shooting hand early in Saturday's game. He wore a wrap on the thumb.
Doncic made a hook shot from the free throw line after recovering a loose ball near the baseline.
"I'm 2 for 2 in my career on the hooks," Doncic said, saying the other came while playing for the Slovenian national team against Sweden.
Irving shot 2 for 11 in the first half, 1 for 5 on 3-pointers, with no free-throw attempts. He was 6 for 11 in the second half, hitting 1 of 2 behind the arc, and sank all nine free throws.
"I told the team, 'Played well enough to win, not smart enough to win,'" Rockets coach Ime Udoka said. "We were extra-aggressive, especially at the end of the third quarter. Had multiple players make a few dumb fouls, put Kyrie at the line and got him going when he didn't have a lot going. You can be aggressive, obviously, but slapping somebody on a 3-point shot on the arm is an unintelligent play. It has nothing to do with aggression."
Alperen Sengun had a season-best 31 points for the Rockets, who had six scorers in double figures. Fred VanVleet had 10 points and 12 assists.
The Rockets have lost all six of their road games this season. They went into play leading the NBA by allowing an average of 104.4 points per game.
The Mavericks didn't use the specially built court for either of their home tournament games, citing dissatisfaction with the quality.
UP NEXT
Rockets: Will finish a back-to-back at Denver on Wednesday.
Mavericks: Host Memphis on Friday.
SportsMap Emails
Are Awesome