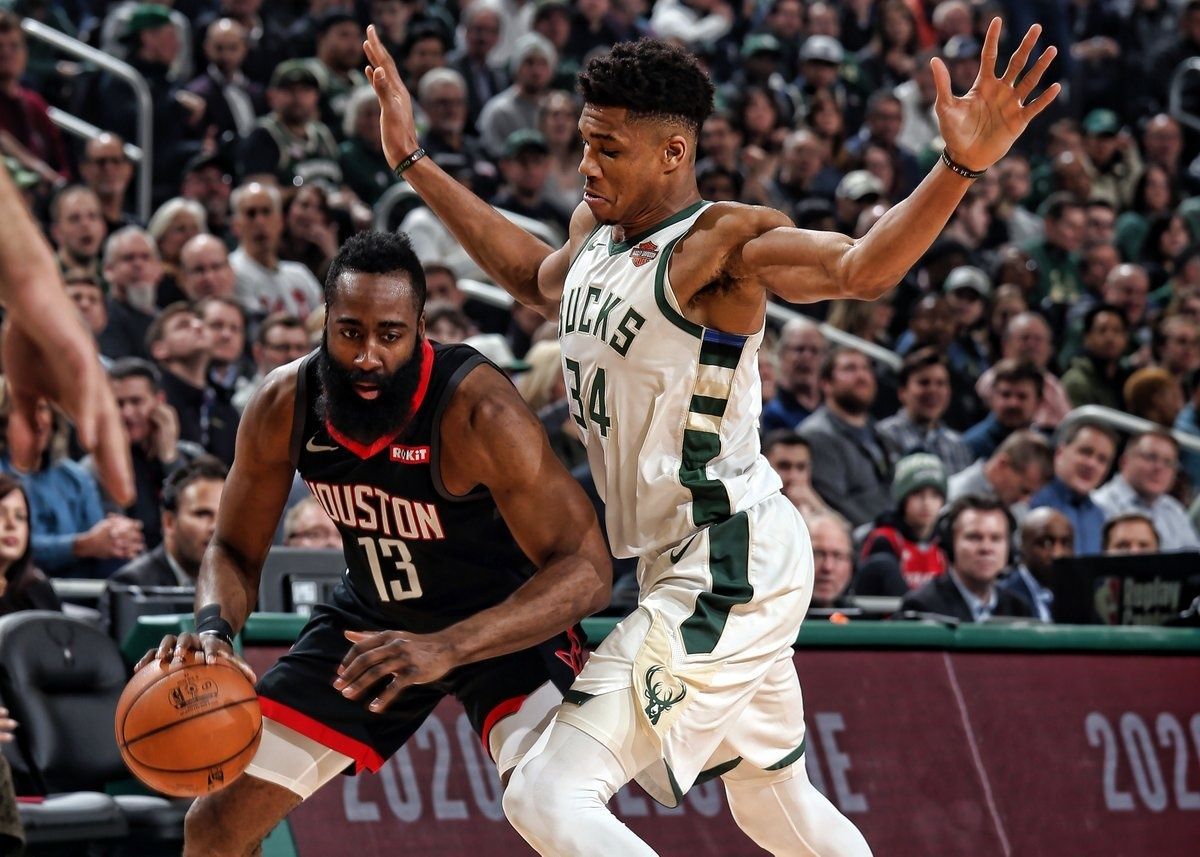 HOUSTON — Some of the biggest names in basketball are at a crossroads and what happens next could define their legacy in the game. I'm eager to see what's in store across the league, nowhere more than in Houston.

Thursday night, the Houston Rockets welcome in 2019 MVP Giannis Antetokounmpo and the Milwaukee Bucks to the Toyota Center for a gripping matchup. It has all the makings of a high profile game, as THREE former MVPs hit the court for the first time in league history.



While the Bucks continue to be one of the strongest teams in the East — not to mention, one of the best defensive teams in the league, their biggest challenge will be creating a game plan to slow down James Harden and Russell Westbrook.
Here's what I'd love to see from Houston's own former MVPs – Brodie, the Beard – and the rest of the Rockets:
Playing Without The Ball
There's no doubt James Harden is the best offensive player in league history. I don't know how anybody could successfully argue otherwise. With that said, we did trade for Westbrook and his game isn't particularly effective unless he runs the ball. Last season, right after Game 2 or 3 against the Golden State Warriors, Harden seemed disinterested when Chris Paul directed the offense. He didn't spot up, or anything. To many… it looked like he was just standing there. With respect to The Beard, I completely understand how frustrating it felt to carry the entire offensive load — but hopefully, the addition of Westbrook alleviates some of that responsibility. After watching the preseason, it (honestly) doesn't seem like Harden's style has changed.
James Harden is playing like Russell Westbrook isn't there – Jalen Rose | Jalen & Jacobywww.youtube.com
MDA needs to emphasize more plays to get Harden off screens and cuts to fully take advantage of his shooting and Westbrook's playmaking on the flip side. If Harden can hit one-legged step-back three-pointers with consistency, imagine what he can do with simplified open shots.
Harden Tries 1-Legged Step-back 3 IN GAME & Russ Loves Itwww.youtube.com
Transition Offense

The preseason painted MDA's plans on managing two stars with historically high usage. Mike D'Antoni intends on staggering their minutes, taking Harden out first… even though placing a well-rested Westbrook to lead the second unit with EG (aka Splash Gordon) sounds more appealing. The Rockets were in the middle of the road in terms of transition offense. A new wrinkle that could put the team over the top this year would (very much) be the development of not playing so many possessions in the half court set.
With Westbrook's addition, Houston should run the floor more frequently rather than letting the opponent set up on defense. I think it would do James some good to finally get easy looks here and there — especially, after a whole season of being among the least assisted starters. We would under utilize Westbrook, if we don't set him up for success. That being, allowing him to get to the basket and score or dish out the ball for an open look. Tyson Chandler and Clint Capela should be able to gobble up plenty of rebounds to get the break started. Plus, we should showcase Chandler's underrated talent of making some impressive outlet passes to open wings. In the end, we need more fast break points with an increasingly faster and younger league.
Limit Giannis
Giannis lit Houston up for 27 and 30 last year. He was his typical 'freak' self, as they call it. It will be interesting to see how the Rockets plan on limiting his impact. Essentially, forming* a wall around the paint and forcing him to shoot a jumper.
Though Giannis has been working with Kyle Korver this offseason, a broken jumper like his takes a months of Sundays to fix. PJ will have his hands filled regardless.
Some Fire A** Kicks
I expect to see some crazy sneaker game from the most stylish team in the league. No team comes close to the heat coming off the feet of Houston's team. The sneaker king, PJ Tucker, never disappoints. I'm very curious to see what brand Tuck will be rocking since he is now a sneaker 'free agent', and has recently been seen rocking Pumas. I can see him to adding a little drama to this decision on opening night. (Maybe he drops his own signature model?)
PJ Tucker Returns For Sneaker Shopping With Complexyoutu.be
Brodie and the Beard may drop some type of new, sizzling colorways of their signature sneaker to get things KICKed off for the night. This is the prime-time game and all eyes are on them. Why not market some shoes?
P.S. If you guys are reading this I'm a size 8W.
Win for Houston
What better way to start off the season than a win against the leagues reigning MVP? The Bucks have carried the title as one of the best defensive teams in the league for two consecutive years, and you can bet your money that they're thirsty to compete with hopes to secure Giannis for years to come in Milwaukee.
Everyone is interested to see how Harden and his new-ish running mate will pair in the backcourt. I know they are both eager to show they can successfully coexist with another star after both of them failing to do so in previous seasons. Also, Morey needs a win after his tweet that shook the NBA and the rest of the world. I know he's China get on Tilman's good side — again. Haha.
Bonus:
Some type of development of Post Offense from Clint Capela.
Capela, even though an uptick in his counting stats, took a step back last year. A simple eye test could have told you that. It would be very nice to see him take advantage of the Bucks weak center lineup. A simple drop step should do the trick. Maybe even a hook shot? The Rockets need evidence that Capela can continue being one of their cornerstone players.
Over the course of the last few years, I've noticed a marked change in my writing. It coincided with the ebbs and flows of the sports culture here in Houston. Namely, the Rockets and Texans falling off while the Astros tried to keep the city's hopes afloat. Even with winning titles, going to consecutive American League Championship Series, and staying a top contender, the Astros couldn't hold the city's collective attention (in some realms) as much as the Texans.
I don't care what you say. Football is king here in Texas. The Astros winning helped the city get over the debacle that was on Kirby and Polk. What they truly desired was a respectable football team. Having gone without for years, finally getting one, it not being up to par, being okay for a while, then taking a nosedive, it made fans feel like they were in a Twilight Zone of sorts.
Enter DeMeco Ryans. Not only has he changed the culture in the organization, but they're winning too! Who'd have thought the Texans would be in the Wildcard position this late in the season? Absolutely NOBODY! Well, I won't say nobody. There were some overzealous fans wearing Battle Red and Deep Steel Blue-tinted glasses who would say this same thing no matter what happened in the offseason. This is why DeMeco Ryans is the NFL's Coach of the Year right now, and there's no debate to be had.
The first reason was already listed above. He came to the Texans organization and changed the culture. From top to bottom, the expectations and thought processes have changed for the better. Gone are the days of people feeling like they're walking on eggshells around an arrogant jerk who had no reason to be such a blowhard. No longer are the sidelines patrolled by one and done coaches who were more of a placeholder than a purse on a church pew on Sunday morning. He brings a presence, an aura if you will. When he walks in a room, people genuinely are excited to see and talk to him. He obliges willingly and fully engages by talking directly to people and making eye contact. Never heard him yell or be condescending.
Secondly, and perhaps most notably, he's winning. Last year at this same time, the Texans were 1-8-1 and in last place in the AFC. They finished the year 3-13-1 and picked second overall in the draft. As of this writing, they're 6-4, second place in the AFC South, and sixth place in the AFC as one of the Wildcard teams. They're scheduled to play the Jags this weekend with sole possession of first place in the division on the line. No other team in the league has made as big a jump in the standings from last season to this one than the Texans. NRG Stadium was the loudest some have heard it the last couple wins against the Bus and Cardinals. Craziest part: it wasn't even full to capacity.
Changing the culture and winning goes a long way. Perhaps the biggest influence DeMeco has had is his commitment to player development. When he was with the 49ers, they raved about how he turned them into better players. Fred Warner was emotional over losing DeMeco as a coach for what he's done for Warner's career. Pairing a coach like him with players like C.J. Stroud, Will Anderson Jr, and others with the same level of commitment has this team in place to not only win, but be a factor for years to come.
I've seen coaches make some unreal turnarounds in my lifetime. It usually comes with a ton of other sweeping changes. While he did have the number two and number three picks in this past draft, this team was in shambles. The salary cap was a mess, draft capital was abysmal, and the team was devoid of talent. General manager Nick Caserio came in and cleaned up a lot of it before DeMeco was hired, so he should get some credit. However, he set a table for DeMeco to come in and work his magic. It's hard for a GM to make those moves and not have a coach to help finish the job. He bought the groceries, but had no chef. DeMeco came in and not only cooked a great meal, but he set a nice table and cleaned the kitchen when he was done.
If this man doesn't win Coach of the Year, fire everybody who has a vote. No coach in the league has done what he's done over the course of this season from last season. Improving the winning of a franchise and changing their culture to the point where the fan base did a complete 180-degree turnaround means the award should already have his name on it. The trophy should be in Houston in a lock box at a secure location. There should be plans already made, but flexible enough for their impending playoff run. If you can name a better candidate, I'd love to hear your argument. Send it to me on November 33rd. Promise it'll be the first thing I read that day.