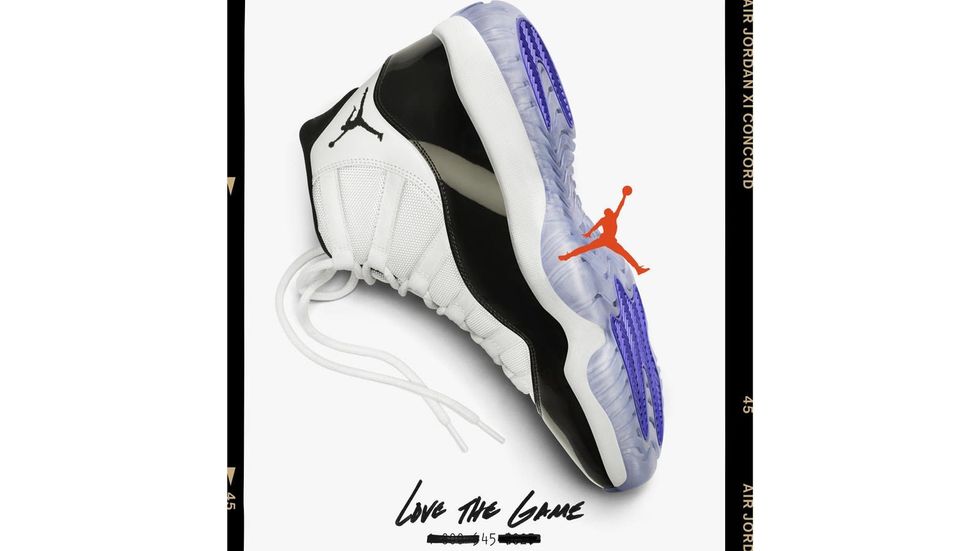 The Concords are the Holy Grail of sneakers. Nike Inc.
On Dec. 8, 2018, the most iconic sneakers ever, the Air Jordan XI "Concords," will be re-released by Jordan Brand for sneakerheads and casual fans everywhere. I'm not overstating it when I say these shoes are The Grail for fans of all ages. This release is special for fans because it will be their chance to own a shoe that should be in every collection and thus will help the shoe's legacy live on forever with fans of all ages from various generations.
Behind every shoe is a story from the person that wants the shoes and that gives said pair of shoes a meaning and spirit that nobody else can comprehend. For me, this shoe was the living embodiment of "Like Mike." I wanted the shoes the greatest player ever wore, but being a hypebeast in a immigrant family meant that I wouldn't be able to purchase the shoes and would have to admire that glossy beautiful patent leather from afar. I reached out to various people in my life that I consider to be sneakerheads and casual collectors to hear their stories and see why exactly the "Concords" are considered The Grail for so many.
Bun B - Recording Artist and member of UGK.
One of the best sneakers ever designed. It's a grail. The patent leather was an absolute game changer.
Joel Blank - Host of the Usual Suspects on ESPN Houston.
I always thought the shoe was iconic and such a classic for many reasons. The first and foremost reason was the greatest player on the planet was wearing them and then the clean look of the bright white and the patent leather black was an excellent combination. I loved the shoe so much that I got married in the low top version and my wedding party all wore black-and-white Air Force ones to boot. I am glad they are bringing them back, because with the fashion trend of wearing tennis shoes with suits and dress clothes, this is the perfect and most versatile shoe and colorway to go with anything.
David Johnson - Retired MLB player.
To me, the Concord is to sneakerheads, what the 66' Mustang or 69' Corvette is for car collectors. No matter how many quirky "quick strike/exclusive releases" that come out. The Concord will always stand the test of time. It's a classic. It's a perfect example of what signature sneakers used to always be about. A nostalgic and historic piece of art that tells a story in a silent movie format.  As a sneakerhead and sports fan that grew up watching MJ play, the Concord 11 signify "New Testament MJ". (Old testament MJ was pre-retirement/going to play baseball.) It's the shoe he broke out in his first playoff series since coming back to the NBA, against the Orlando Magic, while wearing number 45. Ironically, with it being the 11th shoe, it somewhat falls in the middle of his career/shoe legacy that signifies a different MJ we saw once he came back and rattled off three NBA titles for a second time. Which he did in a dominating fashion unlike the first three. Because of that historic moment/time period for MJ, his career and signature shoes, which I was alive to witness, it's a must have in my collection and should be in any real sneakerhead's collection.

Jose Partida - Producer at SB Nation Radio and ESPN Houston and co-host of The Raheel and Jose Show Podcast.
The patent leather didn't just mean luxury, it meant unattainability. I grew up reading all about jordan 11s. I was seven in 2001 when they first re-released the Concords, and there was no way my parents were getting them for me. As a younger sneakerhead, I learned to save my money. But no amount of penny pinching could have prepared me for how in-demand and impossible they were to get during the 2011 release. At the peak of their hype, in my lifetime as a sneaker head at least, I had no chance of getting my hands on a pair. The Concord is as close as a grail as it can get for me. It's the shoe that has eluded me my whole life, that changes on December 8th.
Sam Windsor - Houston Sabercats Rugby player and coach.
I'll admit as a kid growing up in Australia, I knew who MJ was but never knew much about the game or sneakers. You ask me about concords in the 90s and I'd tell you it was a fast AF plane that flew from NYC to Paris. Fast forward 20 years and i have a new found love for, not just basketball shoes, but sneakers and shoes in general. I don't like sneakers because of what they mean socially or for their worth on a resale market, I like the way they look and probably more importantly how they feel on my feet. I'm a big fan of the 1s, 3s, some of the 4s, but the 11s have always intrigued me. They are a shoe that looks clean and comfy and the fact that these are the OGs make them even more desirable and a must have. Maybe they're what I need to sort out my jump shot too!
Active Adrian - Co-founder of Houston Sneaker Summit.
The Jordan 11 Concord was the shoe that he wore during the '95 season when they went 72-10 after coming back from baseball. Most of the Bulls games were televised on WGN and none of us had cable. I remember we went to this particular Asian restaurant where the owner always had the Bulls on (because he bet them). We were broke high school seniors but we had $6 for a dinner special AND we got to watch Michael play! We ate there 2-3 times a week not just because he was great but because we had to see the shoes, the Jordans fly. He was gave us that feeling like the Sand Lot Kids when they wore PF Flyers.
Nightwing2303 - The Godfather of YouTube Sneaker Performance Reviews.
Excerpt taken with permission from WearTesters.com: Everything written is all about the shoes. It's why I love the Air Jordan 11. It's why the Concord version of the shoe is the best one — personal opinion of course. The only reason, besides the shoe being dead sexy, why most of us were so enamored with the Air Jordan 11 is due to the amazing feats and accomplishments — even the fails — that MJ performed while lacing them up.
El Jefe - Shoe Collecter and Hypebeast.
The Jordan 11 "Concord" has always been a shoe that I've wanted but was never able to get my hands on. I was born in 95 so that's why the Jordan 11 has always been a favorite of mine. But at that time I was too young to appreciate them. However when they Nike re-released them in 2011, I knew I had to have them, only problem for me was, like most high schoolers I had no job and no money, so I did what every high school kid does when they want something, begged my mom. Unfortunately, I didn't get my hands on a pair for Christmas. But this year I'm optimistic, release numbers and availability look high, so hopefully I'm able to get a pair!
"Another one!"- DJ Khaled
That's the first thing that came to mind when I heard the news of Tytus Howard being shut down for the season because of a knee injury. They've had more injuries on the offensive line this season than Nick Cannon has Father's Day cards. Almost every member of the offensive line has spent time on the injury report. Howard went down in the same game in which Juice Scruggs was finally on the active roster. He missed the first 10 games due to a hamstring injury. The irony of next man up has never been so in your face.

The other thing that came to mind was the soap opera As the World Turns.
Howard had just signed an extension this offseason. So did Laremy Tunsil and Shaq Mason. They drafted Juice Scruggs, and signed a few guys too. Those moves, along with other holdovers, were expected to fill out the depth chart. Then a rash of injuries struck. At one point, only one of the original five guys expected to start was playing! In fact, they beat the Steelers 30-6 with that backup offensive line!

One can't have the expectation of backups to perform as good as the starters. They're professionals and are on an NFL roster for a reason. However, the talent gap is evident. One thing coaching, technique, and preparation can't cover is lack of ability or talent. The Texans have done a good job of navigating the injury minefield this season. While the Howard injury will hurt, I have faith in the guys there still.
As of this writing, the Texans are in the eighth spot in the AFC playoff picture. The Steelers, Browns, and Colts are all in front of them at the fifth through seventh spots respectfully. They've beaten the Steelers already. They play the Browns on Christmas Eve and their starting quarterback is out for the season. The Colts are relying on the ghost of Gardner Minshew to steer their ship into the last game of the season vs. the Texans with a possible playoff trip on the line. The Broncos and Bills are the two teams immediately behind them. They play the Broncos this weekend. Even though they're on a hot streak, this is the same team that got 70 put on them by the Dolphins. The Bills are the old veteran boxer who still has some skill, but is now a stepping stone for up & comers.
To say this team should still make the playoffs would be an understatement in my opinion. I believe in them and what they have going on more than I believe in the teams I listed above. That includes teams around them in the playoff race that aren't on their schedule. The one thing that scares me a little moving forward is the sustainability of this line. When guys get up in age as athletes, it becomes harder to come back from injuries. The injuries also tend to occur more frequently when it's a knee, foot, ankle, shoulder, elbow, or another body part critical to blocking for C.J. Stroud.
I know they just re-signed three of those guys and drafted one they believe can be a starter, but depth and contingency plans are a way of life in the NFL. We see how important depth was this season. Why not plan ahead? Don't be surprised if the Texans spend valuable draft capital on the offensive line. By valuable, I'm talking about first through third or fourth rounders. Those are prime spots to draft quality offensive lineman. Whether day one starters or quality depth, those are the sweet spots. The only guy on the two deep depth chart for this offensive line that wasn't drafted in one of those rounds was George Fant, who was an undrafted rookie free agent. While I highly doubt they spend any significant free agency dollars on the group, I'm not totally ruling it out.
The bottom line is, this team will be okay on the line for the remainder of this season. The only way that doesn't happen, more injuries. Stroud is clearly the franchise guy. Protecting that investment is a top priority. I don't care about a number one receiver, or a stud stable or singular running back if the quarterback won't have time to get them the ball. If the pilot can't fly the plane, you know what happens. So making sure he's happy, healthy, and has a great crew is of the utmost importance.
SportsMap Emails
Are Awesome