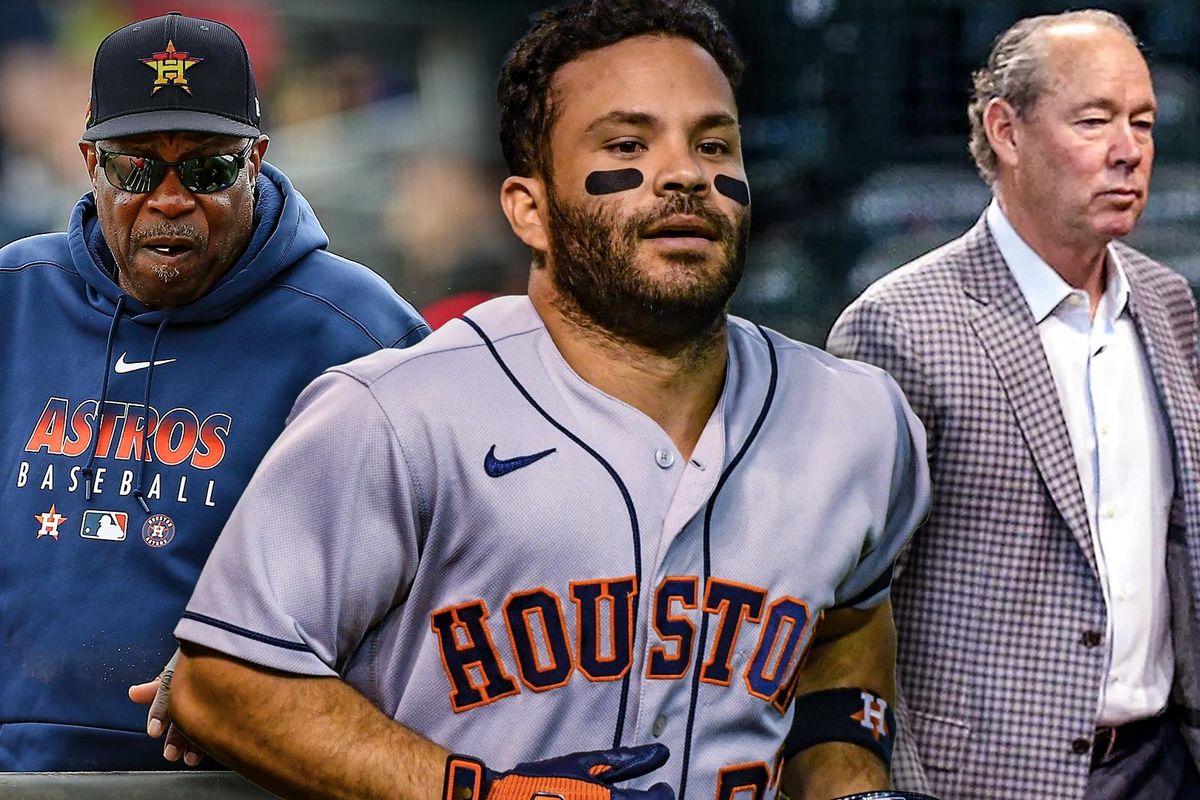 Will Dusty Baker and Astros GM James Click be back next season? Composite image by Brandon Strange.
It appears that Astros owner Jim Crane has some decisions, really one, to make. Manager Dusty Baker's contract is up at the end of this season. So is general manager James Click's contract.
Baker and Click don't seem to see eye to eye on how this team is supposed to run. Baker is old school and flies by the seat of his pants. He trusts his gut. Click is new school analytics. Numbers don't lie. (Except they do, of course.)
We don't know if either one is telling Crane, "Make up your mind. It's either him or me, one of us has to go." How'd that work out for Kevin Durant? The Astros possibilities are not endless. Either both Click and Baker stay, one or the other leaves, or they both leave.
If it does come down to one stays and one goes: who ya got?
But that's for after this season ends. The Astros are in first place in the American League West by miles and near clinching home field advantage through the AL playoffs. The over/under for total Astros wins in 2022 was 92.5 before the season started. They've beaten that with weeks left on the schedule.
Who deserves the credit for the Astros amazing success since Click and Baker took over the Astros in 2020. Is it Click's bottom line decision making or Baker's calming influence in the clubhouse and quirky decisions on the field?
Baker is the more recognizable of the two. We see him in the dugout, in full MLB combat gear, making mincemeat of a toothpick. Baker explains his sometimes unexplainable decisions after every game. Click looks like a discount tax accountant near the front door of a Walmart. He wouldn't say nothing if he had a mouthful of it.
It probably won't matter if the Astros win the World Series this year. I'm thinking it's going to be one or the other going. Baker is 73 years old, already one of the oldest managers in MLB history. Click is 44, considered one of the brightest minds in baseball, with other teams lusting after his services.
This week, sports columnist Ken Rosenthal wrote an open letter to Chicago White Sox manager Tony LaRussa, age 77, essentially saying, "you need to quit."
Perhaps that letter should have contained "cc: Dusty Baker."
Of course, the big difference is, LaRussa has a confrontational relationship with some of his players, plus he's an ass. Baker is supported by the Astros players, plus he's lovable. More important, the Astros are a juggernaut lapping the league with an owner obsessed with winning. It doesn't seem to matter that the Astros lose key players, like Carlos Correa, Gerrit Cole and George Springer, to higher-priced bidders. The machine just reloads and heads toward the playoffs with newer and less expensive players. To the naked eye, the Astros are a model franchise, despite percolating turmoil behind the scenes.
A natural observation would be, why fix something that clearly isn't broke? Why can't Click and Baker just get along while the getting is good?
It doesn't work that way. Success doesn't keep people together. The Beatles broke up while being the biggest act in entertainment history. The Florida/Miami Marlins busted up their team after winning the World Series – twice. Who didn't think that Kim Kardashian and Pete Davidson were perfectly matched lovebirds forever?
Are the Astros piling up wins because of Baker … or despite him?
Click is tight-lipped about his relationship with Baker, but it's easy to imagine that he, like cranky fans on Twitter, is frustrated by Baker's constantly changing lineups and batting orders. Sometimes it's like Baker throws nine names into a Yahtzee cup, shakes it up, and however the names come spilling out, that's tonight's batting order.
Click reportedly isn't happy with which players play and which players sit. Remember, the Astros hired Baker as manager before they hired Click as general manager. Click did not pick Baker as his manager.
This week, Baker explained to the media that Yordan Alvarez was going to miss a game because of his hand injury. Alvarez, in a rare and possibly significant move, especially for a young player, gathered the media to say, "huh?"
Until season end, Crane is like the dad driving and Baker and Click are his kids fighting in the backseat. "Don't make me come back there!"
My guess: after the World Series parade in downtown Houston, Crane will call Dusty into his office and cold-heartedly explain what needs to be done. You know, like when Michael Corleone sent Tom Hagen to convince Frank Pentangili what needed to be done in Godfather II.
Baker retires in a blaze of glory, stays on as Crane's "special assistant," and Click gets to pick his manager this time. And the Astros continue to dominate the American League happily ever after.
One of the big factors that led to the Texans' loss to the Jaguars on Sunday was the secondary. Multiple flags for pass interference gave Jacksonville more opportunities to pick up first downs and score points.
Can confirm #Texans backup CB Shaq Griffin was cut.

Griffin started 6 games this year when Derek Stingley was out with a hamstring.
— DJ Bien-Aime (@Djbienaime) November 29, 2023
So it's no surprise that DeMeco Ryans is making some changes to his defense this week. According to several reports, Texans corner Shaq Griffin has been cut.
Nickel corner Tavierre Thomas was flagged for PI more than once on Sunday, and was burned badly by Jaguars receiver Calvin Ridley for a touchdown.
DeMeco was asked after the game if he considered replacing Thomas with Desmond King or Shaq Griffin. Ryans didn't give a definitive answer, but it looks like we got one today.
One has to wonder if Desmond Kings' experience playing nickel was the reason for his promotion to the active roster and why Griffin was released. If Thomas continues to struggle, King looks like the next man up to replace him.
#Texans activate Denzel Perryman, promote Desmond King to active roster, release Shaq Griffin, sign Matt Ammendola and Garret Wallow to practice squad, released Gerrid Doaks from practice squad and placed Tytus Howard (knee-patellar tendon surgery pending) on injured reserve https://t.co/knyyoqo7yC
— Aaron Wilson (@AaronWilson_NFL) November 29, 2023
The Texans also made some other adjustments to their roster on Wednesday, per Aaron Wilson. Linebacker Denzel Perryman returns from suspension, kicker Matt Ammendola and linebacker Garret Wallow join the practice squad. They also released Gerrid Doaks from the practice squad.
The other big piece of news involves left guard Tytus Howard. He heads to injured reserve, ending his season after hurting his knee against Jacksonville.
SportsMap Emails
Are Awesome