Astros Organization Saves the Day for Houston as Rockets and Texans Wallow in Uncertainty
Astros front office soars while Rockets and Texans fail
Jun 11, 2019, 6:29 am
Composite photo by Jack Brame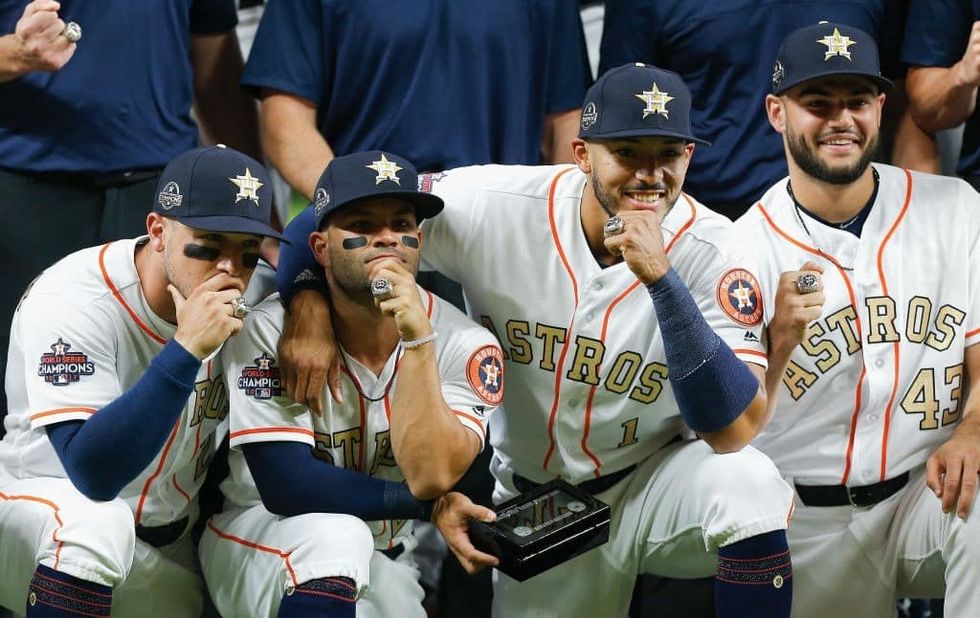 photo by Bob Levey/Getty Images
Knowing when to give a contract extension is a skill, just like running the front office of a professional sports franchise is an art form. It takes a special set of characteristics to be able to balance finances, evaluate talent, execute contracts and manage people and personalities on a day-to-day basis. It is with that in mind that I can't help but shake my head in disappointment and disbelief when I look at the landscape of Houston sports and the three major sports teams that operate in our fair city. From ownership to the team operations side of the equation, the Astros are the saving grace for Houstonians as they continue to press all the right buttons, pull all the right strings and compete for a championship year after year. The Rockets and the Texans are a different story and the way they have gone about their business lately, to quote Vince Lombardi, has a lot of people wondering what the hell is going on around here?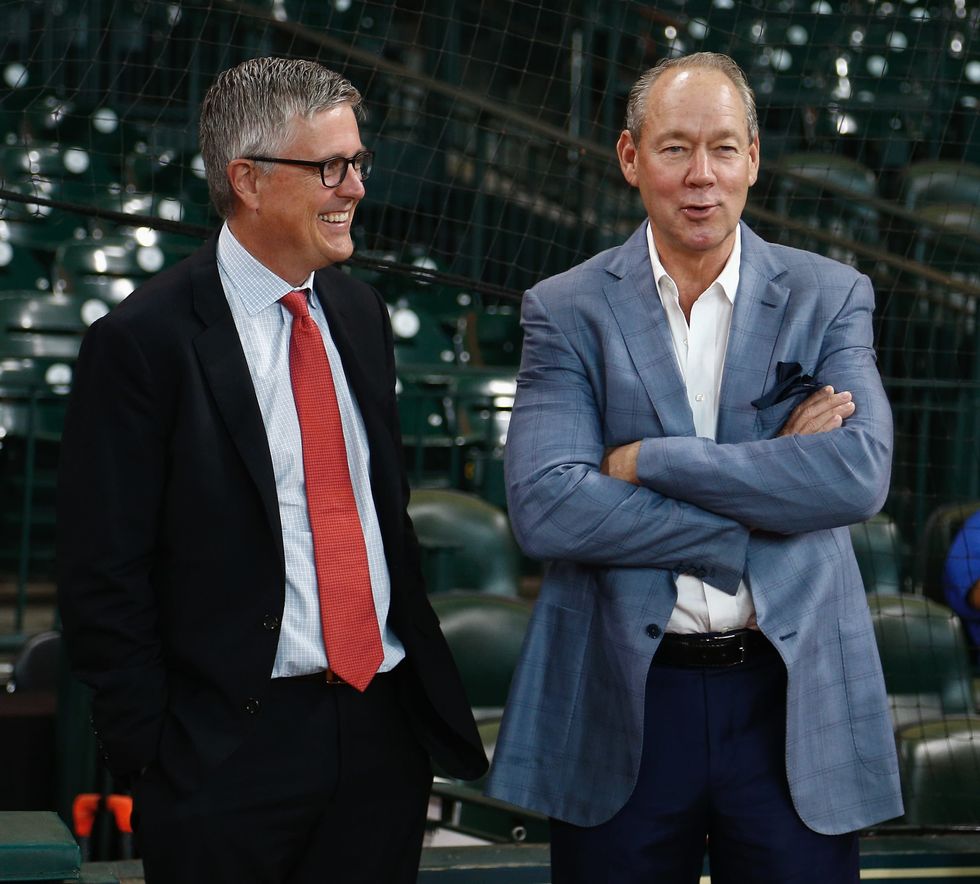 Photo by Bob Levey/Getty Images
Thank goodness for the Astros! Owner Jim Crane has perfected the balance between letting his decision makers do their jobs and make the moves and trades and deals necessary to create a championship caliber club while knowing when to get personally involved in situations where his support, financial backing, and commitment were the difference between success and possible long term failure. He dug deep to trade for and then extend Justin Verlander. Without that one trade, at the last minute, this city may still be searching for its first World Series title. He committed the money and the contracts to lock up George Springer and Alex Bregman early when most owners would have let those players perform on bargain contracts until he absolutely had to pay them. He locked up Jose Altuve in a similar fashion and has never let finances get in the way of an opportunity to better his ball club. He promoted and extended Jeff Luhnow and key members of his staff that orchestrated the moves, drafts, and signings that have led to his organization being poised to compete for a championship this year and for years to come. There is harmony and communication throughout the process between ownership, management, the coaching staff, and the roster on a daily basis that has led to move after move that bettered the team and protected the clubhouse. From the savvy acquisition of Ryan Pressly to the controversial move to bring in Roberto Osuna. There was a lot that could have gone wrong, but because of the people involved, there has been so much that continues to go right.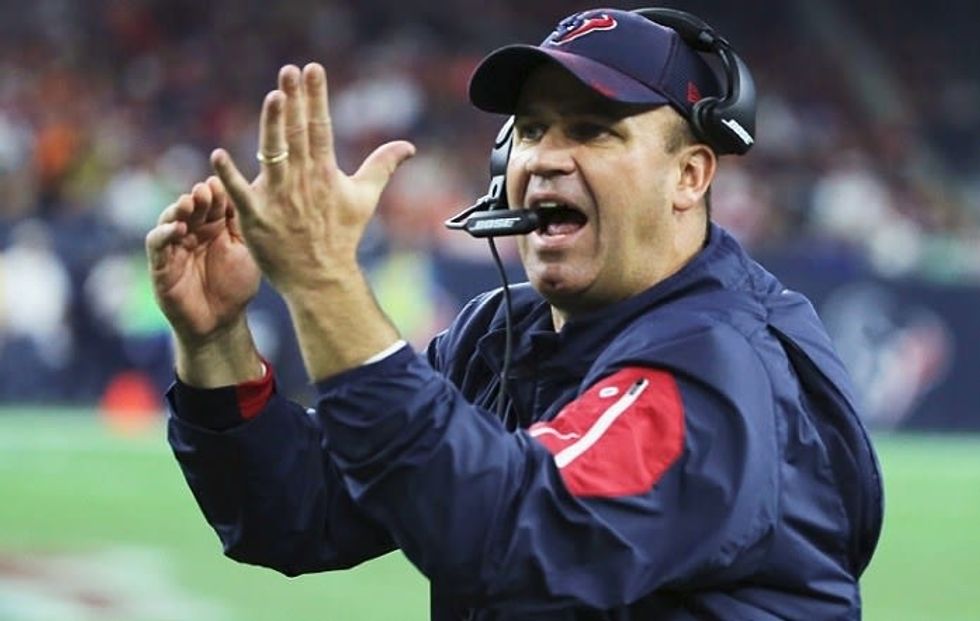 Photo by Scott Halleran/Getty Images
To try and make sense of what is going on with the Texans these days you would need to get into the head of the man seemingly in control of everything the franchise does, head coach Bill O'Brien. A man who went from running the football team to somehow overseeing everything the organization does from a personnel and football perspective. A guy that was rightfully on the hot seat a little over a year ago after several mediocre seasons that all ended in disappointment.
Somehow and inexplicably, he was given a multi-year extension by the team instead of letting him play out the remainder of his contract as he tried to prove he was worthy of continuing on with the franchise. Bob McNair gave him that job security just as easily as he gave him his first NFL head coaching contract when he hired him hired to work with GM Rick Smith and create a culture similar to the one he helped develop in New England with the Patriots. Fans sat back and watched as the so-called "Quarterback Whisperer" brought in re-tread after re-tread to be the next signal caller for the squad, including several that used to play for him with the Pats. The one common thread they all shared was that they all failed miserably and quite noticeably.
Bill blamed Smith and Smith paid the price for it as he was reassigned and eventually stripped of his GM title and decision making power. O'Brien would not face any scrutiny. Instead, he would be empowered to lead the process of hiring Smith's replacement. That would lead to the hiring of one of his former colleagues, Brian Gaine. Gaine had worked with the Texans and O'Brien in the past and was someone that head coach raved about as he was introduced to the fans and the media. It was a fresh start and a new beginning in many ways for the franchise and the two men trusted to lead it into the future. The fairy tale scenario wouldn't last long as the team once again suffered another crushing home playoff loss after an up and down regular season. This offseason Gaine was criticized for his inability to land a top tier free agent and for failing to move up in the draft while he selected a player many thought would have been available later on. Last week, to the surprise of just about everyone, Gaine was fired less than two years into a five-year deal. Now O'Brien is once again in the middle of another search to find a GM that he is compatible with while the fan base and city shake their collective heads and wonder how this man that has been average at best as a head coach, not only still has his job, but is in charge of just about everyone else's employment as he runs the operation his way. You can't help but think he's actually running the organization into the ground as he continues to hire more ex-Patriots staffers, including the person he hires to be the next GM. They may get the title but Billy somehow has all the power.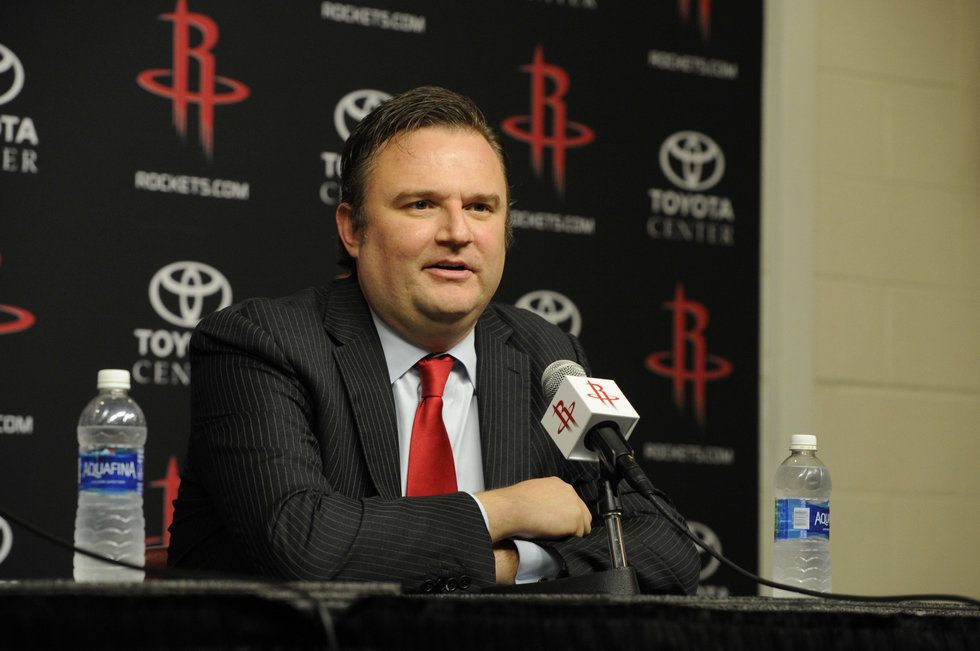 Rockets.com
Unlike the Texans, the Rockets have been really good the last several years, including the last two seasons where they were arguably the second-best team in the NBA, falling to their nemesis the Golden State Warriors. Along the way, they set the franchise record for wins in the regular season and James Harden was the league's Most Valuable Player. Unlike Bill O'Brien, Head Coach Mike D'Antoni and his high powered offense set the world on fire by scorching the nets on a nightly basis, scoring seemingly at will, while setting records for 3-point shooting and made triples in a game and a season. Also unlike O'Brien, D'Antoni has been unable to get an extension that he has seemingly earned and instead has been the main focus of scrutiny and blame for what went wrong and is wrong with the team.
New Owner Tilman Fertitta is playing hardball with his tough talk after the tough loss to the Warriors that ended their season and for his handling of the negotiations with his head coach. GM Daryl Morey fired almost all of the teams assistant coaches, video department and player development staff, further creating turmoil for a team that should be looking to add talent this offseason instead of dismissing it.
On the subject of Morey, how is he not the recipient of more of the blame for the franchise's postseason failures? Unlike Rick Smith and Brian Gaine, Morey received a multi-year extension this year even though he publicly took the blame for this year's disjointed roster and lack of depth.
After all he was the one that brought in James Ennis and Michael Carter Williams to replace Trevor Ariza and Luc Mbah a Moute, just as he was the one that signed Clint Capela to a huge deal when he seemingly had no other teams bidding for his services. He also was the man who shook hands and agreed to the massive Chris Paul contract that will handcuff and potentially strangle the franchise financially for the next three years. The team has $95 million dollars wrapped up in four players for next season, putting them way over the salary cap and limiting what they can do to upgrade and improve their roster and Morey is the man who made those deals. Sure, James Harden deserves his contract and has earned every penny, but Paul, Capella, and Eric Gordon are not going to win a title without acquiring more help to fill out the roster. Last season Morey lucked out when Kenneth Faried and Austin Rivers chose Houston after being bought out, even though he received all the credit for orchestrating their arrival in Houston.
If fans have to hope the buyout market is their savior next season it may be hard to keep hope alive. Morey is going to have to earn his money this offseason while the rest of the league looks on at a franchise that seems to be at a crossroads, if not in disarray. Free agent players are watching with keen interest as there is uncertainty with the coach, the staff, the roster and maybe most importantly, the two best players.