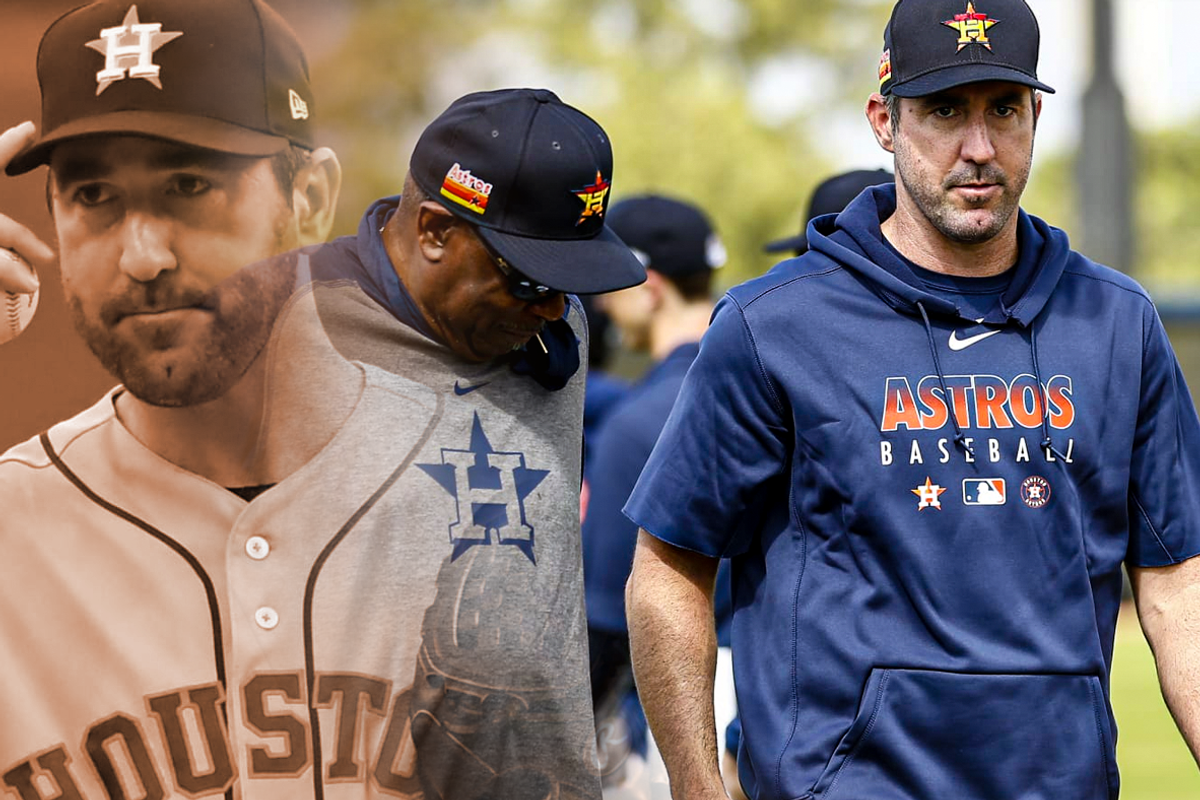 Get it done, MLB. Composite image by Jack Brame.
The Ballpark of the Palm Beaches should be bustling with Astros running wind sprints, the sound of fastballs smacking catchers' mitts, reporters grilling general manager James Click for the latest on Carlos Correa and kids in the parking lot asking their heroes for an autograph. The third week of February is when spring training gets serious.
Not today, or tomorrow or who knows when? The Astros facility along Florida's Atlantic coastline is closed for business. The owners have locked out MLB players until a new collective bargaining deal is reached. The sides are far apart, and imagine this, the dispute is over money. And neither side seems to feel any urgency to get this thing settled. The lockout started Dec. 1 when the previous collective bargaining agreement expired. It took seven weeks before the owners and players met the first time. This is Day 78 and there's been only a handful of face-to-face negotiations.
Spring training already has been delayed. The Astros first game, at home in West Palm Beach against the Cardinals on Feb. 26, is in jeopardy. If the lockout isn't resolved by Feb. 28, baseball's Opening Day on March 31 may be pushed back.
To fans trying to figure whose side they're on in this labor dispute between out-of-touch billionaires and multimillionaires, there's no difference between an owners lockout and a players strike. All fans know, there's no baseball and their patience is wearing thin.
If the owners and players really wanted to reach an agreement and save spring training and potentially the regular season, they'd lock themselves in a room, no bathroom breaks allowed, and nobody leaves until there's a deal. We'll see what gives out first, the old man owners' bladders or their resolve to keep players under control for six years until they're eligible for free agency.
It's not a big deal if spring training is postponed a week or two. The only people who really suffer are fans who plan their spring break vacations around Astros games in West Palm. Diehard fans may argue that there is tradition and romance surrounding spring training, but do teams really need 29 games to get ready? Especially since returning stars barely make cameo appearances and a team like the Astros may have only one or two roster spots open.
The NFL plays three pre-season games, down from six exhibitions as recently as the 1970s. The NBA plays six pre-season games. College football teams don't play any. Every game counts.
While baseball's lockout festers, fans miss off-season news about trades and where free agents will sign. Poor Correa must wait for a collective bargaining agreement to be reached before he can hear owners throw hundreds of millions of dollars his way. Latest leaks have the Yankees as frontrunners. The Yankees reportedly have made capturing Correa their highest priority, and what the Yankees want, they usually get. Except winning World Series lately.
Fans must cool their heels to watch Justin Verlander pitch after sitting out the last two seasons with an injury. Actually he did make one start, Opening Day 2020, and he did pick up the W.
The players and owners deserve an F in History 101. There have been work stoppages before, the most recent in 1994-95. The 1994 season ended in August. There was no post-season and the World Series was canceled. It should be noted that baseball was humming in 1994, the average attendance at MLB games was 31,256, an all-time high. How did fans reward baseball the following year? Attendance was down 20 percent across the league. TV ratings went into the tank. It took years and a steroid-fueled home run battle between Mark McGwire and Sammy Sosa to get baseball back in fans' good graces.
Baseball, once America's national pastime, has seen its popularity teeter and dwindle to near irrelevance. In 1978 and 1980, the World Series averaged a 32.8 TV rating and 40 million viewers. In 1986, Game Seven between the Mets and Red Sox attracted between 55 million and 60 million viewers. No, that wasn't game when Roger McDowell spit on Kramer and Newman.
Fast-forward to 2020, the World Series averaged a 5.2 rating and 9.7 million viewers. One of the games had a 4.3 rating, lowest ever, and 8.1 million viewers. The average baseball fan is 57 years old, the oldest of America's major sports. Little League participation is free-falling. Major League players make more in meal money on the road than many fans make at their real jobs. Baseball is not in a good place.
And the owners and players drag their feet at getting the 2022 season started on time. Baseball has become the mythical thornbird, which from the moment it's hatched searches for a particular thorn on a tree. And when the thornbird finds it, the bird impales itself on it and dies. That's baseball. Doing everything it can to kill itself.
Now that I've sufficiently depressed you, here's a funny spring training story. I've told this before, but never on SportsMap.
Several years ago, I was in Kissimmee for Astros spring training. One day, I decided to write a column about Astros legendary announcer Milo Hamilton. I'll say legendary – you know how cities sometimes honor a famous person by naming a street after them? Milo has a whole block, Hamilton Way, outside Minute Maid Park.
So I'm sitting with Hamilton in the dining area of the ballpark. I asked Hamilton how he comes up with those famous nicknames for players. For example, he called Larry Dierker "Wrangler."
Hamilton said, "People think I called him 'Wrangler' because he was a cowboy or looked like a cowboy. That had nothing to do with it. He was from California. I gave him the nickname 'Wrangler' one day because he happened to be wearing Wrangler jeans. Like you're (meaning me) wearing a green sweater. From now on I'm going to call you 'Green.' That's your nickname."
OK, whatever. Deeper into our conversation, Hamilton mentioned that he owned more than a thousand baseball caps. I told him, you know what you should do? Whenever you wear a baseball cap, leave the price tag on like Minnie Pearl the country comedian on Hee Haw.
The next morning, the newspaper headline: "Minnie Pearl dead 83."
Later that day I went to watch the Astros play. Milo was doing the game on radio. He opened the broadcast booth window, while on the air, and yelled, "Hey Green, you killed Minnie Pearl." He related our conversation from the previous day, how he anointed me with the nickname "Green."
My phone started ringing. "I'm listening to the Astros game and Milo just said that you killed Minnie Pearl!"
To most of the callers, I explained that Milo was just joking. If I knew the person, I said, "So what's your point?" Except when my friend Reg "Third Degree" Burns called. I told him, "Yeah, I did it. She had it coming."
Luka Doncic had 41 points, nine rebounds and nine assists, and the Dallas Mavericks prevented the Houston Rockets from advancing to the quarterfinals of the NBA In-Season Tournament with a 121-115 victory on Tuesday night.
Kyrie Irving added 22 of his 27 points in the second half for the Mavericks, who had already been eliminated. Their victory allowed the New Orleans Pelicans to win Group B in the Western Conference with a 3-1 record.
Doncic fell just short of his 59th career triple-double. That would have tied him for ninth place all-time with Larry Bird. He shot 15 of 29, 3 of 10 on 3-pointers.
"Sometimes we take him for granted, and we shouldn't," Mavericks coach Jason Kidd said. "He's about winning, but it just so happens he's a walking triple-double.
"The Mavericks, who trailed by nine points in the third quarter, grabbed the lead for good at 99-98 with 6:25 to play on a drive by Irving. Leading 103-100 with 5:25 left, they went on an 8-2 run that included three free throws by Derrick Jones Jr. when he was fouled by Dillon Brooks on a 25-footer with the shot clock about to expire.
Jabari Smith Jr.'s 3-pointer with 8 seconds left pulled the Rockets within 119-115 before Dallas closed it out.
Doncic played after sustaining a low-grade sprain of his left thumb on his non-shooting hand early in Saturday's game. He wore a wrap on the thumb.
Doncic made a hook shot from the free throw line after recovering a loose ball near the baseline.
"I'm 2 for 2 in my career on the hooks," Doncic said, saying the other came while playing for the Slovenian national team against Sweden.
Irving shot 2 for 11 in the first half, 1 for 5 on 3-pointers, with no free-throw attempts. He was 6 for 11 in the second half, hitting 1 of 2 behind the arc, and sank all nine free throws.
"I told the team, 'Played well enough to win, not smart enough to win,'" Rockets coach Ime Udoka said. "We were extra-aggressive, especially at the end of the third quarter. Had multiple players make a few dumb fouls, put Kyrie at the line and got him going when he didn't have a lot going. You can be aggressive, obviously, but slapping somebody on a 3-point shot on the arm is an unintelligent play. It has nothing to do with aggression."
Alperen Sengun had a season-best 31 points for the Rockets, who had six scorers in double figures. Fred VanVleet had 10 points and 12 assists.
The Rockets have lost all six of their road games this season. They went into play leading the NBA by allowing an average of 104.4 points per game.
The Mavericks didn't use the specially built court for either of their home tournament games, citing dissatisfaction with the quality.
UP NEXT
Rockets: Will finish a back-to-back at Denver on Wednesday.
Mavericks: Host Memphis on Friday.
SportsMap Emails
Are Awesome