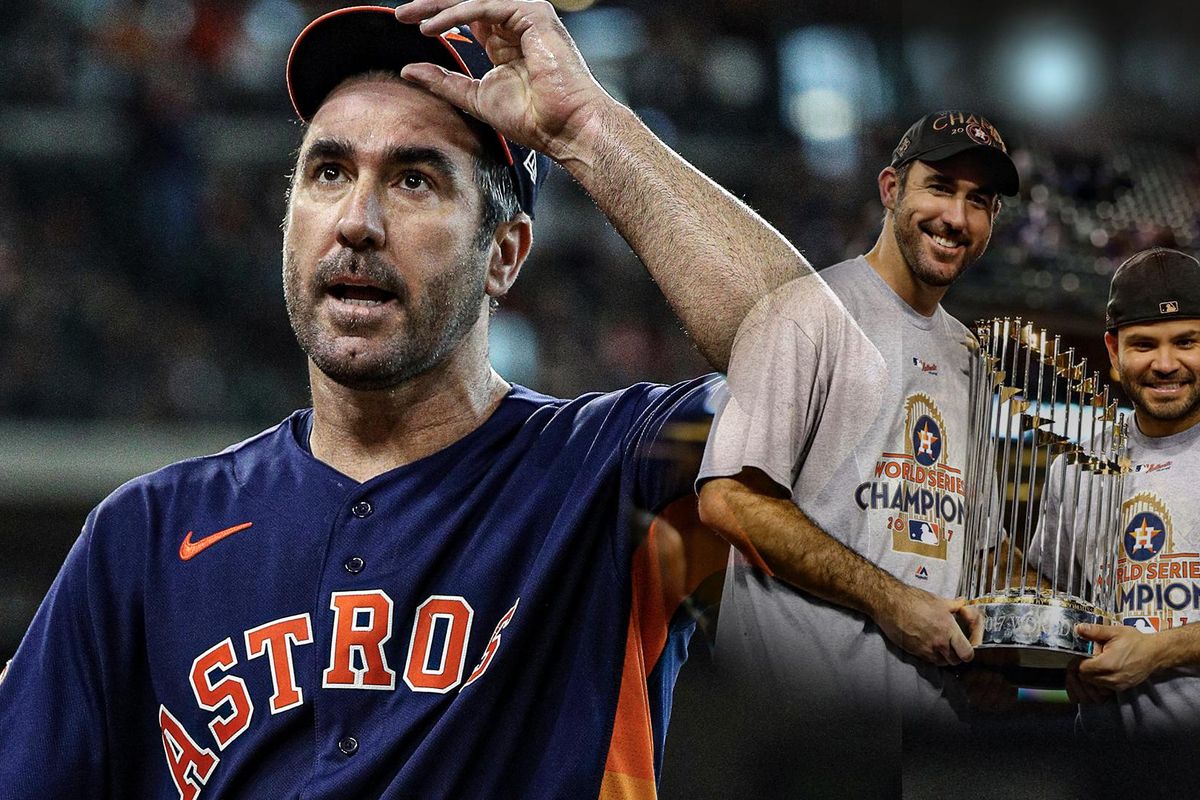 Several Astros are in contention for awards. Composite image by Brandon Strange.
All you have to do is look at the American League standings to see how good the Astros are. They are cruising towards a top-seed finish in the AL and are playing some of their best baseball; plus, they're getting healthy at the right time.
So, with a few weeks left of the regular season, it's not too early to start talking about what hardware members of the team could be bringing home this offseason.
Another Cy Young for JV?
Before his injury in late August, Justin Verlander was miles ahead of the competition in the race for this year's Cy Young award. During his stint on the IL, though, Dylan Cease has made up ground and, at some books, is the current favorite. Verlander will return to the mound Friday night against the A's, and as long as he can string together 3-4 more starts at the same level he was before the IL stint, he should regain control of being the odds-on favorite.
If he pulls it off, it will be his third time winning the award, with two under his belt from his 2011 MVP season and his 2019 season with the Astros. Even if not, Verlander has completely outperformed expectations for a 39-year-old returning from Tommy John surgery, which should make him a shoo-in for Comeback Player of the Year.
"You kind of forget to take off the blinders sometimes and really enjoy what's going on around you."@astros Justin Verlander talked about how being away from baseball helped him shift his perspective and be more "in the moment" as he returns: pic.twitter.com/h6ZHJ78fm6
— FOX Sports: MLB (@MLBONFOX) August 21, 2022
Other than Verlander, the Astros have another pitcher at least in the top 5-10 as potential candidates, though not quite to the level of Verlander or Cease. Framber Valdez is having a storybook season this year, as evidenced by his current streak of 24 consecutive quality starts, one away from setting a single-season record.
Among qualified starters, Valdez's ERA sits sixth-best in the AL with a second-best win total (15 compared to Verlander's 16), seventh-best strikeout total, ninth-best WHIP, and though not necessarily a performance metric, far and away the highest ground-ball percentage. He probably won't grab the award this season, but if he takes another step forward next year, he'll be more in the conversation.
Potential Silver Sluggers
The Astros have a few players at or near the top of their respective positions in terms of offensive value. At second base, Jose Altuve is in what shapes up to be a three-man battle with Cleveland's Andres Gimenez and Minnesota's Luis Arreaz. Arreaz leads the trio in average with his AL-best .320 by a healthy margin but is only two points (.380 vs. .378) ahead of Altuve in on-base percentage, and with Altuve's leading slugging, he leads the other two in OPS (.889), homers, and several advanced metrics.
Once in the conversation for AL MVP along with Aaron Judge and Shohei Ohtani, Yordan Alvarez has fallen out of those projections as it appears that the race has dwindled to the two aforementioned contenders. Still, he remains in a prime position to challenge Ohtani for the Silver Slugger at DH, which the two-way star won last year. Ohtani currently leads qualified batters at the position in homers (34 vs. Alvarez's 33) and RBI (88 vs. 85). However, Alvarez has healthy leads in average, on-base percentage, slugging, OPS, and advanced metrics.
Potential Gold Gloves
At catcher, a notoriously difficult position to judge due to their dependency on other players (pitchers throwing catchable pitches, infielders catching and tagging attempted steals), Martin Maldonado should at least be in the conversation with a high fielding percentage and other metrics. Kyle Tucker will be another Astro in contention, with a defensive WAR of 0.9, the highest among qualified right fielders in the AL, and the most defensive runs saved (DRS) and fielding percentage according to Fangraphs.
Of course, if you ask any of these players, they will tell you that individual accolades are not their focus right now. There's only one trophy that matters while baseball is still being played, and that's the Commissioner's Trophy. In addition to some personal awards that may come later, they're in fine shape to bring that back to Houston as well.
The Houston Astros were in need of some serious help in the bullpen with Phil Maton, Hector Neris, and Ryne Stanek likely leaving this year in free agency.
While some fans were getting concerned about the quiet offseason, the club has made two moves this week to get the ball rolling.
First the team signed Victor Caratini to be the backup catcher, and now they have added some relief pitching.
The Astros traded pitching prospect Carlos Mateo to the Royals for RHP pitcher Dylan Coleman.
Coleman appeared in 96 games in the past three seasons for KC, including 68 games in 2022 and 23 games last season. He has a career 3.88 ERA and 1.37 WHIP. He's fastball (95 mph), slider (81) and cutter (90) and walked 57 batters and struck out 99 in 92 2/3 innings.
— Brian McTaggart (@brianmctaggart) December 6, 2023
Coleman is under club control for the next several years, and made just over $700,000 in 2022. With the Astros right up against the tax threshold, this is a good way to add to the bullpen without having to hand out a large contract.
The Royals had a tough roster decision to make with Coleman, and the Astros made the decision easy for them by making the trade.
Something to note
There's a reason Kansas City wasn't determined to protect Coleman from the Rule 5 Draft. Despite his decent numbers over the last three seasons, 2023 was a rough year for him, posting an 8.84 ERA over 23 games.
In fact, Coleman pitched more innings (30.2) for the Royals AAA team than he did for the big league club (18.1) in 2023.
Hopefully, the Astros can get him back on track this season with some help from their highly touted player development program.
You can watch some of his 2022 highlights above.
SportsMap Emails
Are Awesome