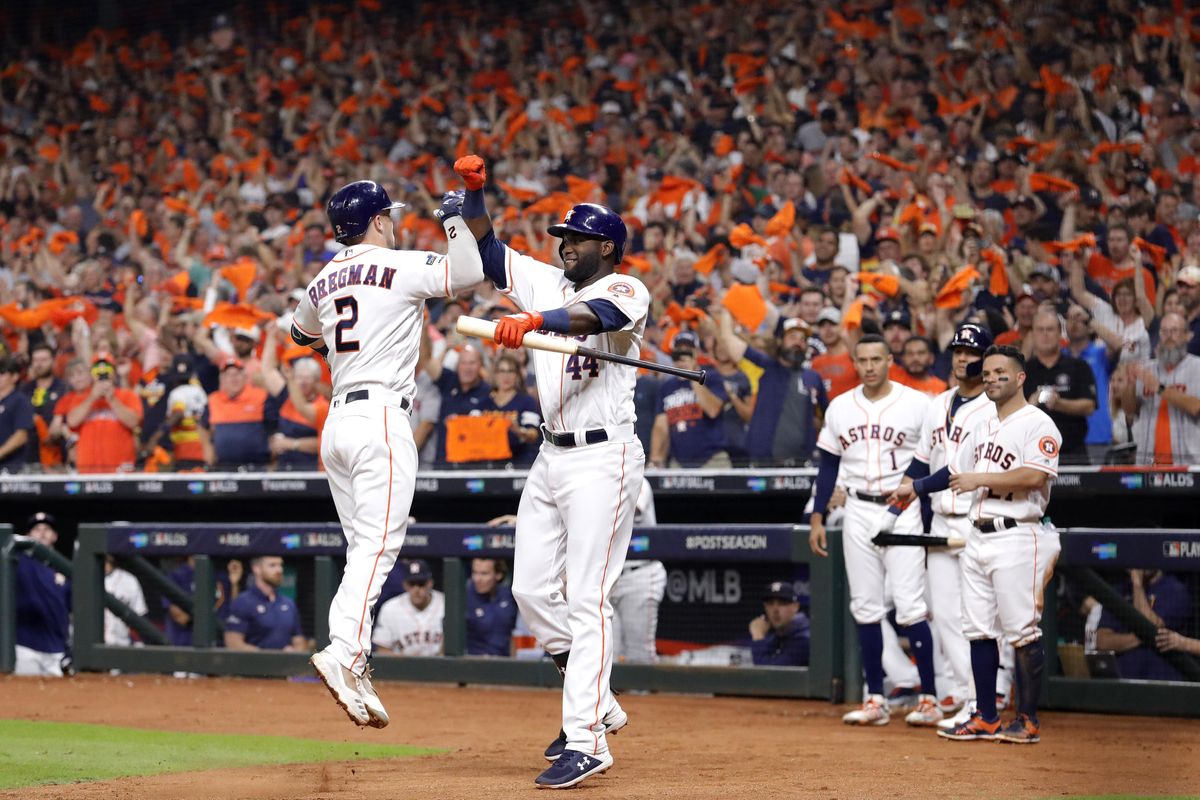 3 critical things on the Astros second half wish list. Photo by Tim Warner/Getty Images.
The Astros head into the All-Star break with a 3.5 game lead in the AL West and in a tie for the AL's 2nd best record with the Red Sox. They also have MLB's best run differential at +136. To say this season has been a success so far would be an understatement. Not many saw this team being this good. I certainly wasn't expecting it. Anyone who said they saw this coming is most likely lying. In order to carry this momentum moving forward, there are a few things the team could use going into the proverbial second half of the season.
1) Health: A healthy roster would be ideal. Yes, I know this can be said for any team in the playoff race, but it's especially true for this team. As of this writing, too many key guys are dealing with some kind of ailment. Alex Bregman and Carlos Correa are currently out. Michael Brantley, Yordan Alvarez, and several others have missed time this season. Pitching staff ace Justin Verlander has been out all season after Tommy John surgery. If the team can stay healthy, look for them to make another run.
2) Bullpen arm: One area that has caused the team much grief this season is the bullpen. Closer Ryan Pressly was selected to the All-Star team. Outside of that, the bullpen has been shaky at best. Recently, general manager James Click made a statement about the team's activity going into the trade deadline. In his statement, Click said the team is willing to go above and way beyond the luxury tax threshold. That revelation goes against what most thought. Owner Jim Crane was thought to have given an order not to go over the threshold. Apparently, Mr. Crane has done an about-face, and it's come at the right time. Cubs bullpen ace Craig Kimbrel is on the market. Rumor has it that the Astros are one of the teams he's expected to land with. This would be ideal, considering the A's are another team rumored to be after Kimbrel. Plugging that hole would stop some bleeding and help this team immensely moving forward.
A wish list twist?
3) Outfielder: Brantley has been the most consistent outfielder. Kyle Tucker has proven himself to be worthy with his power numbers and improved batting average. Myles Straw and Chas McCormick are getting better with more playing time. However, in order for this team to make a good run, they could use another solid veteran outfielder. While Brantley and Tucker are pretty entrenched as the left and right fielders respectively, center field has been a revolving door. Straw brings speed, while McCormick has some impressive power numbers considering the amount of at-bats he's had. I listed this one last on purpose because it could be the smallest need of the three if Straw and McCormick continue to improve.
While news that the team is ready to be buyers at the trade deadline and not being afraid of the tax threshold is a welcomed idea, I'm waiting to see what they'll realistically be able to do. There are areas in which they need to be looking, but hoping for the guys currently on the roster to stay healthy is the most important. Considering the trades they've made in recent years and the sanctions from the sign-stealing scandal have dwindled the minor league system, it'll be interesting to see what they'll give up in a trade. When your window to win another title is still open, you go all out. It's time for Click and Crane to push all their chips to the middle of the table and call everyone else's bluff.
I can't win.
For the past two years, I was an Optimum cable TV subscriber. The service was pretty decent, unless it rained somewhere in the Northern Hemisphere. But I had a bigger gripe. Despite living only a short, 25-minute drive from Minute Maid Park, I couldn't watch Houston Astros and Houston Rockets games. Optimum cable does not carry Space City Home Network (formerly AT&T SportsNet SW). How annoying and exceedingly dumb is that?
They say that people can get 150 stations on their cable lineup, but they really watch only five stations. Mine are Tennis Channel, ESPN, QVC, CNN and Space City Home Network. If you added up my total hours of TV watching, Space City Home Network would be No. 1. That's the best part of Astros and Rockets – they're almost always on.
Because I was an Optimum subscriber, I had to follow Astros games on radio while watching pitch-by-pitch stats flash on my phone. I believe this is how fans followed baseball games during the Dark Ages.
Two weeks ago, I was fed up to here. I called Optimum, said I'm quitting, come get your stupid cable boxes.
And I switched to DirecTV. I got my Astros and Rockets back. Wednesday night, I watched the resurgent Rockets defeat the OKC Thunder. After three years of torment, the Rockets are playing aggressive, entertaining and winning basketball (at home, anyway).
Except now I can't get Houston Texans games. I can't win.
That's because TEGNA, the mega-powerful broadcast company that owns KHOU (Channel 11, Houston's CBS affiliate), is in a pee'ing match with AT&T, the owner of DirecTV and U-verse cable companies that service thousands of Houston subscribers.
Here's a shocker, the dispute is over money. TEGNA, based in Tysons, Virginia, wants to hit DirecTV and U-verse with a big rate bump. DirecTV and U-verse say they don't want to have to pass along the rate increase to their customers.
Yadda, yadda, on Nov. 30 DirecTV and U-verse pulled the plug on Channel 11 and began running a message blaming greedy TEGNA for the whole mess. TEGNA, in turn, blames skinflint DirecTV for not paying a fair price for its stations' programming. So far, DirecTV and U-verse customers have been deprived of watching the Houston Texans' thrilling victory over the Denver Broncos, the SEC championship game between Alabama and Georgia, and all other CBS programming.
Like most disputes between heartless billion-dollar companies, it's the little guy who gets kicked in the keister. The Texans have five games remaining on their 2023 schedule – all of them are scheduled to air on CBS. And get this, if the TEGNA vs. DirecTV and U-verse drags on, guess which network has the 2024 Super Bowl?
How long will the TEGNA vs. DirecTV and U-verse squabble last? Who knows? It's not like either side has rent coming up in a few weeks and needs the money. The sides reportedly are far apart.
Fans have every right to fire their displeasure. But make sure your aim is true. I keep reading bitter complaints against KHOU on social media. KHOU is not the villain. KHOU is a victim.
KHOU would love to air Houston Texans games. KHOU posts some of its highest-ratings for Texans games. Affiliates get several minutes during NFL games, plus pre-game and post-game shows, to sell local advertising spots at a premium price. KHOU salespeople are missing out on tasty commissions because two of Houston's most popular cable carriers aren't airing CBS programming.
If you stare at the Channel 11 screen while Mr. Announcer describes DirecTV's side of the conflict, one solution is for subscribers to hook up an old-fashioned antenna to bring in KHOU programming. And you thought the days of dangling aluminum foil from rabbit ears were gone? Or putting Junior on the roof and telling him, "Move five feet to your left and point the antenna east, let's see if that works."
A similar TEGNA-DirecTV disruption occurred in 2020. That one lasted two weeks. The clock is ticking on the Texans-Jets game this Sunday. The Texans are favored by 3.5 points. It's a gift – take the Texans.
SportsMap Emails
Are Awesome