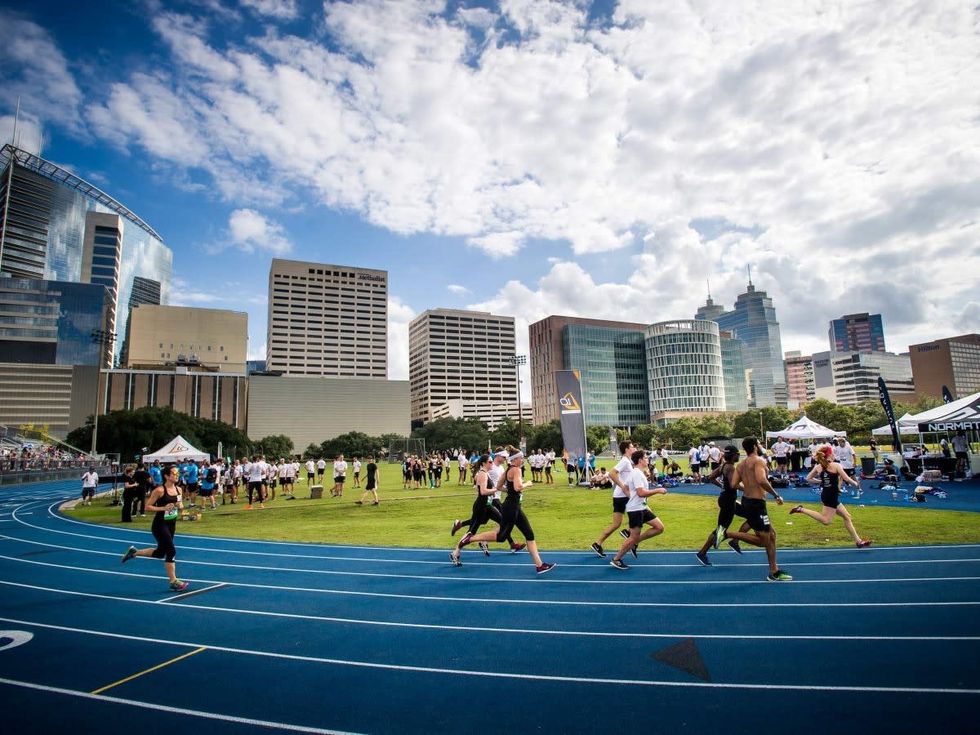 Athletes compete in 10 events. Photo courtesy of The D10
This article originally appeared on CultureMap.
While we're well over a year away from the 2020 Olympic Games, Houstonians have an opportunity to feel that same inspiring buzz that comes from watching a professional live sporting competition.
On Saturday, November 3, the grand finale of The D10 national tour is taking place at Rice University. At the all-day event, amateur athletes compete in events that are common at the NFL Scouting Combine, in Olympic track and field, and on the playground, from a 400-meter run to pull-ups to a 20-yard shuttle.
All for a good cause
The best part? These athletes aren't just competing for pride, although there's certainly plenty of that. They are making a huge philanthropic impact. The D10 aligns with the premier pediatric cancer institutions in North America — in Houston, funds raised benefit The University of Texas MD Anderson Children's Cancer Hospital — and D10 registrants earn their spot on the playing field by meeting The D10's fundraising requirements.
Since its inception, The D10 has raised nearly $12 million for pediatric cancer research. About half the donations D10 athletes collect come in the form of "performance-based pledges," which can double or decrease depending on how well an athlete performs in a given event.
"Performance-based pledges rewrite the contract between the athlete and their donors," says D10 founder Dave Maloney. "It's a pledge by the competitor that he or she is training purposefully toward a specific goal. When you have an extra $1,000 for MD Anderson riding on each rep of the bench press, you can feel the electricity of that performance throughout the stadium."
"Festival-like atmosphere"
The D10's philanthropic component does more than check a box, according to Maloney. It creates the sense of common purpose that characterizes amateur team athletics. That unique blend of camaraderie and athleticism makes for a pretty special competition, a day that's full of a festival-like atmosphere. The D10's Game Day experience features a fully stocked beer garden by Saint Arnold Brewing Company, a kids play pavilion furnished by event sponsor Cheniere Energy, and complimentary fruit, snacks, and juices for all spectators.
"Our athletes represent many of Houston's leading firms in energy and legal and financial services," Maloney says. "As professionals, they expect the highest level of execution, and we hold ourselves to that standard in our production. As athletes, we want them to regard The D10 as their Super Bowl."
Cheer on the big day
For those who can't make the event on November 3, don't worry — the entire event will be broadcast on The D10's own streaming platform, called NORMA.
"We built NORMA because our athletes have supporters and donors all over the world," says Maloney. "It's a way for those people to be engaged with what's going on on the field."
On the day of the event, the software allows viewers to search and follow the athletes they want to watch, and receive phone notifications when it's each athlete's turn to compete. Viewers can also browse among more than a dozen camera angles to direct their own viewing experience, or make real-time donations to any athlete on the field. 
For details on competing or attending, head to The D10's Houston website.
The D10's livestream picks up the morning of the event on November 3.
Luka Doncic had 41 points, nine rebounds and nine assists, and the Dallas Mavericks prevented the Houston Rockets from advancing to the quarterfinals of the NBA In-Season Tournament with a 121-115 victory on Tuesday night.
Kyrie Irving added 22 of his 27 points in the second half for the Mavericks, who had already been eliminated. Their victory allowed the New Orleans Pelicans to win Group B in the Western Conference with a 3-1 record.
Doncic fell just short of his 59th career triple-double. That would have tied him for ninth place all-time with Larry Bird. He shot 15 of 29, 3 of 10 on 3-pointers.
"Sometimes we take him for granted, and we shouldn't," Mavericks coach Jason Kidd said. "He's about winning, but it just so happens he's a walking triple-double.
"The Mavericks, who trailed by nine points in the third quarter, grabbed the lead for good at 99-98 with 6:25 to play on a drive by Irving. Leading 103-100 with 5:25 left, they went on an 8-2 run that included three free throws by Derrick Jones Jr. when he was fouled by Dillon Brooks on a 25-footer with the shot clock about to expire.
Jabari Smith Jr.'s 3-pointer with 8 seconds left pulled the Rockets within 119-115 before Dallas closed it out.
Doncic played after sustaining a low-grade sprain of his left thumb on his non-shooting hand early in Saturday's game. He wore a wrap on the thumb.
Doncic made a hook shot from the free throw line after recovering a loose ball near the baseline.
"I'm 2 for 2 in my career on the hooks," Doncic said, saying the other came while playing for the Slovenian national team against Sweden.
Irving shot 2 for 11 in the first half, 1 for 5 on 3-pointers, with no free-throw attempts. He was 6 for 11 in the second half, hitting 1 of 2 behind the arc, and sank all nine free throws.
"I told the team, 'Played well enough to win, not smart enough to win,'" Rockets coach Ime Udoka said. "We were extra-aggressive, especially at the end of the third quarter. Had multiple players make a few dumb fouls, put Kyrie at the line and got him going when he didn't have a lot going. You can be aggressive, obviously, but slapping somebody on a 3-point shot on the arm is an unintelligent play. It has nothing to do with aggression."
Alperen Sengun had a season-best 31 points for the Rockets, who had six scorers in double figures. Fred VanVleet had 10 points and 12 assists.
The Rockets have lost all six of their road games this season. They went into play leading the NBA by allowing an average of 104.4 points per game.
The Mavericks didn't use the specially built court for either of their home tournament games, citing dissatisfaction with the quality.
UP NEXT
Rockets: Will finish a back-to-back at Denver on Wednesday.
Mavericks: Host Memphis on Friday.
SportsMap Emails
Are Awesome