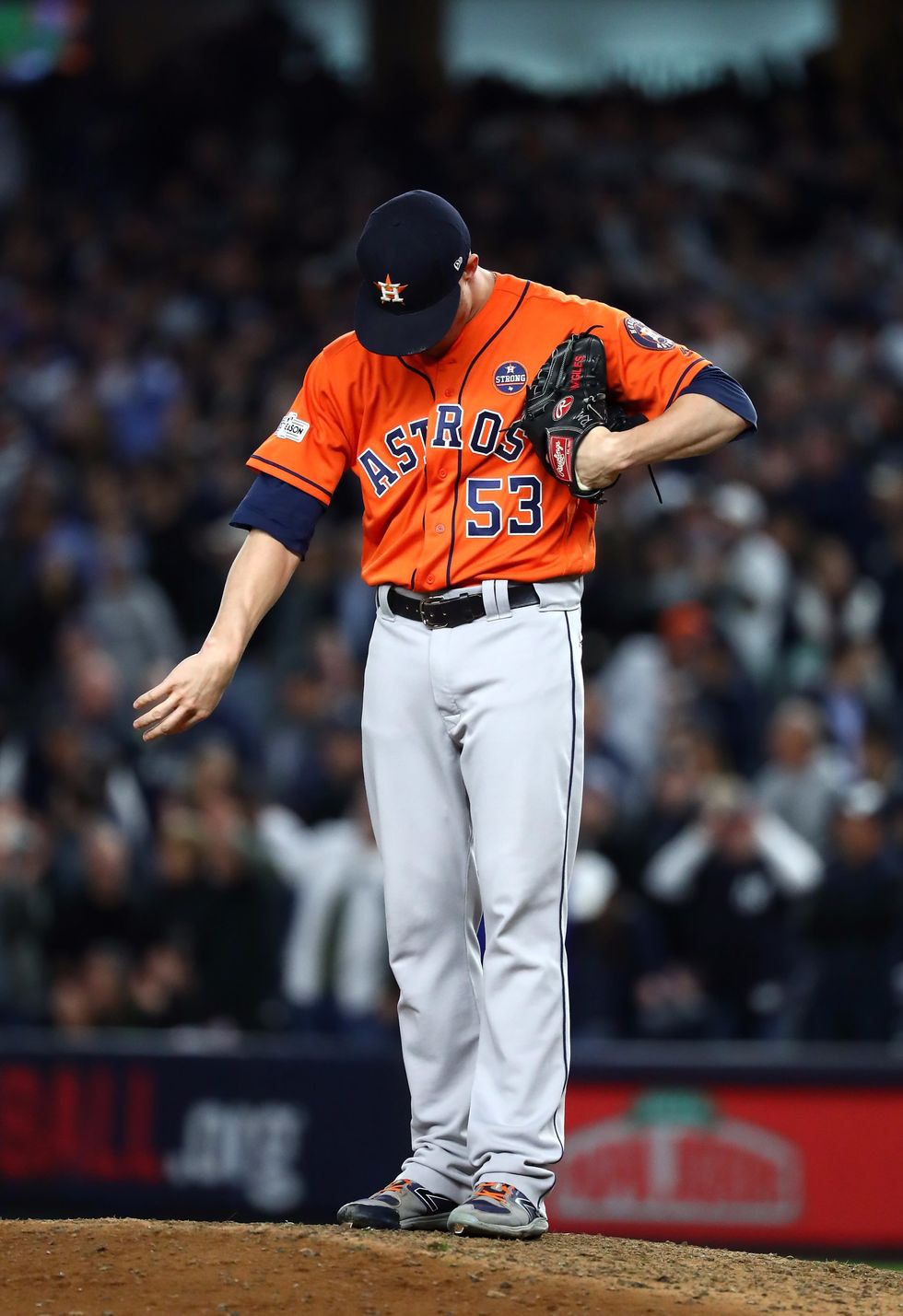 Your Ken Giles panic is unwarranted. Al Bello/Getty Images
It seems like the cool thing to do early in the 2018 Astros season is to freak out over Ken Giles.
Now let me start this by saying I'm not a Ken Giles apologist.
Did he have a bad World Series? Yes.
Is he frustrating? Yes.
Is he a good closer? Yes.
Is he an elite closer? No.
But to say Ken Giles isn't any good, or needs to lose his job (as I've heard a few folks say already this year, 13 games in to the season) is just silly.  
The first thing these freaker-outers (totally just made that up) point to is how much he sucked in the World Series, and to that I say, no doubt! He did suck, and so did Josh Reddick, but nobody is calling for him to lose his job. Corey Kluber won the Cy Young and then posted a sweet 12.79 era in the postseason last year, higher than Giles 11.74 if you can believe that.
Besides, Astros fans should be used to their big named starters sucking in the playoffs, right?
Remember how Bagwell and Biggio had bad playoffs seemingly EVERY playoffs?
Remember how Jose Altuve hit .154 in the playoffs in 2015? BTW, THATS ALSO WHAT HE SLUGGED!!
Oh, say, do you guys remember when the best closer in baseball, Kenley Jansen, had a blown save (game 2)  and a loss (game 5) in the 2017 world series?
This is fun.
Anywho…
...oh and before we get to the data, a word for you "eye testers" out there, because inevitably somebody will say, "Hey stupid, I don't need stats, the eye test is all I need!!!!"
Well, just remember that you probably focus more on the bad than the good with your eye test (and memory). That's what numbers are for, to show the truth..aka facts.
So when you look at the numbers last year Ken Giles was one of the better closers in baseball.
He ranked 8th in saves with 34.
Among closers who ranked in the top 10 in saves he was tied for third with only four blown saves, and only three others in the top 10 had an era under 3.00 like he did.
Now let's get nerdy.
There's a new stat that I found the compared something called shutdowns and meltdowns and it was basically a better way to quantify how good of closer is based on whether they shut down a situation or melted down in that situation.
More on SD and MD from Fangraphs.com:
"Shutdowns (SD) and Meltdowns (MD) were created as an alternative to Saves and Blown Saves in an effort to better represent a relief pitchers value. While the Save rule is odd and complicated, Shutdowns and Meltdowns strip away these complications and answer a simple question: did a relief pitcher help or hinder his teams chances of winning a game? If they improved their teams chances of winning by a certain amount, they get a Shutdown. If they instead made their team more likely to lose by a certain amount, they get a Meltdown.
Think of Shutdowns and Meltdowns as a simple way to determine whether or not the pitcher had an effective outing or not.
...40 shutdowns is roughly as impressive as 40 saves or 40 holds. Dominant closers or set-up men will typically have 35 to 40+ shutdowns and a handful of meltdowns.
Meanwhile, meltdowns are more common than blown saves, and they can happen to both closers and non-closers alike. The worst relievers will rack up around 10 to 15 meltdowns in a season."
Here's a nifty chart showing how Giles stacks up against the games best closer (Jansen, Kimbrel and the up and coming Corey Knebel):
As you can see, Giles had just as many "meltdowns" and Kimbrel last year, and both only had 2 more than Jansen.
If you look at their shutdown percent and meltdown percent (not shown) it shakes down as follows:
SHUTDOWN PERCENT (higher is better):
Jansen 64.62%
Knebel 60.53%
Kimbrel 46.27%
Giles 38.09%
MELTDOWN PERCENT (lower is better):
Jansen 4.62%
Giles 7.94%
Kimbrel 7.46%
Knebel 11.84%
Does Ken Giles make you cuss? Sure.
Doe he have bad outings? Yep.
Dallas Keuchel hasn't been great thus far, nor has Lance McCullers, and everyone's bullpen darling Brad Peacock took the L yesterday vs. the Twins after he couldn't get the job done, yet nobody is asking if these guys should lose their jobs, so chill out with Ken Giles.
At least give him a chance because guys like him, with stuff like he has, don't come around very often.
And lets not forget, Giles is still relatively young in baseball years. In fact, I was surprised to find out when somebody asked if he should be sent down, that he actually could because he only has 3.1 years of service time. That's very young for a closer.
He is got a lively, gifted arm and when he's on he is electric. The problem is he is young and inconsistent and still needs to mature in his role, and that can take some time and drive fans crazy.
We saw big games from Will Anderson, Derek Stingley Jr., & Nico Collins on Sunday. Jimmie Ward with the game winning pick. C.J. Stroud doing C.J. Stroud things. Things are starting to come together. And Texans GM Nick Caserio deserves a lot of credit.
Check out the video above to find out more!
SportsMap Emails
Are Awesome