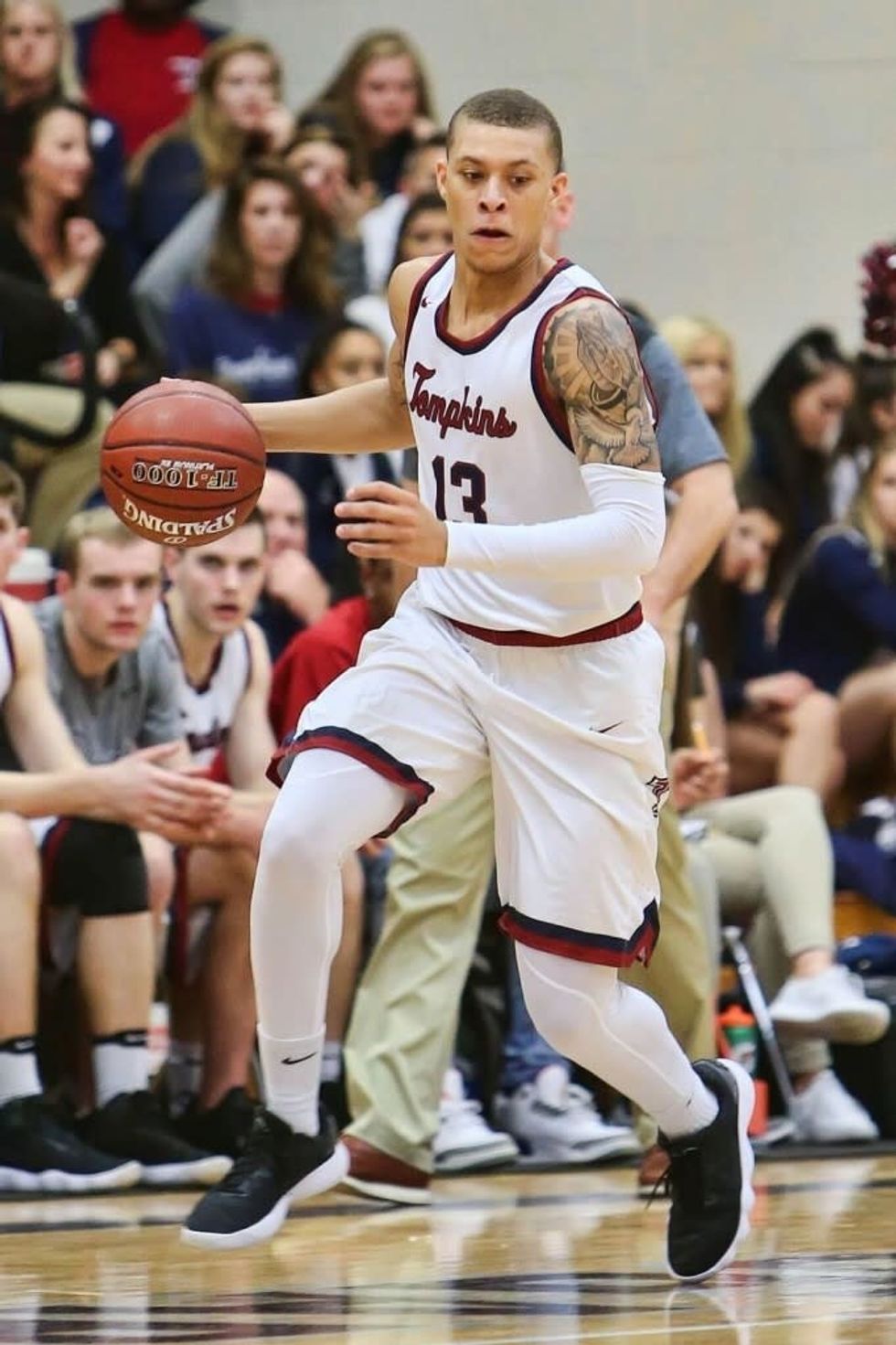 Tompkins senior CJ Washington Vype
While Tompkins' CJ Washington and Jamal Bieniemy aren't biological twins, they have a basketball telepathy that dates back to the fourth grade.
The VYPE co-MVPs have been backcourt mates since playing for the RYTES Warriors in elementary school, where they were coached by teammate Eden Holt's dad, Lamar Holt.
From Morton Ranch Junior High, the pair transferred to Tompkins to lay the foundation for a new program.
The past four years, the pair has been the cornerstone of the Tompkins Falcons, which found themselves on the state's biggest stage. They took the five-year-old school on a ride they never could have imagined.
But they did.
"We've been dreaming about this since we were little kids," CJ Washington said of reaching the state finals. "This journey has really been special for us."
Bieniemy has signed with Oklahoma, while Washington will sign after the season.
Washington and Bieniemy both averaged 16 points per game on the season as the best backcourt in the city.
Having that near-decade of history helped, knowing where each other were on the court and knowing who would take over a game and when.
"It will be weird after we play our final game," Bieniemy said. "That's why we've been going so hard. We don't want it to end. I know we will go our separate ways in college, but I know when we are home we will get some runs in together. We love to push each other."
Entering the ninth grade, Washington was ranked by some recruiting services as the No. 1 player in the state. That can get in your head sometimes. Washington's game fluctuated, but he has put in together as a senior.
"I had to play these guys on varsity as freshman," coach Bobby Sanders said. "They didn't really have any older guys to show them how to work, so we had some growing pains.
"Entering this year, CJ was on a mission. He just got in great shape. We trained hard in the preseason running miles. I mean a lot of miles. Once he was in shape, no one can stop him getting to the goal. He's had a transformation."
"I was just in my head the past few years," Washington said. "Coach kept reminding me that I was unstoppable, and I just kept that in my head this season."
Bieniemy's game also added a few wrinkles as a senior.
"He worked so hard on his shot and it's been a game-changer," Sanders said. "With that came great confidence. As a freshman, he would have never taken that three-pointer to win the state semifinal. We were in the huddle and he said, 'I'm gonna knock this down coach.' I thought, okay."
While the MVP is an individual award that is usually given to the best player on the best team, this year is different.
You can't mention one without the other when it comes to Bieniemy and Washington.
It's been like that for nearly a decade.
This article appears in the March Issue of VYPE Magazine. Pick up your copy at any one of our locations next week! 
The Houston Astros were in need of some serious help in the bullpen with Phil Maton, Hector Neris, and Ryne Stanek likely leaving this year in free agency.
While some fans were getting concerned about the quiet offseason, the club has made two moves this week to get the ball rolling.
First the team signed Victor Caratini to be the backup catcher, and now they have added some relief pitching.
The Astros traded pitching prospect Carlos Mateo to the Royals for RHP pitcher Dylan Coleman.
Coleman appeared in 96 games in the past three seasons for KC, including 68 games in 2022 and 23 games last season. He has a career 3.88 ERA and 1.37 WHIP. He's fastball (95 mph), slider (81) and cutter (90) and walked 57 batters and struck out 99 in 92 2/3 innings.
— Brian McTaggart (@brianmctaggart) December 6, 2023
Coleman is under club control for the next several years, and made just over $700,000 in 2022. With the Astros right up against the tax threshold, this is a good way to add to the bullpen without having to hand out a large contract.
The Royals had a tough roster decision to make with Coleman, and the Astros made the decision easy for them by making the trade.
Something to note
There's a reason Kansas City wasn't determined to protect Coleman from the Rule 5 Draft. Despite his decent numbers over the last three seasons, 2023 was a rough year for him, posting an 8.84 ERA over 23 games.
In fact, Coleman pitched more innings (30.2) for the Royals AAA team than he did for the big league club (18.1) in 2023.
Hopefully, the Astros can get him back on track this season with some help from their highly touted player development program.
You can watch some of his 2022 highlights above.
SportsMap Emails
Are Awesome