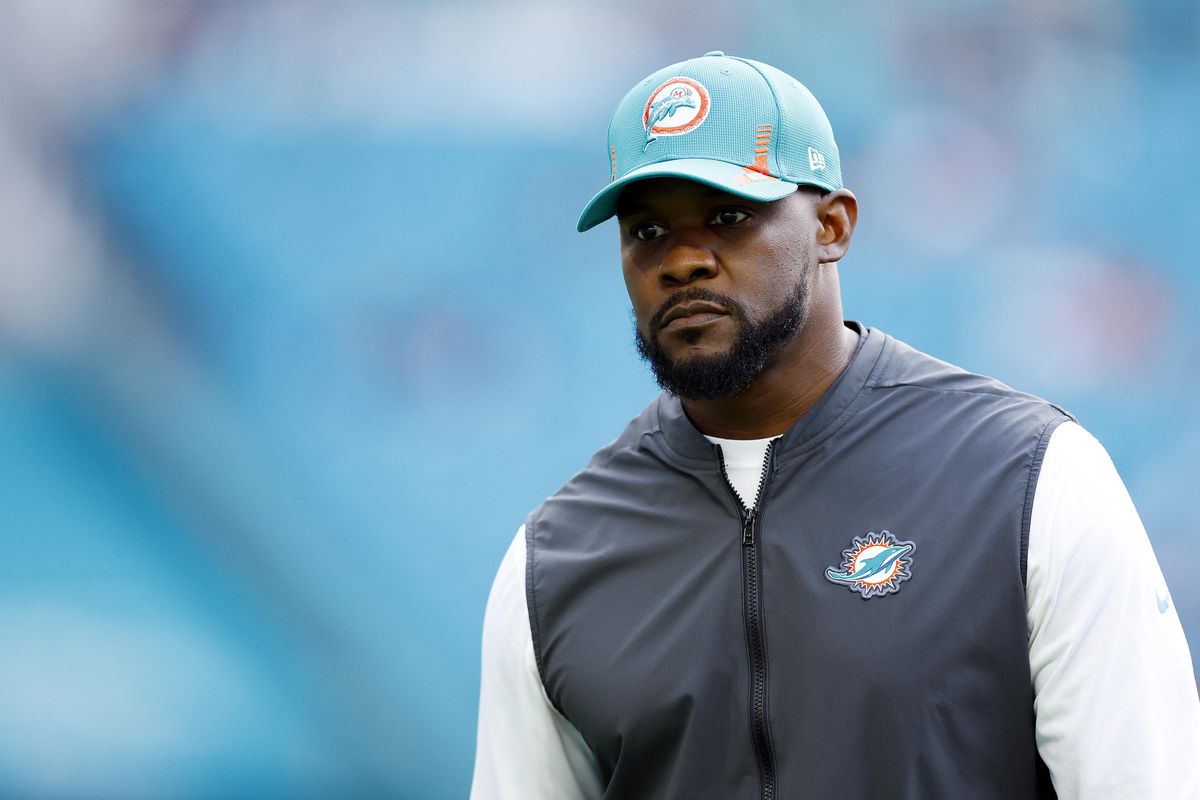 Brian Flores is going all-in. Photo by Michael Reaves/Getty Images.
It's our first weekend since August devoid of football games of any meaning whatsoever. The Pro Bowl is as big a waste of three hours as exists on the sports calendar hence certainly does not count. Let's hope our calendar isn't devoid of Major League Baseball games into a good portion of the spring. Owner-player negotiations on a new collective bargaining agreement have made incremental progress at most. Major League Baseball seeking to add a federal mediator to the talks can't hurt I guess, but the players have to agree to it. If no deal is done by the end of this month, uh oh. There's already no way that spring training starts on time.
The NFL still commanded the top sports news slot of the week. The top two really, and boy it took a doozy to relegate Tom Brady's retirement to the runner-up slot. Fired Dolphins' head coach Brian Flores lit a powder keg in filing a class action lawsuit against the Dolphins, Giants, Broncos and whole NFL over alleged racist hiring practices. The NFL clearly has systemic racism in its history. It doesn't take white sheet and hood wearing pure evil to be racist, or at least racially insensitive or improper. As society continues dealing/not dealing with what is probably an eternal problem of race issues, sometimes it's hard to fairly redress an individual problem (that may or may not exist) even though a broader problem obviously exists.
If the Texans hire the utterly unqualified Josh McCown to be their head coach, is that racist? No. Laughable, but not racist, unless someone has specific evidence to the contrary. It would however speak to the overall problem of an ol' boys network of opportunities that grossly disfavors minorities. That said, the notion that because roughly 70 percent of NFL players are black a similar percentage should be NFL head coaches, is silly. But one out of 32? In the 1960s Supreme Court Justice Potter Stewart famously addressed pornography by noting that while he couldn't specifically define it, "I know it when I see it." In this case "it" is systemic racism. Painted end zone slogans and helmet decals notwithstanding.
It would seem illogical for Flores to just make up allegations that Miami owner Steve Ross offered him 100-thousand dollars per loss in 2019. There is a difference between "tanking" for draft positioning and ostensibly asking for games to be thrown. Ross of course denies everything. So the one thing we know is that Flores or Ross is a liar. If Flores is proven to be the untruth teller, his career would be rightfully destroyed. If Ross is proven to be the untruth teller, he could face criminal charges.
College football
Texas A&M head coach Jimbo Fisher sure poured it on thick this week when getting all worked up over suggestions that NIL deals had anything to do with the Aggies' historically fantastic recruiting class. He all but challenged fellow SEC head coaches to a fistfight. Of course the NIL situation helped the Ags. It's the new landscape of recruiting. It's a good thing for the program that A&M's massive and wealthy alumni base has rabidly embraced the system. Come on Jimbo, it's the same backbone that has you with a 90 million dollar contract.
Eric Gordon on the move?
The NBA trade deadline arrives Thursday. Rockets' general manager Rafael Stone should not overvalue Eric Gordon as a trade asset. Gordon is a solid pro shooting the ball very well this season. He's also 33 years old with 19 and a half million dollars guaranteed for next season. The Rockets definitely don't owe it to Gordon to deal him to a contender, but holding out for a good young starter or multiple first round picks in return would be an over-ask. How aggressively to shop Christian Wood is a more interesting question.
While the Rockets enter the weekend with 15 wins in 51 games this season, the Houston Cougars have 19 wins in their 21 games played. Wednesday night while the Rockets were snapping their franchise worst tying 11 game home court losing streak, the Coogs were winning their 37th straight at the Fertitta Center. Over the last four seasons (counting this one as the fourth), Kelvin Sampson's squads are a spectacular 103-18. This Sunday UH plays at Cincinnati, the Bearcats do pose a mild upset risk.
Buzzer Beaters:

1. It worked I guess, but to try and boost its chances it was pretty sad that U.S. soccer chose to schedule a February 2 World Cup qualifying game against Honduras outdoors in St. Paul Minnesota.
2. The Winter Olympics are underway in China. Were you aware?
3. Winter Olympic sports I'd love to try: Bronze-curling Silver-bobsleigh (wait, it's not the bobsled?) Gold-luge
Nikola Jokic had 32 points, 15 assists and 10 rebounds, Michael Porter Jr. scored a season-high 30 points and the Denver Nuggets rolled past the Houston Rockets 134-124 on Wednesday night in Jamal Murray's return from a hamstring injury.
Murray scored 16 points after missing Denver's past 11 games. After starting 6-1 with Murray available, the Nuggets were just 6-5 without their point guard.
His presence led Denver to one of its best offensive outings of the season, with 19 made 3-pointers and 37 assists to just three turnovers.
"One of the security guards said, 'Hey, great win tonight.' I said it was a great outcome," Nuggets coach Michael Malone said. "I wouldn't call it a great win. It was a great outcome.
"It was the third consecutive win for the NBA champion Nuggets, who had lost four of five before their current streak.
Jokic, who was sidelined with a lower back injury in a win Monday at the Los Angeles Clippers, recorded his seventh triple-double of the season. Entering the night, all other NBA players had combined for just eight triple-doubles.
"This is pretty easy basketball when you've got someone that good with the floater, but also that good at passing," said Porter, who had 10 rebounds and made seven of his 12 3s.
Denver had lost twice to the Rockets in November, including a 19-point loss in Houston five days earlier. The Nuggets improved their NBA-best home record to 9-0 while dropping the Rockets to 0-7 on the road.
While Murray returned, Denver was without forward Aaron Gordon, who missed his third consecutive game with a strained right heel.
Welcomed with a roaring "He's back!" from the public address announcer and a hearty ovation from the home crowd before tip-off, Murray injured his ankle after he came down awkwardly on a missed contested shot at the rim two minutes into the game and walked gingerly back to the bench after a Nuggets timeout. He immediately returned out of the timeout and finished with 22 minutes played, though he described his ankle injury as "frustrating."
"The hamstring's fine," Murray said. "I've worked enough to get it back to strength. Now, it's just another thing. I've got to work on that and hopefully I'll be ready."
After that initial scare, his team had little reason to worry the rest of the night.
Led by 12 points from Porter, the Nuggets scored a season-high 41 points in the first quarter and led by as many as 19 in the period. Denver never trailed and led by double digits for all but the opening 4:16 against a Houston team that was playing the second night of a back-to-back after a loss Tuesday night at the Dallas Mavericks.
"We just woke up pretty late," Rockets guard Jalen Green said. "If we started off a little bit better, it would have been a different story."
Green paced the Rockets with 26 points, including 18 in a third quarter in which he made all six of his field goals and all four of his 3s. Alperen Sengun added 22 points for Houston, which lost for the fifth time in seven games following a surprise 6-3 start.
The Rockets were without guard Fred VanVleet, the team's third-leading scorer and $130 million offseason acquisition, who was sidelined with a sprained left thumb.
UP NEXT
Denver: At Phoenix on Friday.
Houston: At Los Angeles Lakers on Saturday
SportsMap Emails
Are Awesome