Here's why Carlos Correa could be dropping hints about his future in Houston
Jan 13, 2022, 11:54 am
Correa is selling his game-used Astros gear. Composite image by Jack Brame.
A bad moon rising … or just another pro athlete making a quick buck, tens and tens of thousands of them, selling dirty ol' T-shirts from the back of his locker as "priceless sports memorabilia?"
Former Astros shortstop (step one, acknowledging the problem) and current free agent Carlos Correa recently sold a mother lode of his game-used Astros memorabilia to a private collector, according to essentialsports.com. The "fans' perspective website" suggests that Correa may have unloaded the collectibles in preparation of signing with another team, say, the Yankees, Dodgers, Cubs or it's anybody's guess.
The most recent rumor has the Cubs offering $224 million over seven years with an opt-out after two years. If he left the Cubs after two years he would forfeit the remaining $150 million on the deal. This would make Correa the highest-paid position player, per-year, in baseball history.
The Tigers reportedly dangled $275 million over 10 years. Correa said no and the Tigers instead signed Javier Baez for $140 million over six years.
The Astros' best offer – so far – is $160 million over five years with owner Jim Crane balking at a longer-term deal. That's just the start of negotiations, the seductive dance between team and player.
Dodgers and Yankees, c'mon down. It's your turn to play the Price is Right.
Correa, 27, reportedly wants a contract in the vicinity of Francisco Lindor's $341 million over 10 years with the Mets, and Corey Seager's $325 million over 10 with the Rangers. Ideally Correa would like to top those deals. Correa doesn't exactly sell himself short when it comes to his value.
Like George Costanza said when NBC offered Jerry Seinfeld and him only $13,000 between them for writing a sitcom pilot, "That's insulting! Ted Danson makes $800,000 an episode. I can't live knowing that Ted Danson makes that much more than me."
Of course, the Correa cliffhanger is on hold until the baseball owner and players' union settles on a new collective bargaining pact. It could be months before we see Correa donning a jersey and cap at a press conference.
Astros fans shouldn't be disheartened just because Correa sold some old gear to a private collector, however. Pro athletes do this all the time, just a little quieter than Correa. They auction off game-used bats, jerseys, cleats, gloves, and if they had their way, the ground they walk on.
I'm not in Correa's league but I also recently sold a valuable piece of memorabilia from my celebrated athletic career, too. I parted with my prize item, a game-worn Washington Generals jersey from when I played with the record-breaking sad sacks in shorts.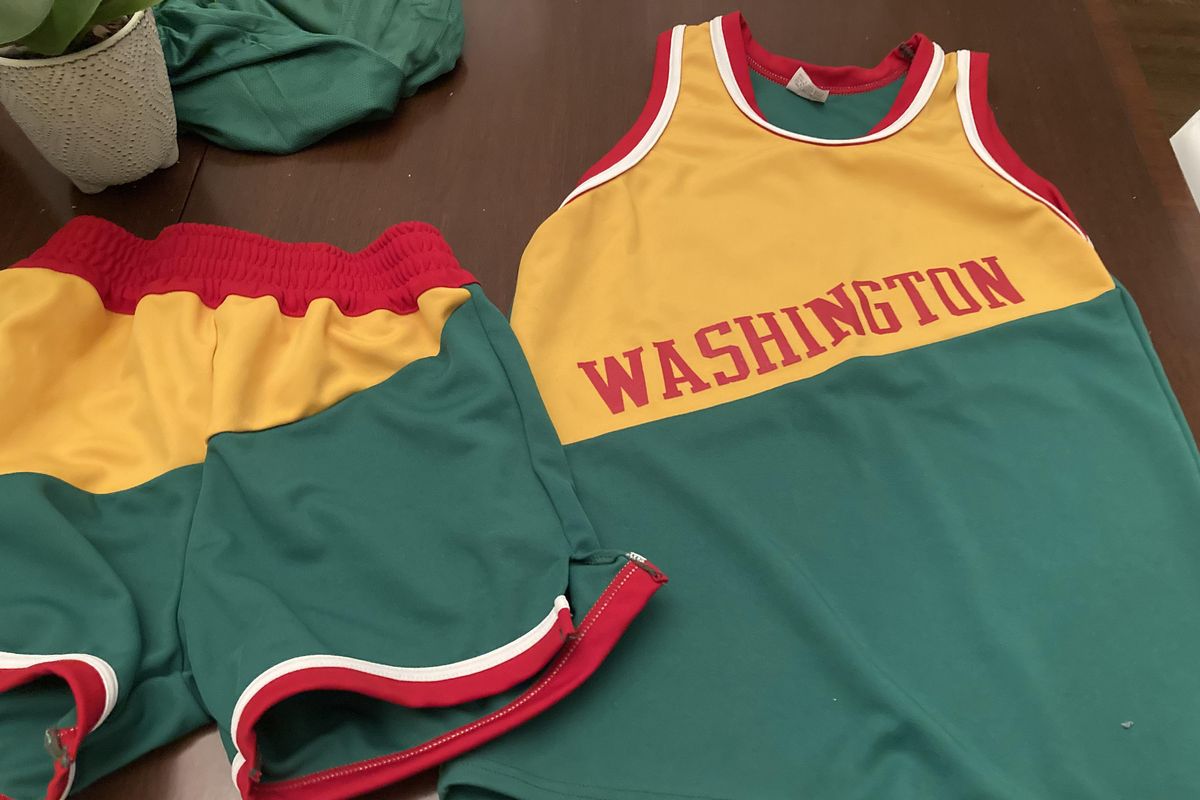 IMG-2861 Photo by Ken Hoffman
Several years ago, I got a phone call. The Harlem Globetrotters were coming to Houston and they came up with a new gimmick. In each city, they invited a media person to play with their opponents, the patsy Washington General. They asked me. I jumped at the chance with my vertical leap of two inches. The Generals' losing streak was at 27,252 the night I put on a Generals uniform and took the court against the legendary Globetrotters. Playing against the Globetrotters in front of 10,000 fans was a nerve-wracking, Top 10 moment for me. My previous biggest basketball crowd was nobody in my driveway.
Let the record show that I scored 5 points that game. I made two free throws and was credited with a 3-pointer when I launched a shot practically from the logo ("Just get it close," I was told) and a Globetrotter, sitting atop another Globetrotter's shoulders, caught the ball mid-flight.
I was told by Generals coach Red Klotz to turn in the uniform before I left the arena because a media person in New Orleans needed it the next night. Sure, no problem. No chance. I walked out with the uniform and wrote a column about my experience with the Generals.
Last month, I got an email from John O'Hare. Would I be willing to sell the Generals jersey? O'Hare is a police officer in West Chester, Pennsylvania. But more noteworthy, a former Washington General who's been looking for an authentic jersey since he played for Generals in 1992. He wanted a jersey to complete his collection from his basketball career. He found me on google.
"I played for the Washington Generals on the Globetrotters' European tour in 1992. Playing for the Generals was my first paying job out of college. Before that I played for Delaware County Community College and Cabrini College. I also played for Ireland's national team from 1986 to 1992 with dual citizenship before my year with the Generals," O'Hare said.
O'Hare said he played 30 to 40 games with the Generals "and believe it or not we didn't win one time!" His high game was 10 points.
"I was a guard/forward for the team. I had the ball rolled through my legs, harassed at the foul line and became dizzy on so many occasions chasing a Globetrotter through one of their weaves which led to a thunderous dunk by one of their high-flying dunkers," he said.
One of his stranger memories …
"The fans in Europe went crazy for autographs and any gear, like wristbands and headbands from players on the Globetrotters and even the Generals. I remember walking through the Red Light District in Amsterdam and seeing one of the ladies in the window wearing a Harlem Globetrotters wristband she got from one of the players after the game that evening," he said.