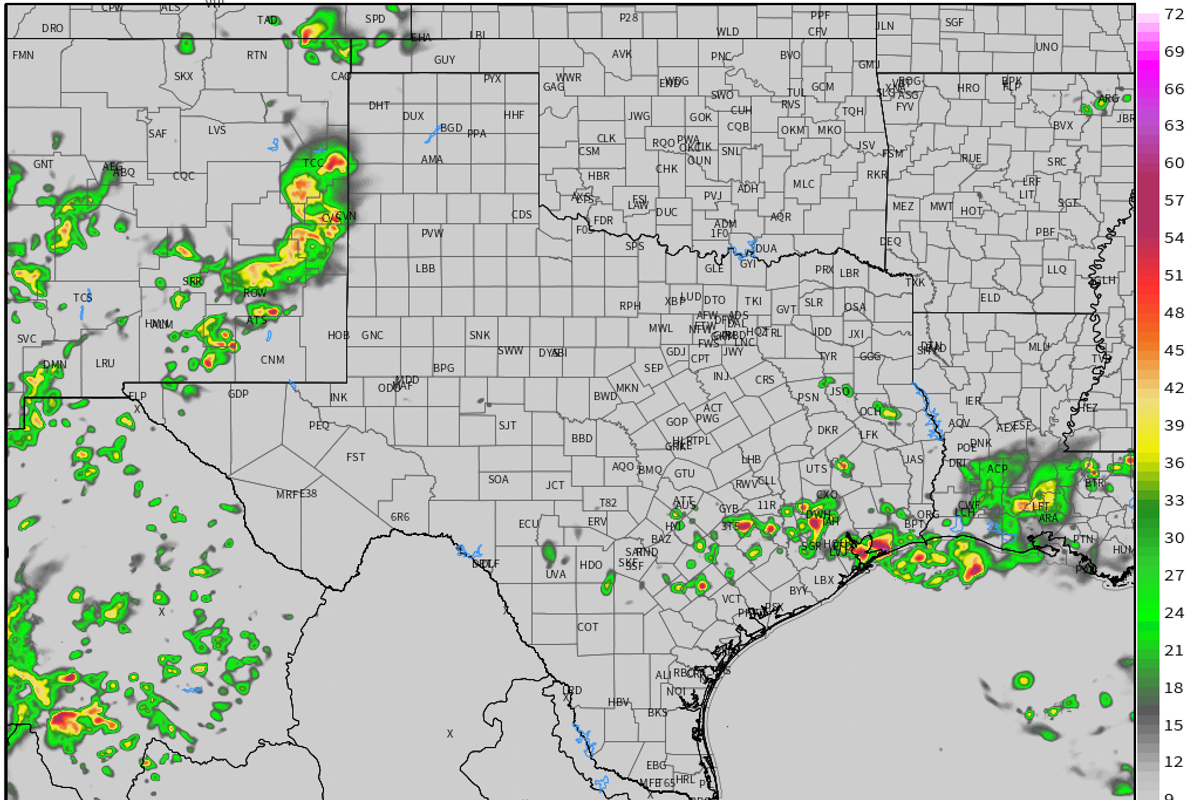 Last time we spoke the miserable heat wave that has now brought six consecutive days with temperatures at or above 100 degrees was just beginning. While Houston obviously gets hot, this stretch of consecutive days over 100 is fairly uncommon. As bad as the days have been the nights have actually been worse as the sustained daytime heat makes it harder for the air to cool off at night as heat absorbed by the ground, and particularly concrete, during the day continues to be released from the ground at night. I am happy to say though that it appears we are reaching the end of this particular hot streak. Congratulations, you survived.
The area of high pressure, also known as the "Death Ridge," is moving off to the west which will bring in a bit of a northerly wind flow and a weak front. I hesitate to call it a front as it won't change the air-mass much. Rather, it is more of a boundary that could provide a focusing mechanism for some rain. Today and tomorrow will bring us the best chance of rain we have seen in a while, which is sorely needed after the baking we have endured. While I don't think everyone will see rain the next couple of days there should at least be enough rain and clouds around to keep temperatures in the mid 90's instead of over 100.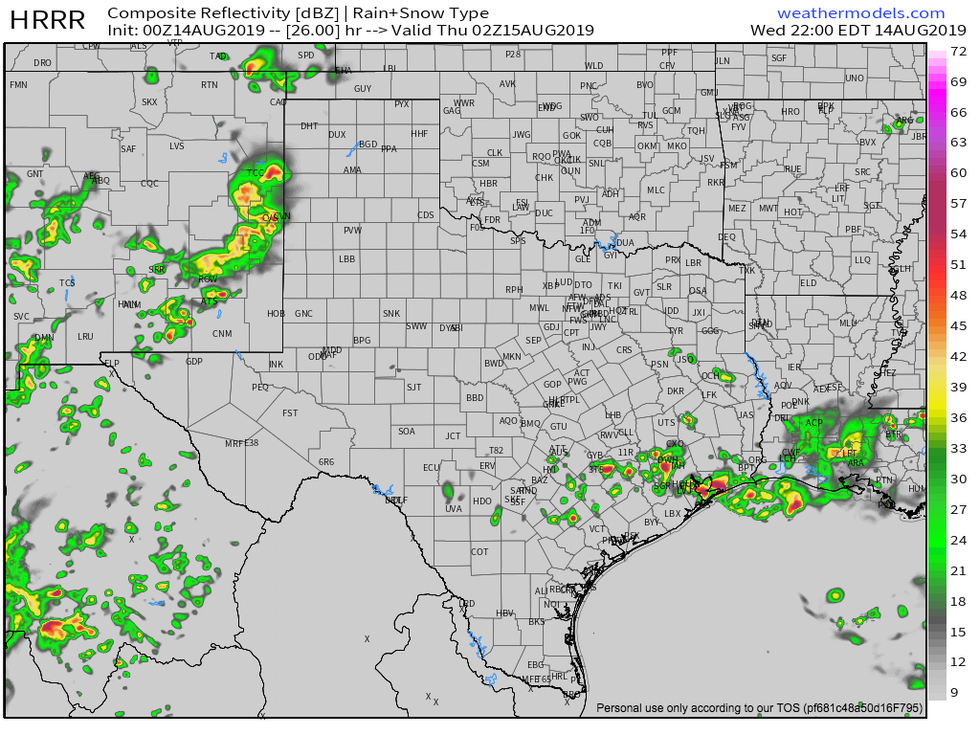 Rain finally returns. Simulated radar this evening.weathermodels.com
Into the weekend rain chances will go down but not disappear entirely. Instead we will be going back to our more normal summer programming with a few afternoon storms here and there.
How Much More Summer:
Now that we are all thoroughly sick of the heat I decided to take a look to see what the averages say as to how much longer we have to go until things start cooling off. Looking at data from Hobby Airport compiled over the past 70 years I found the following:
Average date of last 95+ degree day: September 6th
Average date of last 90+ degree day: October 7th
Average first date with low temperature of 65 degrees or below: September 18th
Average first date with low temperature of 60 degrees or below: September 28th
Keep in mind that these dates are just averages, but it does show that we only have about a month to month and a half left of real summer misery. Yes, heat can sometimes last well into October, but the light is starting to appear at the end of this tunnel, just hold on a little longer.
Hurricane Season Update:
We are entering what is typically the peak of hurricane season but the Atlantic and Gulf are still dead. Part of this is because there is still a good amount of saharan dust out in the Atlantic, indicative of hot dry air in the upper atmosphere which inhibits any potential storm growth. The law of averages would say that things will get churning at some point in the Atlantic Basin over the next month or so but as of now the computer models are not sniffing anything out.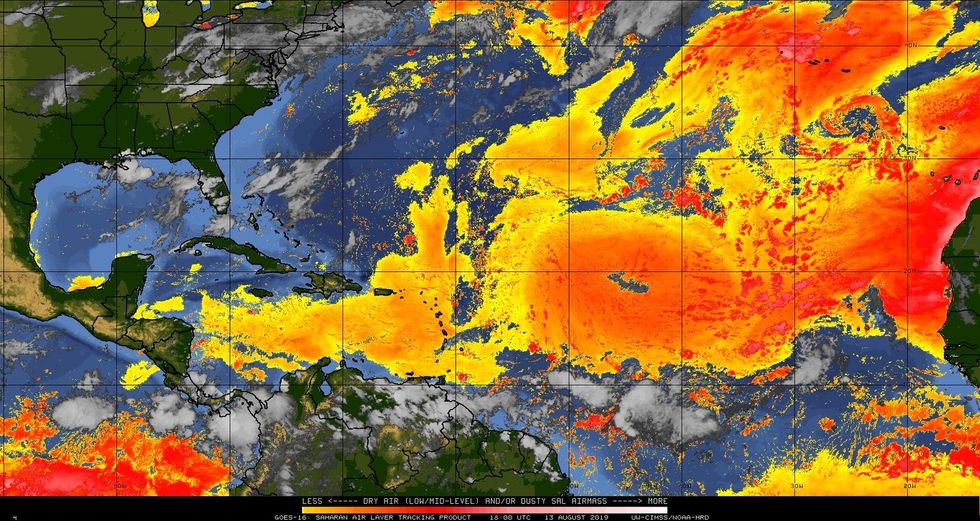 Oranges an reds indicate Saharan dust in the atmosphere over the Atlantic.CIMSS/Univ. Wisconsin
Mailbag:
Since the weather has been quite lately I am opening up the WeatherMap mailbag. Tweet any of your weather related questions to @stephenuzick.
The Houston Astros were in need of some serious help in the bullpen with Phil Maton, Hector Neris, and Ryne Stanek likely leaving this year in free agency.
While some fans were getting concerned about the quiet offseason, the club has made two moves this week to get the ball rolling.
First the team signed Victor Caratini to be the backup catcher, and now they have added some relief pitching.
The Astros traded pitching prospect Carlos Mateo to the Royals for RHP pitcher Dylan Coleman.
Coleman appeared in 96 games in the past three seasons for KC, including 68 games in 2022 and 23 games last season. He has a career 3.88 ERA and 1.37 WHIP. He's fastball (95 mph), slider (81) and cutter (90) and walked 57 batters and struck out 99 in 92 2/3 innings.
— Brian McTaggart (@brianmctaggart) December 6, 2023
Coleman is under club control for the next several years, and made just over $700,000 in 2022. With the Astros right up against the tax threshold, this is a good way to add to the bullpen without having to hand out a large contract.
The Royals had a tough roster decision to make with Coleman, and the Astros made the decision easy for them by making the trade.
Something to note
There's a reason Kansas City wasn't determined to protect Coleman from the Rule 5 Draft. Despite his decent numbers over the last three seasons, 2023 was a rough year for him, posting an 8.84 ERA over 23 games.
In fact, Coleman pitched more innings (30.2) for the Royals AAA team than he did for the big league club (18.1) in 2023.
Hopefully, the Astros can get him back on track this season with some help from their highly touted player development program.
You can watch some of his 2022 highlights above.
SportsMap Emails
Are Awesome