Despite the loss of Chris Paul, the Rockets are getting back to their offensive roots
Jan 5, 2019, 10:06 am
When the Houston Rockets hired Mike D'Antoni back in 2016, they were criticized for bringing in an offensive-minded coach after they were so porous on defense the year before (ranked 21st). The criticism made a lot of sense; why hire an offensive visionary like D'Antoni when you were already the seventh best offense in the league a year ago?
"I think a lot of times when organizations make coaching changes they tend to go out and try and hire everything they think the last guy wasn't. We want to make a smooth transition," Daryl Morey explained.
And in hindsight, Morey's explanation made a lot of sense. With James Harden, the Rockets have always been an elite offensive team (top ten every year but 2014-15). By playing up to their strengths and hiring D'Antoni to elevate them, the Rockets assured themselves their best chance at success. There is a lot to be said for knowing what you are good at and sticking to your core principles as an organization when times get rough.
And that is precisely what's happening with Houston right now. After a dreadful start to the season, the Houston Rockets have won 12 of their last 13 games. While they've made other tweaks, what's really shined for them in this run is their offense. Houston has the second best offensive rating in the league over their past 13 games and is now up to the 3rd best offensive rating for the season.
Nobody has personified this stretch better than reigning MVP James Harden: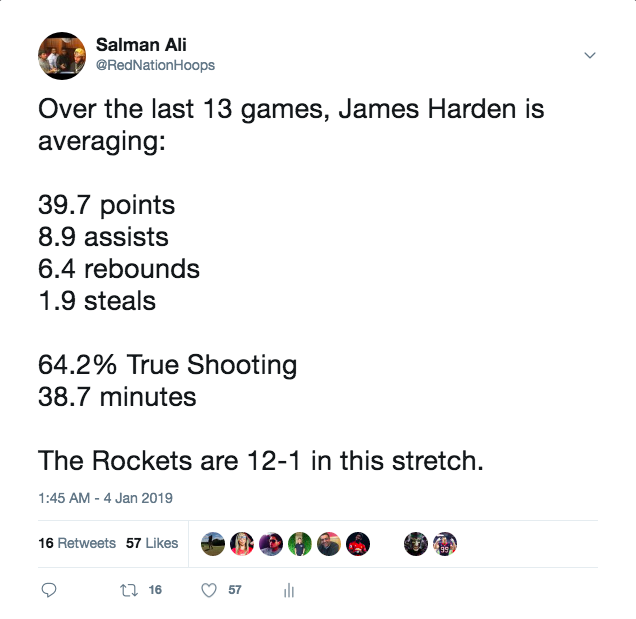 Harden is putting up scoring and usage numbers that only the likes of Kobe Bryant and Michael Jordan have seen. He's having to carry a huge burden with both Chris Paul and Eric Gordon missing significant time. While it may not be sustainable, Houston has certainly needed every drop of his production and it has skyrocketed Harden to the top of the MVP discussion yet again: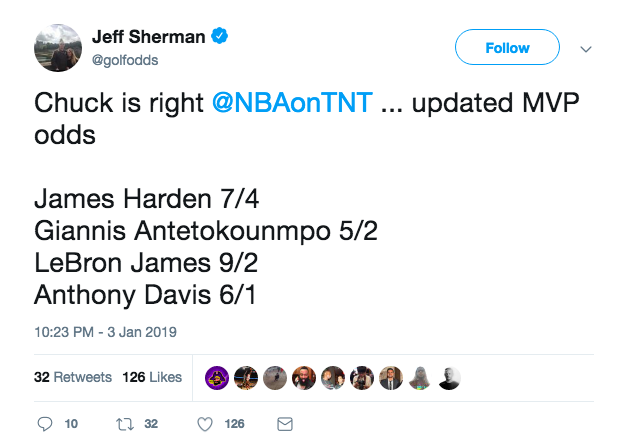 So, what's changed for Houston? Mike D'Antoni put it best a couple days ago - they're making shots.
Over the last 13 games, the Rockets are shooting 37.1% from 3-PT range which is good for fifth in the NBA in that stretch. Prior to that, Houston was shooting 33.7% from 3-PT range - good for 24th in the league.
Aside from James Harden becoming a human blowtorch in this stretch (41.4% from 3), guys like Austin Rivers (38.7% from 3), Danuel House Jr. (41.7% from 3), and Gerald Green (41.0% from 3) have all stepped up big for Houston.
Considering the hamstring injury to Chris Paul, Austin Rivers has been a godsend for Houston. They were in desperate need of a secondary creator and Rivers provided just that.
The Rockets are 7.1 points per 100 possessions better on offense when Austin Rivers is on the floor. His ability to break down defenders off the dribble and drive to the rim and has opened up a lot for Houston as previously only Harden could do that.
In addition to being a good penetrator, he is also shooting extremely well off of catch and shoot opportunities (56.3% from 3).
An offense like Houston's thrives off of having a well-spaced floor and Rivers is just good enough of a shooter (35.2% from 3 for his career) to demand attention.
Another nice addition for Houston has been two-way contract to add Danuel House Jr. who is shooting well in his own right (36.6% from 3 - up from 25.9% last season). On top of being energetic and long, House has adapted nicely to Houston's offense and is shooting 3-pointers with the confidence of a J.J. Redick. House is attempting 5.7 threes per 36 minutes. As a point of comparison, C.J. McCollum of the Portland Trailblazers is attempting 6.1 per 36 minutes.However, possibly the biggest reason outside of James Harden for Houston's emergence is Clint Capela's play.
Clint Capela (last 13 games):
16.4 PPG / 14.6 RPG / 1.5 BPG / 0.8 SPG on 61.7% True Shooting
Capela has taken his game to another level in this stretch. A huge reason for this is the increased workload Mike D'Antoni has given to him. Although Nene Hilario has returned at backup center, Capela is being asked to play more minutes than he's ever had to in career. In prior years, this had been a problem for him, but he seems to have welcomed the additional burden.
Clint Capela minutes per game:
2014 - 7:28
2015 - 19:06
2016 - 23:52
2017 - 27:29
2018 - 34:09
In the background of all that, the Rockets have made some significant tweaks to their defensive scheme. Last season, Houston switched every screen on defense positions 1 through 5 in an attempt to gear up for the Warriors. They attempted to do the same thing this year, but quickly realized they were getting out-rebounded far too much to continue.
Houston made the subtle change of dropping their bigs back to the basket and switching only on a "have to" basis.
Prior to the switch, the Rockets were 29th in defensive rebounding percentage (68.5%). Since the change, the Rockets have made a noticeable improvement to 19th in the NBA (71.9%). This has made them a passable defense again (18th in the last 13 games). While that may not be where they want to end up, it's good enough to get them back on the right track for now.
It's possible they continue to tweak their scheme and add better defensive personnel through the buyout market or trade deadline but what's really important is that Houston has gotten back to becoming a special offensive team again. Morey and D'Antoni set out to create a strong offensive identity for the Rockets two years ago and it was important that they get back to this point before trying to get back to last year's level of excellence.
James Harden is playing like an MVP again and it'll be easier to sort the rest of their defensive issues out now that they've re-discovered what's made them impossible to beat these past couple seasons.