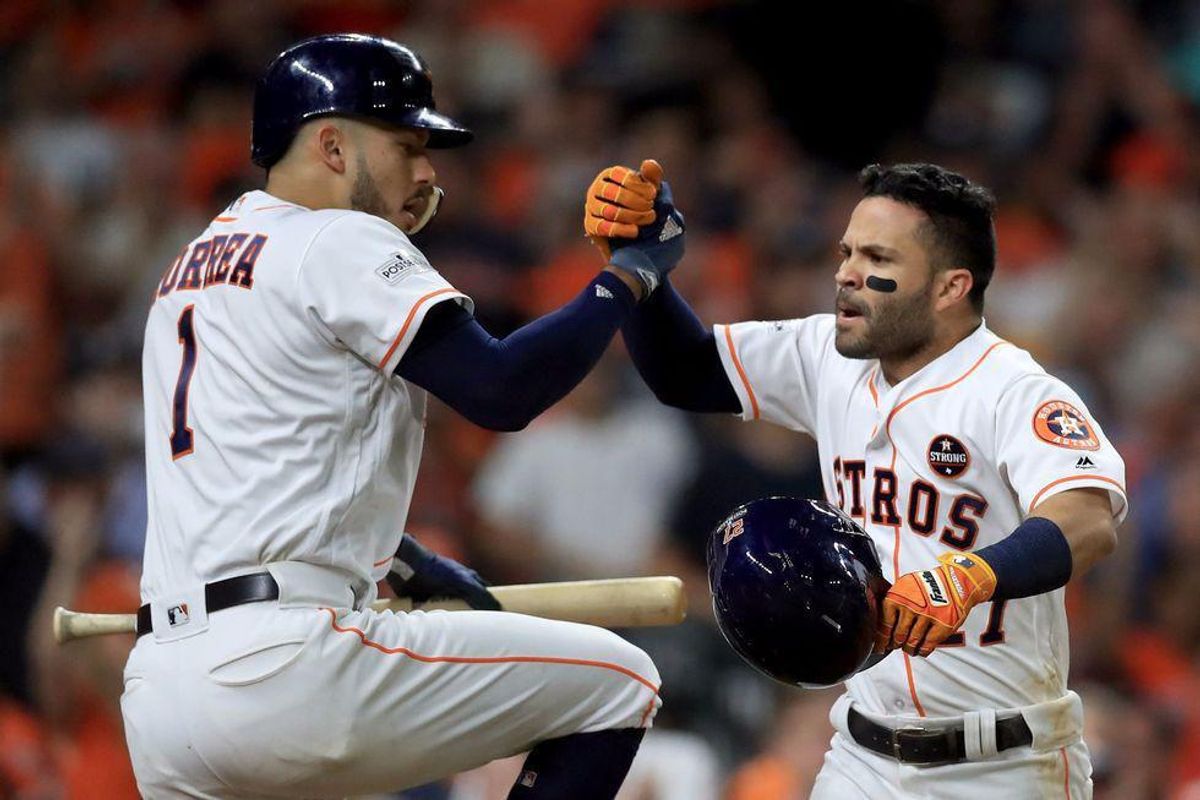 Losing games certainly helped the Astros rebuild. Photo by Getty Images.
Now the question is … did Miami Dolphins owner Stephen Ross really offer $100,000 bonuses to head coach Brian Flores for each game the Dolphins lost – on purpose – during the 2019 season?
"That was a conversation about not doing as much as we needed to do in order to win football games," Flores told ESPN this week. "Take a flight, go on vacation, I'll give you $100,000 per loss -- those were his exact words."
If that's true, as Flores formally alleges in a lawsuit against the NFL charging racial discrimination, what happens now?
Would NFL commissioner Roger Goodell order Ross to sell the Dolphins? Or allow him to keep the team but force him to withdraw from daily operations for a certain length of time or forever? Would the NFL fine Ross and punish the Dolphins by taking away draft picks?
Would NFL owners tell commissioner Goodell to clean out his office and resign? Will the FBI investigate to determine if Ross committed a crime? If the accusation is true that he offered money essentially to fix the outcome of games, it sure sounds like bribery and racketeering. Plus I'm sure there are several people with crooked noses in the illegal gambling industry who'd like to have a private word with Mr. Ross.
And what happens now with former Cleveland Browns coach Hue Jackson's similar accusation that the Browns long-term plan included losing games on purpose, or at least not trying their hardest to win, in 2016 and 2017 in order to move higher in the draft?
The Browns went 1-31 those two years and sure enough landed the No. 1 overall draft pick after both seasons. They drafted Myles Garrett in 2017 and Baker Mayfield in 2018. Jackson was fired midway during the 2019 season.
Flores was fired by the Dolphins last month after two winning seasons in a row. Both Jackson and Flores are African-American.
We're only at the beginning of what could explode into a major scandal and black eye for the NFL. If two – so far – NFL teams conspired to lose games on purpose, the integrity of the NFL, the most popular and powerful sports organization in the U.S., could be damaged, probably not beyond repair, but two giant steps back.
I'd forget about Goodell losing his job, at least over this. Baseball commissioner Bud Selig ran the Major Leagues during the steroid era, most believe he knew cheating was rampant, and Selig later was elected to the Hall of Fame. Team owners, who are Goodell's boss, can look beyond scandal as long as their bottom line keeps soaring.
Remember, Flores and Jackson's accusations are only that, accusations. We don't know if they're true. There's a thin line between rebuilding and tanking.
Between not trying to win and hoping to lose.
Did the Houston Astros tank during 2011-2013 when they lost 100 games each year? Or were they developing young players who took their lumps with the promise of good things to come? In the Astros case, the gamble paid off big time with three consecutive years of 100 wins, playoff and World Series appearances and the Astros first championship in 2017.
With the Texans, maybe we shouldn't confuse tanking with mismanagement, poor judgment, lousy coaching and just plain stupidity. The Texans are losing on the field, in the community and among their fan base. The organization from top to bottom isn't a dumpster fire, it's an out-of-control blaze that's rendered NRG Park into 350 acres of smoldering despair on game days.
How would you describe the Rocket's game plan? They sent John Wall, their highest-paid and best player who isn't injured, to NBA Siberia because the coaching staff wants to give their young players a chance to develop. This at the expense of winning games that would lessen their chances of gaining a premium draft pick. Wouldn't young players benefit and learn from playing with an experienced guard with All-Star pedigree? Rebuilding or tanking?
Brian Flores, a finalist for the Texans head coaching position and the fans' clear choice for the job, says he informed Texans management that he was filing a lawsuit against the league before his interview. Will the lawsuit leave Flores toxic as a coaching pick? Or will teams feel pressure to hire him now? Flores also is a candidate for the New Orleans Saints coaching position.
If the Dolphins owner did attempt to bribe Flores to lose games, it wouldn't be the first time a team out-and-out went into the tank. The most famous instance involved Chicago White Sox players taking money from a notorious racketeer to throw the 1919 World Series. The players, though found innocent in court, were banned from baseball a year later and brandished the Black Sox forever.
There have been several point shaving scandals in college sports. In some cases, the team didn't necessarily lose the game, but just kept the margin of victory under a certain number of points.
Nobody has proof – or cares – but the Washington Generals have lost 10,000 games in a row to the Harlem Globetrotters. There is suspicion that the Generals coach is told to lose on purpose. You know, like certain NFL coaches are claiming.
The Houston Astros were in need of some serious help in the bullpen with Phil Maton, Hector Neris, and Ryne Stanek likely leaving this year in free agency.
While some fans were getting concerned about the quiet offseason, the club has made two moves this week to get the ball rolling.
First the team signed Victor Caratini to be the backup catcher, and now they have added some relief pitching.
The Astros traded pitching prospect Carlos Mateo to the Royals for RHP pitcher Dylan Coleman.
Coleman appeared in 96 games in the past three seasons for KC, including 68 games in 2022 and 23 games last season. He has a career 3.88 ERA and 1.37 WHIP. He's fastball (95 mph), slider (81) and cutter (90) and walked 57 batters and struck out 99 in 92 2/3 innings.
— Brian McTaggart (@brianmctaggart) December 6, 2023
Coleman is under club control for the next several years, and made just over $700,000 in 2022. With the Astros right up against the tax threshold, this is a good way to add to the bullpen without having to hand out a large contract.
The Royals had a tough roster decision to make with Coleman, and the Astros made the decision easy for them by making the trade.
Something to note
There's a reason Kansas City wasn't determined to protect Coleman from the Rule 5 Draft. Despite his decent numbers over the last three seasons, 2023 was a rough year for him, posting an 8.84 ERA over 23 games.
In fact, Coleman pitched more innings (30.2) for the Royals AAA team than he did for the big league club (18.1) in 2023.
Hopefully, the Astros can get him back on track this season with some help from their highly touted player development program.
You can watch some of his 2022 highlights above.
SportsMap Emails
Are Awesome