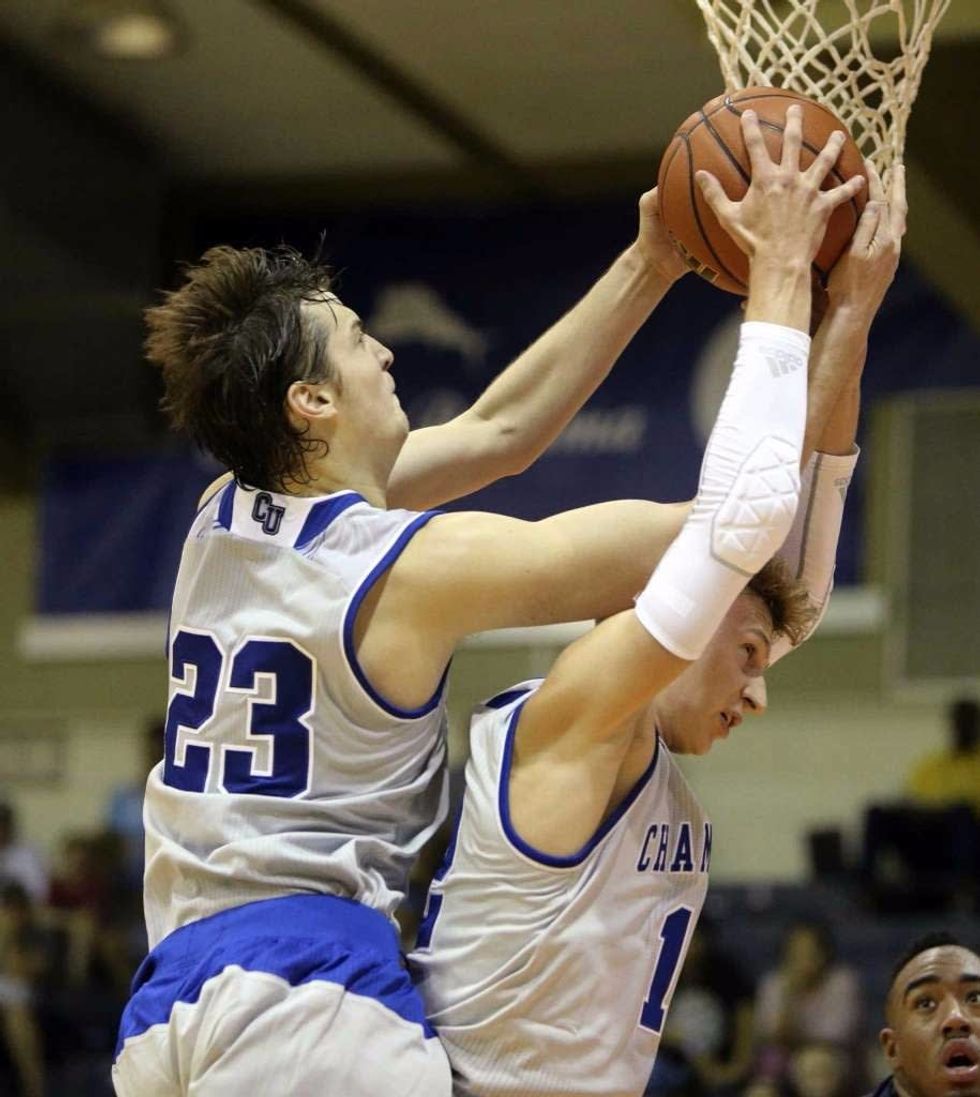 Brett Reed making a name for himself at Chaminade in Hawaii. Vype
Originally appeared on Vype.com.
Crazy college basketball fans set their DVRs for the "One Shining Moment" segment minutes after the NCAA Tournament Final. 
You know what I'm talking about. The ups and downs, the great shots, the dunks, the celebrations and tears.
Brett Reed lived his "One Shining Moment" earlier this week in Hawaii, where he attends college at Chaminade University of Honolulu.
The Silverswords host the Maui Invitational, a famous college NCAA holiday tournament on ESPN — where Notre Dame, Cal, VCU, Michigan, LSU and Wichita State do battle. And the Silverswords got the chance to mix it up with the more well-known programs.
The 6-foot-8 College Park grad was right in the mix, locking down Player of the Year candidate Bonzie Colson of the Fighting Irish in front of a national television audience on ESPN.
"I came off the court and had tons of texts and Snapchats," he laughs. "I was shocked to see how many people were watching. I've never been on national television before."
"I hit a buzzer-beater and played great defense on one of the nation's top players," he said. "It was great playing against the best in the nation and I was really proud of how I did."
Chaminade ended up beating Cal in their final game of the tournament and caught some national attention.
"This has been the greatest week of my basketball life," he laughs. "We are hanging at the finest resorts and living the life out here. The tournament treated us like kings."
So how does a kid from Houston's north side end up in Hawaii? His amazing story begins in the Texas Children's Cancer Ward.
…
Reed was a 6-foot-2 post in the College Park Cav program, hanging with buddies and playing pick up games at Legends Sports Complex, 24-Hour Fitness and Villa. During the summer before his junior season he hit the summer church camp circuit with some friends.
"I was at a church camp and just felt this lump behind my ear," he said. "I thought I got bit by a spider or something. I got home and hit the courts, but it wouldn't go away. I went to the doctor and just wanted some antibiotics. I was ready to get out of there. It still didn't help."
"My mom just had this bad feeling like moms do, and brought me to our family friend, who was a doctor. He said something was not right. I checked into our local hospital for two weeks. Then they took a biopsy and they sent me to Texas Children's."
There he received the news that he had Non-Hodkin's lymphoma in his neck and head.
"My mom was crying and I honestly didn't know if I was going to live," he said. "My family flew in and the College Park coaches came up to the hospital. Everyone was acting like I was going to die and I was freaking out."
"They told me I had a 60-percent chance of beating it, and at that moment I knew I was gonna be good. I know myself and knew I would beat it. It was a long 10 months with the chemotherapy and the affects."
He did beat it and got back on the varsity court late in his junior year as the Cavs made a run deep into the regional tournament.
"I'll never forget beating The Woodlands on a buzzer-beater and then in a double-OT in the second game," he recalls. "Those were the best wins I've ever been a part of."
Reed had a solid senior season, but was still looking for the right fit in college. He was asked to walk-on a few spots, but really wanted to go the junior college route and get re-recruited.
He had a couple of opportunities to walk-on at a few Division I schools, but decided to head West and enrolled at Cabrillo Community College under the direction of coach Tony Marcopulos.
"I really wanted to play immediately and it was the best decision I made," he said. "I wanted to get out of the state of Texas and see something new. The coaches saw some video of me at an event, and emailed me. Before I knew it, I winded up in California. It was great because I literally played every position."
"I still talk with coach Marcopulos every week," he said. "When I went there, he told me he would take care of me. After my parents, he's my greatest mentor."
Reed was a two-time California Community College Athletic Association first-teamer, a first-ever for Cabrillo. He signed with the University of San Francisco, but Marcopulos didn't send in the paperwork because he felt a change coming. The day after, there was indeed a coaching change.
His second choice? He would soon call Chaminade University in Honolulu home and began receiving playing time earlier this month.
"I was a late add to their class and the coach was thinking about redshirting me to get some more development," he said. "I was playing well and I told him, 'let's go.' I was ready to play."
With his size, competitive nature and versatility, Reed now sees his future beyond college.
"I also came here because they sent six guys to the professional ranks in Europe," he said. "I know the NBA is a long shot, but trying to play overseas is becoming an option. My ultimate goal is the get paid for something I love to do."
It's a long way from that hospital room at Texas Children's Hospital in downtown Houston. Now he plays the sport he loves in Hawaii with a bright future ahead of him.
All of a sudden, the Houston Texans have won three straight and host the Jacksonville Jaguars for a highly anticipated game this weekend
If the Texans come away victorious, they will take possession of first place in the division, and be in position to host a home playoff game for the first time since 2019.
Which got us thinking, is this the best version of the Texans we've ever seen? Many would say the best Texans teams were the ones coached by Gary Kubiak with Matt Schaub at QB. Or some may say it was the Bill O'Brien 2019 team with Deshaun Watson pulling the trigger at QB.
Regardless of which era of the Texans you believe was the best, one thing is for sure. This year's team has us optimistic on several levels. Ownership seems to have figured things out with the Easterby days behind us. Nick Caserio is a serious candidate for Executive of the Year, CJ Stroud is a favorite for Offensive Rookie of the Year, and has a chance to win MVP. And DeMeco Ryans has a legit shot at Coach of the Year.
But let's go even further. Has DeMeco done enough already to be considered the franchise's best coach? Many would say these questions are entirely premature, but are they really?
We could also make the argument that Tank Dell is already the third-best receiver in franchise history behind Andre Johnson and DeAndre Hopkins. He already has as many touchdowns (6) as Dre and Hopkins combined in their rookie seasons.
And let's make things even more interesting. Is CJ Stroud the best Houston QB since Warren Moon?
Be sure to watch the video above as we answer all these questions!
SportsMap Emails
Are Awesome