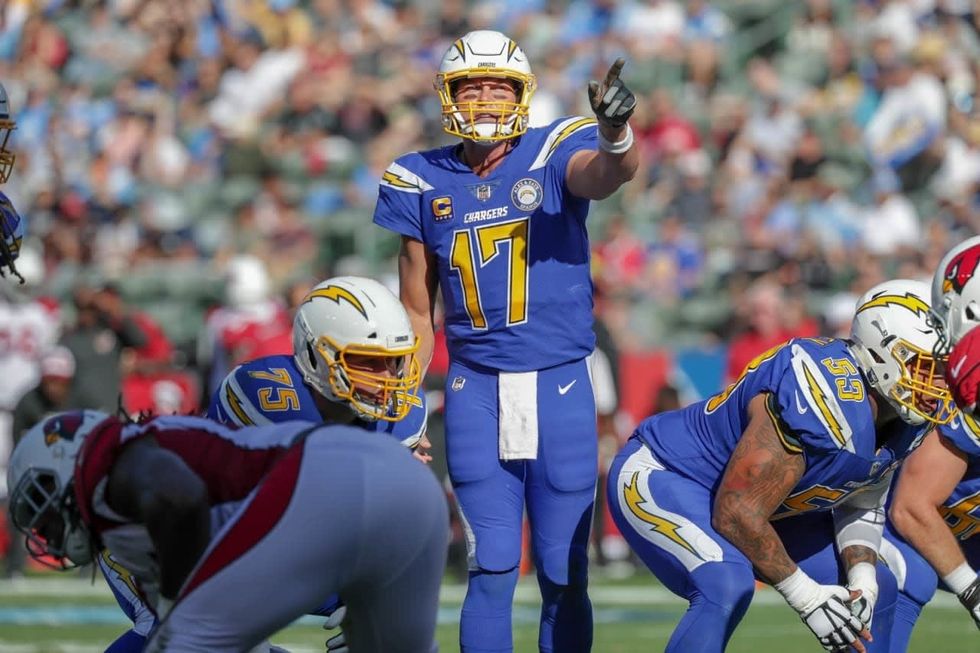 Phillip Rivers was unstoppable. Mike Nowak/Chargers team site
There's never a dull moment in a week of NFL action. Week 12 proved to be pretty exciting. Teams we thought were the worst, turned out not so bad. Meanwhile, there are some teams free-falling faster than a mob snitch wearing concrete shoes while "going for a swim." Here's how I saw things:
The Good
-Chargers quarterback Philip Rivers completed 25 consecutive passes to start the game and went 28 of 29 overall in their 45-10 win over the lowly Cardinals. It's high time he starts to get the respect he's due. Oh, I forgot. Joey Bosa is back and that makes this team better.
-Bears backup quarterback Chase Daniel led his team to a 23-16 win over the Lions on Thanksgiving. He hasn't thrown a pass in a few years, but went 27 of 37 for 230 yards and two touchdowns. Safety Eddie Royal has quietly been their defense's second best player. He had his fifth defensive touchdown since last season, which was his rookie year. Bears are scary.
-The Cowboys beat the Redskins 31-23 on Thanksgiving behind Ezekiel Elliot and Amari Cooper's huge performances. But it was seeing rookie receiver Michael Gallup back with the team after learning of the suicide of his brother after the Falcons game last Sunday. The mental toughness it takes to perform on that level after a personal tragedy is something most of us won't know.
The Bad
-There aren't many times when a receiver getting eight targets is a bad thing. But when said receiver is Odell Beckham Jr, an exception to that statement is in order. In their 25-22 loss to the Eagles, OBJ said after the game that attacking the depleted Eagles secondary "wasn't in the game plan." Eli Manning threw 37 passes and only three of the 26 completions went for more than 20 yards. That's unacceptable. That's also how you end up 3-8.
-The Panthers were 6-4 and had an opportunity to stay within striking distance of the Saints in the NFC South. Up 27-20 with about seven minutes left against the Seahawks, they let it slip away. Seahawks rallied to win 30-27 after kicking a game-winning field goal after the Panthers missed one of their own. They are now four games back.
- Steelers running back James Conner has been a feel-good story. However, his fumble at the end of the third quarter while they were in scoring range led to the Broncos' go-ahead touchdown drive that started the fourth quarter. The Steelers not only drop to 7-3-1 after the loss, but also lose some ground in playoff seeding.
The Ugly
-The Jags are the concrete shoes reference above. They are now 3-8 after losing their seventh in a row. To make matters worse, they lost to the Bills' rookie quarterback Josh Allen, whom Jags' corner Jalen Ramsey called "trash" in one of his rants. Jags running back Leonard Fournette was also ejected for fighting. Offseason in Duval County should be interesting.
-Vikings corner Xavier Rhodes went down with an apparent hamstring injury late in their win over the Packers. If he's out for any significant amount of time, that's trouble for a team that had hopes of advancing deep into the playoffs.
-Former Bears player and head coach Mike Ditka had a mild heart attack earlier this week and is recovering down in Florida. The 79 year old had a pacemaker inserted and is doing much better. 2018 has been tough enough. Let Ditka make it God. Please?
Playoff seeding tightened up in both conferences this week. The Steelers could've been the two seed in the AFC, but lost and fell to the four spot. The Panthers could've been the four seed in the NFC, but are now on the outside looking in the playoffs altogether. More division races have meaning down the home stretch. This is the part of the season that's similar to the dark meat of the turkey: it's juicy even though it's almost gone.  
One of the big reasons the Houston Texans were able to come away with a victory over the Denver Broncos was the monster performance from rookie pass rusher Will Anderson.
After Sunday's game, Anderson is now up to 5 sacks on the season, 1 more than Defensive Rookie of the Year favorite, Jalen Carter. Anderson also tipped a pass that led to an interception, and got his hands on a punt that gave Houston great field position. And let's not forget, he blocked a field goal earlier in the season, which is no small feat.
So with 5 games left to play, there's a legit possibility Anderson could snatch the DROY award away from Carter if he can get close to 10 sacks on the season.
Also, DeMeco Ryans is becoming the standard for what teams are looking for in a head coach. CJ Stroud is the front-runner for OROY.
With all this in mind, is there any argument against the Texans being the most exciting young team in the NFL?
We're already seeing the national media come around, and the NFL flexed the Texans-Broncos to get more eyes on Stroud.
And not to mention, it's starting to look like Nick Caserio nailed 3 out of 4 first round picks, with Derek Stingley recording 4 interceptions in his last 3 games.
It's been a long time coming for Texans fans. Every level of the organization appears to be in contention for prestigious awards.
Be sure to watch the video above as we discuss the most exciting young team in the NFL and what that means for Houston moving forward.
If you enjoy the videos, subscribe to SportsMapTexans on YouTube for our latest content!
Presented by Coors Light.
SportsMap Emails
Are Awesome