Rejuvenated in a new environment
Here's what a reunited John Wall and DeMarcus Cousins could look like for Rockets
Dec 4, 2020, 11:32 am
If anything, this season will be interesting. Photo by Rob Carr/Getty Images
Wednesday night, the Houston Rockets acquired John Wall from the Washington Wizards in exchange for Russell Westbrook. The trade included a lottery protected 2023 draft pick, which is almost two-years from now. Wall also joins his childhood best friend and college teammate from the University of Kentucky, DeMarcus Cousins, who signed with the Rockets last week. Cousins and Wall have not been healthy in three years and have missed a serious amount of time.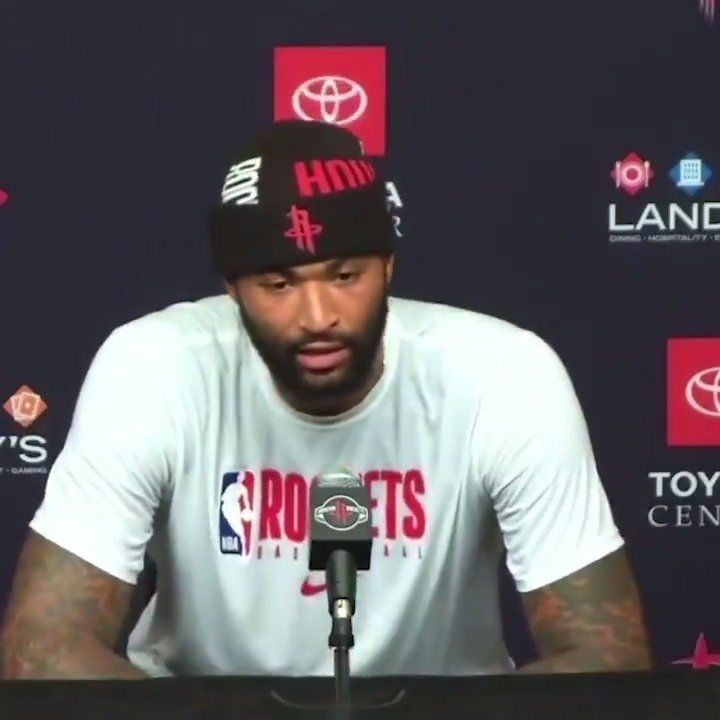 Twitter Image via:Twitter/Screenshot
The four-time All-Star, Cousins, has not played a complete season since 2016-2017 when he was traded to the New Orleans Pelicans from the Sacramento Kings. In the 2017-2018 season with the Pelicans, Cousins was off to a ferocious start. Cousins averaged 25.2 points per game, 13 rebounds, 5.4 assists, shot 35.4 percent from the perimeter, and was efficient around mid-range shooting 53 percent. He became unstoppable inside the paint hitting 61 percent within the restricted area and 47 percent from the field. Cousins was on pace to become an All-Star again before his Achilles injury.

This injury became crucial for Cousins because it prevented him from getting a max-contract with the Pelicans the following season. The Pelicans gave Cousins a two-year 40 million-dollar offer which he declined. Cousins tested free agency and was recruited by the 2017-2018 champions, the Golden State Warriors.
Cousins played just 30 games with the Warriors but still averaged 16.3 points per game, 8.2 rebounds, but only shot 28 percent from the perimeter. Cousins wasn't as effective as he was in his previous years with the Kings and Pelicans. So, Cousins headed right back to free agency this time signing with the Lakers who became champions in the 2019-2020 season.
Before the season during a workout in Las Vegas, Cousins tour his ACL which caused him to miss the season. Midway through the year the Lakers released Cousins after signing Dwight Howard.
Hopefully, things are different with the Rockets after Cousins told the media at the press conference Thursday he was completely healthy. Cousins is great at stretching the floor, shooting from the perimeter, and being a dominant force inside the paint.
"Man, I feel incredible. Obviously, it was a tough task mentally, physically, but at the same time I was able to rest my body, a much-needed rest, as Cousins emphasized at the press conference Thursday. "Coming back off of that has been incredible. My body is in a great place, my mind is in a great place, and I'm just ready to get back on the floor and play basketball. Play the game I love."
DeMarcus Cousins IS BACK! Boogie Cousins Training For New NBA Season And Looking Better Than EverBoogie Cousins is back!
John Wall's role on the team will be critical because he loves passing the ball which wasn't a strength for Westbrook. The only problem with Wall was the absence he had from basketball for two years. Second guessing the ability of Wall could be a mistake. Wall is a five-time All-Star and made the All-Defensive Second Team in the 2014-2015 season. Before Wall got hurt with the Wizards, in the 2018-2019 season, he averaged 20 points per game, 8.7 assists, and shot a career-high from mid-range of 50 percent.
John Wall Offseason Workout - 10/28/20Here's a look at some of John Wall's offseason workouts.
Wall also shot a career-high 37 percent from the perimeter in the 2017-2018 season. He shoots the three-ball at 32.4 percent for a career average, which is better than Westbrook's 30 percent. Wall wants to become a better shooter from the perimeter this season, so he has been working on that during the offseason. He will become big factor on offense if he pays dividends from the perimeter. Wall mostly relied on his athleticism, which was his blazing speed and quickness like Westbrook. His playmaking skills are truly fun to watch as he averages 9.2 assists per game for his career. Hopefully, that Achilles injury is behind him and won't impact his play moving forward. Below are some takeaways from Adrian Wojnarowski.
.@wojespn takeaways on @SportsCenter: -Houston believes they're getting a rejuvenated Wall who is shooting more 3s… https://t.co/1z8TPoY2Lx

— Salman Ali (@Salman Ali) 1606974002.0
Even though Wall has missed two years of basketball, he has worked his way back into shape. Kevin Durant was impressed with Wall's offseason in Miami. "He looked amazing to me. He looked great," Durant said during day one of Media Week. "I know he wants to go out there and play great basketball." Wall was seen with Harden and PJ Tucker during pickup games at Remy's Gym in Miami.
James Harden vs John Wall & Michael Beasley Insane Battle At RemyWorkouts Gym!
One surprising twist
Adrian Wojnarowski of ESPN confirmed that Wall and Harden want to play together in Houston. Both sides seem to be invested since there were early concerns that Harden could be upset with the acquisition of Wall. Harden reportedly preferred Wall to Westbrook this season, which on the surface seems odd because of their history as friends.
.@wojespn details the Russell Westbrook-John Wall trade: "[James Harden] had a preference of John Wall over Westbr… https://t.co/aGZFHCOvtP

— Get Up (@Get Up) 1607005075.0
Hopefully, the Rockets get the past versions of Wall and Cousins if not better. Wall and Cousins both say they're completely healthy and anxious to play basketball again.