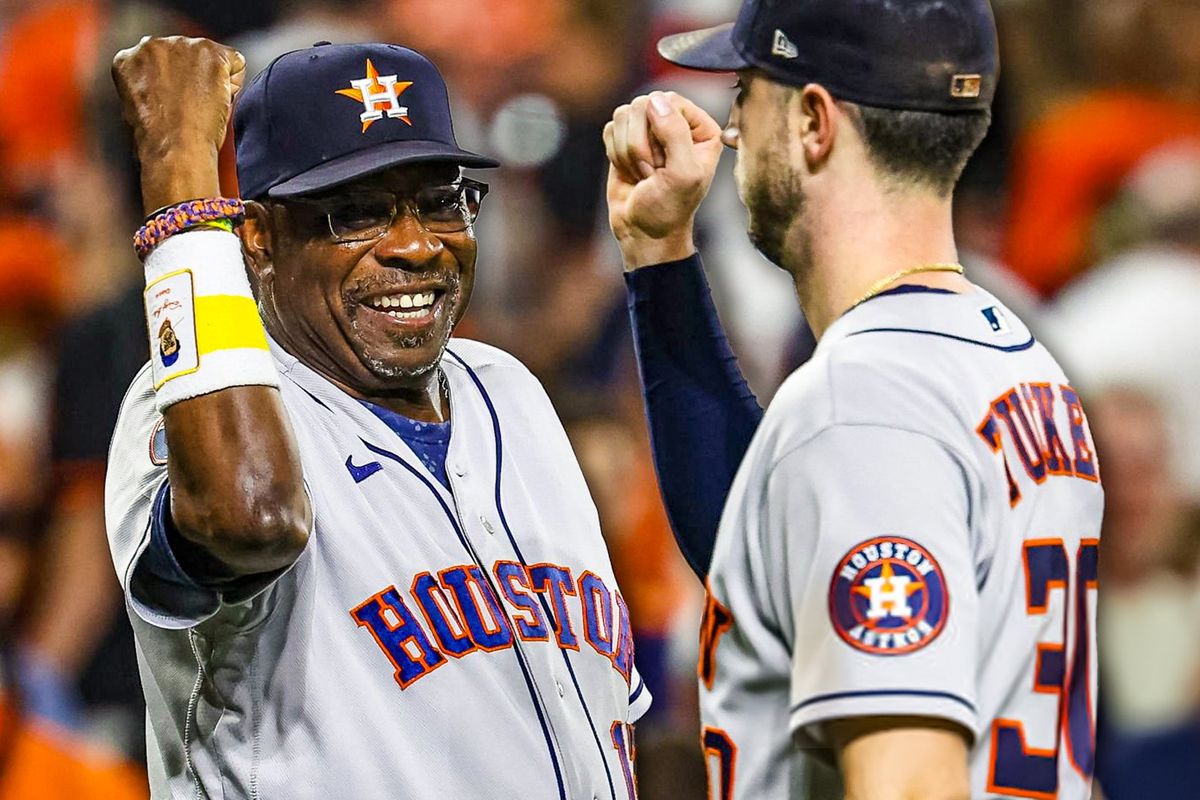 The ALDS gets started this Saturday! Composite Getty Image.
After a frenetic final week finish to secure a playoff spot and then swipe the American League West championship, it's time for Astros' postseason games. They have felt like a birthright here in recent years. They are not and should be cherished. Buckle up as the Astros take aim at reaching a seventh consecutive AL Championship Series, with the ultimate goal of winning a third World Series title in those seven years.
Only the Astros can become the first back-to-back Series champ since the Yankees won three straight from 1998-2000. The Astros are rightful favorites in their AL Division Series matchup with the Minnesota Twins but the Twins are capable of wrecking Astros' ambitions. That's no bold proclamation. There is no such thing as a massive upset in a best-of-five baseball series. The Astros won 90 games this season. The Twins won 87, including four of six games vs. the Astros. They come to town having unburdened themselves of the longest postseason losing streak (18 games dating back to 2004) in North American history, but more important, the Twins have a solid ballclub.
The Astros have the better offense but it's no landslide. The Twins tied the Texas Rangers for the most home runs in the AL with 233 (the Astros were fifth with 222). The Astros gave up more home runs than any other playoff team this year, albeit just one more than the Dodgers who play in a more pitcher-friendly ballpark. However, if he is even on the roster the Astros' most gopher-ball prone pitcher (Hunter Brown) won't pitch in the series unless a game is a total blowout. Presumptive game three starter Cristian Javier was the next most homer-susceptible. The Twins lineup can be handled though. As a team, they hit just .243 (10th among the 15 AL teams) and set the all-time single season record for most strikeouts in a season, though perpetual whiff machine Joey Gallo was left off the Twins' Wild Card roster and presumably will be omitted from their LDS roster.
Minnesota has a quality pitching staff, both starters and relievers. They struck out the most batters in MLB this year. The big on paper mound edge the Astros get is in game one. The Astros have a well-rested Justin Verlander ready to go coming off two excellent outings. Verlander seems an easy choice given Framber Valdez was poor in his last two starts. The Twins having used their top two starters against Toronto, go with their number three option whether Joe Ryan or Bailey Ober. The Twins then have their top two guys—Pablo Lopez and Sonny Gray--lined up for games two and three.
The Saturday/Sunday MMP, Tuesday/Wednesday Target Field, Friday MMP format means unless a three game sweep happens, four different starting pitchers are needed unless coming back with the game one starter on just three days rest in game four. 40-year-old Verlander on short rest is ill-advised, so should the Astros be down two games to one and facing elimination, that would mean hoping Jose Urquidy can deliver a performance in range of what he did at Arizona when subbing for J.P. France. In a do-or-die road game, one would guess Urquidy gets the nod over France.

All the Twins starting pitchers are righties, so Dusty Baker's lineup decisions will be interesting. Can Michael Brantley play consecutive games? If so, should he? In Verlander's start(s) presuming Baker sticks with Mauricio Dubon in center field, is it Brantley or Chas McCormick in left (presuming Yordan Alvarez is the designated hitter)? Is Yainer Diaz confined to mothballs and pinch-hitting?
There is no reason to carry 13 pitchers in a best-of-five series that has two off days (should it go the distance). The five nominal starters plus a seven man bullpen (Pressly, Abreu, Neris, Graveman, Maton, Stanek, Montero) is plenty. Notably, left-handed reliever Bennett Sousa is ineligible. Dusty Baker might prefer to have the southpaw pen option given Sousa gave up no runs and just one hit over five outings and six and a third innings. Alas, the Astros didn't claim Sousa off the waiver wire until after September 1, so he is ineligible. If the Astros are going to carry Jon Singleton for a desperate hope for a pinch homer role, omitting Brown would open a spot for Grae Kessinger who offers a pinch-running option and emergency defensive flexibility.
Happily, Carlos Correa is evidently ok after taking a 99 miles per hour fastball off his right hand in his final at bat Wednesday. Last offseason after flunking physicals with the Giants and Mets that had them opt out of contract agreements worth over 300 million dollars, Correa had to "settle" for 200 mil in re-signing with the Twins for six years. He proceeded to have the worst season of his career, batting just .230 with a weak .711 OPS. Always priding himself as a clutch hitter, Correa was even worse with runners in scoring position batting just .207. With two outs and runners in scoring position, a pathetic .119. The only statistical leaderboard where Correa showed up was grounding into double plays. He led the Major Leagues with 30 GIDP. Correa simply was not a good player this season, and then missed the final two weeks with plantar fasciitis.

But in the Twins' two game Wild Card Series sweep of Toronto, Correa made a significant impact in each game. In game one it was one of the most spectacular defensive plays one can see to end a Blue Jays' threat. In game two it was an RBI single to give the Twins a lead they never gave up. You know Correa is stoked to challenge the Astros. One, he has several good friends/former teammates still on the roster. Two, you know it rankles Correa that the Astros never made what he considered a serious offer to keep him.
That the Astros were an absolute stink bomb at Minute Maid Park down the stretch if the regular season has no bearing now. You always want homefield advantage if you can have it, at bare minimum to have last at bat in the ninth and any extra innings. If wanting to shake up home karma, OPEN THE ROOF! The weather will be spectacular meant for open-air baseball both Saturday and Sunday.

Can't get enough Astros postseason coverage?
Stone Cold 'Stros is the weekly Astro-centric podcast I am part of alongside Brandon Strange and Josh Jordan. On our regular schedule a first video segment goes up at 4PM Monday on the SportsMapHouston YouTube channel, with the complete audio available in podcast form at outlets such as:

"Another one!"- DJ Khaled
That's the first thing that came to mind when I heard the news of Tytus Howard being shut down for the season because of a knee injury. They've had more injuries on the offensive line this season than Nick Cannon has Father's Day cards. Almost every member of the offensive line has spent time on the injury report. Howard went down in the same game in which Juice Scruggs was finally on the active roster. He missed the first 10 games due to a hamstring injury. The irony of next man up has never been so in your face.

The other thing that came to mind was the soap opera As the World Turns.
Howard had just signed an extension this offseason. So did Laremy Tunsil and Shaq Mason. They drafted Juice Scruggs, and signed a few guys too. Those moves, along with other holdovers, were expected to fill out the depth chart. Then a rash of injuries struck. At one point, only one of the original five guys expected to start was playing! In fact, they beat the Steelers 30-6 with that backup offensive line!

One can't have the expectation of backups to perform as good as the starters. They're professionals and are on an NFL roster for a reason. However, the talent gap is evident. One thing coaching, technique, and preparation can't cover is lack of ability or talent. The Texans have done a good job of navigating the injury minefield this season. While the Howard injury will hurt, I have faith in the guys there still.
As of this writing, the Texans are in the eighth spot in the AFC playoff picture. The Steelers, Browns, and Colts are all in front of them at the fifth through seventh spots respectfully. They've beaten the Steelers already. They play the Browns on Christmas Eve and their starting quarterback is out for the season. The Colts are relying on the ghost of Gardner Minshew to steer their ship into the last game of the season vs. the Texans with a possible playoff trip on the line. The Broncos and Bills are the two teams immediately behind them. They play the Broncos this weekend. Even though they're on a hot streak, this is the same team that got 70 put on them by the Dolphins. The Bills are the old veteran boxer who still has some skill, but is now a stepping stone for up & comers.
To say this team should still make the playoffs would be an understatement in my opinion. I believe in them and what they have going on more than I believe in the teams I listed above. That includes teams around them in the playoff race that aren't on their schedule. The one thing that scares me a little moving forward is the sustainability of this line. When guys get up in age as athletes, it becomes harder to come back from injuries. The injuries also tend to occur more frequently when it's a knee, foot, ankle, shoulder, elbow, or another body part critical to blocking for C.J. Stroud.
I know they just re-signed three of those guys and drafted one they believe can be a starter, but depth and contingency plans are a way of life in the NFL. We see how important depth was this season. Why not plan ahead? Don't be surprised if the Texans spend valuable draft capital on the offensive line. By valuable, I'm talking about first through third or fourth rounders. Those are prime spots to draft quality offensive lineman. Whether day one starters or quality depth, those are the sweet spots. The only guy on the two deep depth chart for this offensive line that wasn't drafted in one of those rounds was George Fant, who was an undrafted rookie free agent. While I highly doubt they spend any significant free agency dollars on the group, I'm not totally ruling it out.
The bottom line is, this team will be okay on the line for the remainder of this season. The only way that doesn't happen, more injuries. Stroud is clearly the franchise guy. Protecting that investment is a top priority. I don't care about a number one receiver, or a stud stable or singular running back if the quarterback won't have time to get them the ball. If the pilot can't fly the plane, you know what happens. So making sure he's happy, healthy, and has a great crew is of the utmost importance.
SportsMap Emails
Are Awesome