HE'S WAY TOO PREDICATABLE
How unlocking the real Cristian Javier could finally be within reach for Astros
Aug 18, 2023, 12:55 pm
One of the biggest contributors to the Houston Astros title run in 2022 was none other than Cristian Javier. Javier worked his way into the rotation last year and finished the season on a high note with a combined no-hitter in the World Series.
Javier was rewarded with a contract extension in the offseason, but his performance this year is causing some serious concern. Astros GM Dana Brown recently said the biggest reason for Javier's struggles is fatigue. That's what is causing him to not be as sharp.
If that is indeed the issue with Javier, why not skip him in the rotation from time to time, like the team is currently doing with JP France and Hunter Brown? This will decrease the amount of innings he has to throw between now and the postseason and, in theory, have Javier more fresh for the playoffs.
Plus, is there an easy fix for Cristian Javier? When looking at the advanced analytics, Javier isn't using his fastball at the bottom of the strike zone, especially on the corners. This was a big piece of Javier's arsenal last season, just watch the highlights from the World Series no-hitter.
We all know he has a lot of success up in the strike zone with his fastball, much like Justin Verlander. But Verlander also paints the corners at the knees and uses his slider to work off that pitch. Something Javier did last season with a lot of success. It doesn't have to be one or the other. Notice in the image below that he's rarely using the bottom third of the strike zone with his fastball. The fastballs are shown in red.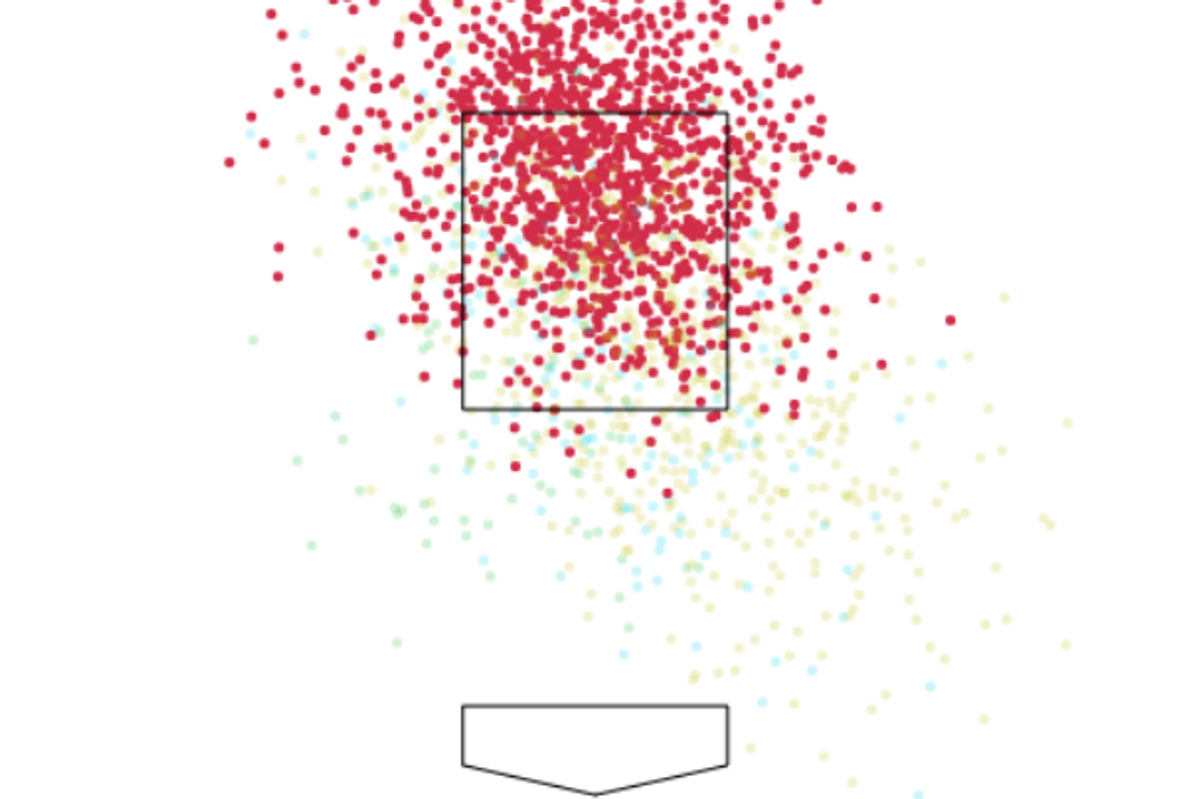 Screenshot via: Baseball Savant.
In essence, hitters know that if the ball is up this year with Javier, it's probably going to be a fastball. If it's down, it's likely an off-speed pitch. Javier throws the fastball roughly 60% of the time. So hitters know they can hunt fastballs up in the zone, and take anything low.
Which raises the question, is this a problem with philosophy? Or is Javier's level of fatigue keeping him from being sharp enough to hit the corners at the bottom of the zone?

Don't miss the video above as we try to solve what's ailing Javier in 2023.
If you enjoy the videos, subscribe on YouTube!
Listen to The Bench with John Granato and Lance Zierlein weekday mornings on ESPN 97.5 and 92.5 FM.