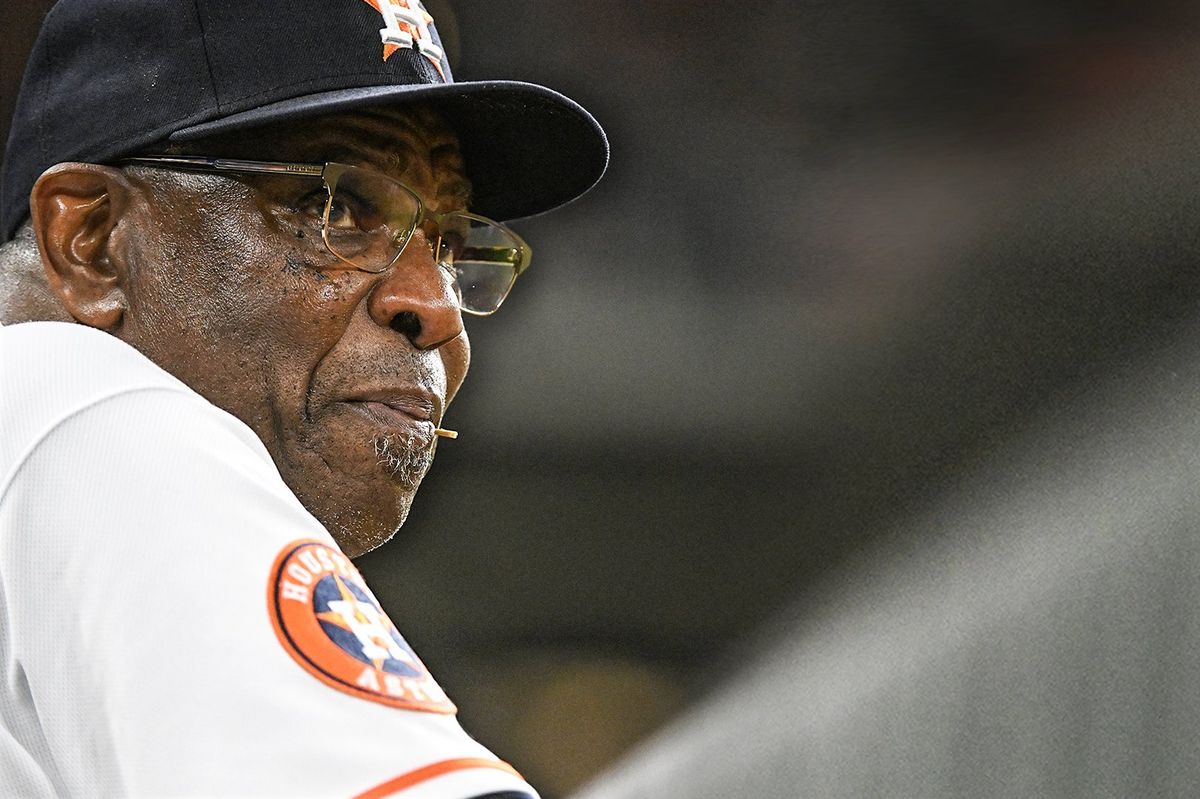 Will Dusty Baker be back next season? Composite Getty Image.
Last week, Sports Illustrated asked … "Will Dusty Baker be back managing the Houston Astros next year?"
That was followed by an ESPN commentator piling on, "I'm starting to lose trust in the Astros. Seems like the entire team has just fallen apart" in part blaming manager Baker's reputation for over-using and burning out young pitchers.
Then MLB Insider Ken Rosenthal, not exactly a hot take blowhard, hammered another nail in Baker's job security, reporting that Astros management already is considering who might be Baker's successor next season. Rosenthal even floated Atlanta Braves coaches Eric Young and Walt Weiss as candidates.
More and more it appears that, win or lose, Baker is going, going, gonzo – dead manager walking. The only question remaining is, will Baker leave the Astros triumphantly, riding a firetruck in another World Series parade, or be carried out on his bullheaded, obstinate shield?
Baker is working on a ticking, one-year contract. If the Astros fail to invite Baker back for 2024, it won't be the first time that a team parted ways with Baker as manager. It won't be the second time. Or third time. Or fourth time. It will be the fifth, and by the actuarial calendar, final time. Baker is 74, the oldest current manager in baseball, the fifth oldest in history.
The Astros hired Baker in 2020 as a mature, calming influence in the embers of the Astros sign-stealing scandal. His other managerial stops were the San Francisco Giants (1993-2002), Chicago Cubs (2003-2006), Cincinnati Reds (2008-2013), Washington Nationals (2016-2010). In all those cases, Baker seems to have worn out his welcome, butting heads with management and owners. And sometimes with fans.
That appears to be the story in Houston. Months ago, newly hired general manager Dana Brown publicly expressed a wish that Baker play rookie sensation Yanier Diaz more at catcher instead of veteran Martin Maldonado. Fans lit up the phone lines on radio shows pleading with Baker to put Diaz behind the plate. More recently, a published report in The Athletic claimed that several people in the Astros organization were frustrated that Baker doesn't play outfielder Chas McCormick more regularly.
Baker's typical retort: I don't need any help filling out the lineup card. Once he dismissed fans' feelings by saying, "If you listen to fans, soon you'll be sitting with them." Those aren't endearing, fan-friendly comments.
It's no coincidence that Braves coaches Young and Weiss are rumored to be on the Astro wish list of candidates. General manager Brown was the Braves' vice-president of scouting for four years when Astros owner Jim Crane hired him this season.
Fans surely realize that Crane and Brown are watching the same Astros games as they do. They see the same stat sheets. They know that Diaz is batting .282 with extraordinary power and speed for a catcher, while Maldonado is batting .192 with a penchant for leaving runners on base. More important, Maldonado has thrown out only 13 of 79 base stealers, a horrid 14 percent, and is leading the American League with 12 passed balls. He also led the league in passed balls last season. It's sort of his thing.
Meanwhile, Diaz has thrown out 15 of 50 base stealers for a competent 30 percent, and has zero passed balls. Simply, Martin Maldonado is a defensive specialist who's a defensive liability.
Baker is 74 years old, the oldest manager in baseball, set in his ways, at times cranky and short with the media. He is old school, a manager who believes he, and no one else, is in charge between the white lines. It's important to note that Dana Brown did not hire Baker. That's a big deal for a general manager. If 2024 is a transitional year for the Astros, a rebuild on the run with younger players, and a new sheriff in town, Baker wouldn't be the logical choice for manager.
If Baker is not invited back for 2024, he leaves a Hall of Fame legacy as a skipper. He is the only manager to win a divisional title with five different teams. He is the eighth winningest manager in MLB history. He is No. 1 in wins for an African-American manager. And what we care most about in Houston, he guided the Astros to three ALCS (with one in the oven) and has a World Series ring for leading the Astros to the World Series in 2022.
Let's not forget, his story is not finished.
"Another one!"- DJ Khaled
That's the first thing that came to mind when I heard the news of Tytus Howard being shut down for the season because of a knee injury. They've had more injuries on the offensive line this season than Nick Cannon has Father's Day cards. Almost every member of the offensive line has spent time on the injury report. Howard went down in the same game in which Juice Scruggs was finally on the active roster. He missed the first 10 games due to a hamstring injury. The irony of next man up has never been so in your face.

The other thing that came to mind was the soap opera As the World Turns.
Howard had just signed an extension this offseason. So did Laremy Tunsil and Shaq Mason. They drafted Juice Scruggs, and signed a few guys too. Those moves, along with other holdovers, were expected to fill out the depth chart. Then a rash of injuries struck. At one point, only one of the original five guys expected to start was playing! In fact, they beat the Steelers 30-6 with that backup offensive line!

One can't have the expectation of backups to perform as good as the starters. They're professionals and are on an NFL roster for a reason. However, the talent gap is evident. One thing coaching, technique, and preparation can't cover is lack of ability or talent. The Texans have done a good job of navigating the injury minefield this season. While the Howard injury will hurt, I have faith in the guys there still.
As of this writing, the Texans are in the eighth spot in the AFC playoff picture. The Steelers, Browns, and Colts are all in front of them at the fifth through seventh spots respectfully. They've beaten the Steelers already. They play the Browns on Christmas Eve and their starting quarterback is out for the season. The Colts are relying on the ghost of Gardner Minshew to steer their ship into the last game of the season vs. the Texans with a possible playoff trip on the line. The Broncos and Bills are the two teams immediately behind them. They play the Broncos this weekend. Even though they're on a hot streak, this is the same team that got 70 put on them by the Dolphins. The Bills are the old veteran boxer who still has some skill, but is now a stepping stone for up & comers.
To say this team should still make the playoffs would be an understatement in my opinion. I believe in them and what they have going on more than I believe in the teams I listed above. That includes teams around them in the playoff race that aren't on their schedule. The one thing that scares me a little moving forward is the sustainability of this line. When guys get up in age as athletes, it becomes harder to come back from injuries. The injuries also tend to occur more frequently when it's a knee, foot, ankle, shoulder, elbow, or another body part critical to blocking for C.J. Stroud.
I know they just re-signed three of those guys and drafted one they believe can be a starter, but depth and contingency plans are a way of life in the NFL. We see how important depth was this season. Why not plan ahead? Don't be surprised if the Texans spend valuable draft capital on the offensive line. By valuable, I'm talking about first through third or fourth rounders. Those are prime spots to draft quality offensive lineman. Whether day one starters or quality depth, those are the sweet spots. The only guy on the two deep depth chart for this offensive line that wasn't drafted in one of those rounds was George Fant, who was an undrafted rookie free agent. While I highly doubt they spend any significant free agency dollars on the group, I'm not totally ruling it out.
The bottom line is, this team will be okay on the line for the remainder of this season. The only way that doesn't happen, more injuries. Stroud is clearly the franchise guy. Protecting that investment is a top priority. I don't care about a number one receiver, or a stud stable or singular running back if the quarterback won't have time to get them the ball. If the pilot can't fly the plane, you know what happens. So making sure he's happy, healthy, and has a great crew is of the utmost importance.
SportsMap Emails
Are Awesome