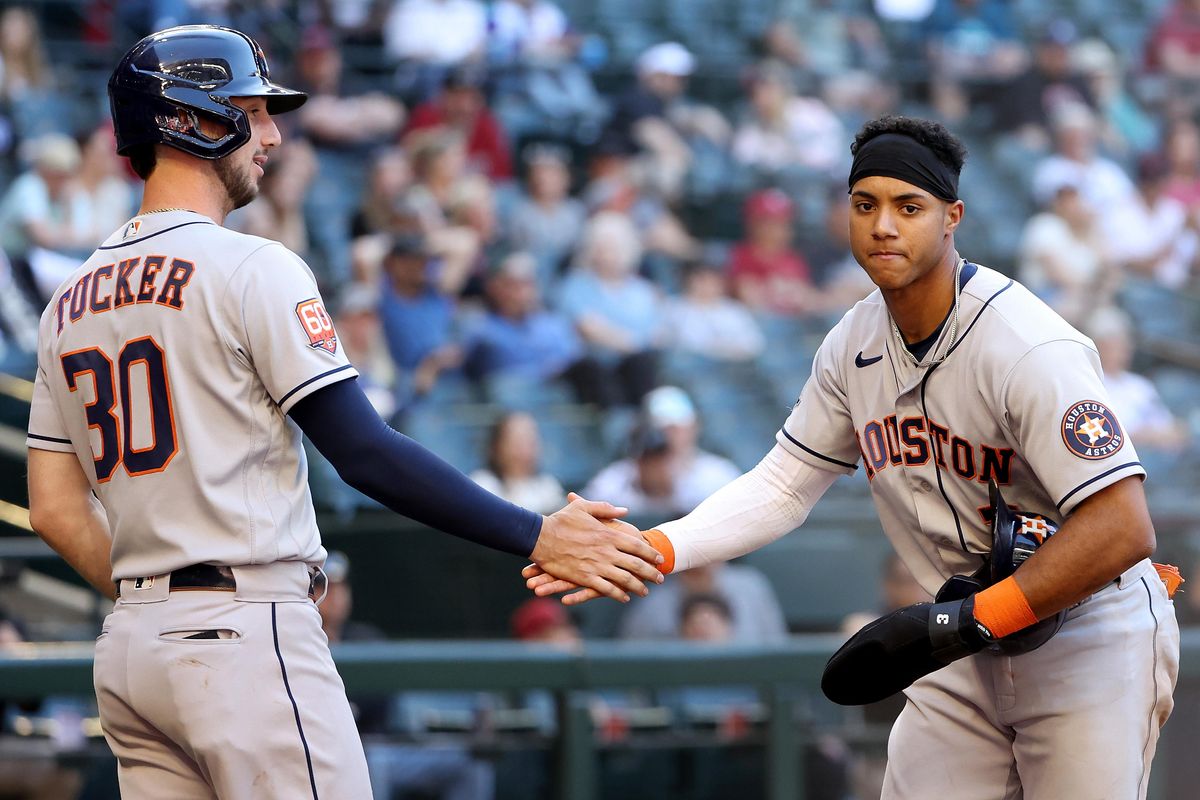 The Astros may have to lean on Jeremy Pena even more. Photo by Christian Petersen/Getty Images.
After legging out an infield single In Monday night's game against the Angels, Astros' second baseman Jose Altuve strained his left hamstring and was forced to leave in the 8th inning.

The 7x All-Star was retroactively placed on the 10-day injured list Wednesday as a result.
"We didn't think he'd be ready to go in a week, and it's a 10-day IL, and we'll reevaluate it from there," Astros manager Dusty Baker said Wednesday
Altuve was off to a slow start (6-36) to begin the season, and spending some time off the field could be good for him in the long run.
Temporarily replacing one of the best players in baseball is no easy feat, but can be possible if certain players step up.
From utility player to starter
Aledmys Diaz is the obvious choice to replace Altuve at second base for now. He entered the game for the 31-year-old Monday night and has played well throughout his Astros career.
Diaz has been a reliable defensive asset to this team, with the ability to play at all four infield positions and the outfield as well.
Although he is only hitting .154 to start off 2022, Diaz has proven to be a dependable bat in Baker's lineup once he gets going.
Pena shows power and potential
One of the best players for the Astros this season has been the rookie phenom Jeremy Pena. Through his first 11 games, Houston's new shortstop is hitting .308/.364/.590. and only Chas McCormick has a higher batting average.
Over the last two games, Pena has been given the opportunity to leadoff, and he seems to fit in well.
At this point, it may be a lot to ask of a rookie, but the 24-year-old seems to be up to the challenge, as his performance at the plate would indicate.
Pena showcased he has some pop in his bat as well, and is behind only Yordan Alvarez for the team lead in homers.
The rookie is hitting in a good spot with Michael Brantley, Alex Bregman and Alvarez backing him up in the lineup and could be dangerous to any opposing pitching staff.
If Pena can continue to put up good numbers at the leadoff spot, the Astros won't have to worry about losing production at the top of their lineup while Altuve is out.
Goodrum gets the green light.
At first glance, Niko Goodrum may seem like an odd choice to put here, but he is a vital part of this Astros roster.
Diaz could play second base for the majority of the time during Altuve's absence, thus moving Goodrun into the utility role.
The 30-year-old has already played at first base, second base and designated hitter this season, and spent time at shortstop and in the outfield last year for the Detroit Tigers.
Baker said that both Goodrum and Diaz would split time at second base, but it can be presumed Diaz will get more starts as he is more reliable at the plate.
Goodrum can be an above average defender, and will provide much needed depth for the Astros during this time.
JJ the wildcard
One bonus player who could make an impact is the recently promoted infielder/outfielder JJ Matijevic.
The 26-year-old was called up on Wednesday in response to Altuve heading to the 10-day IL.
He hit .310 with four homers and 10 RBIs for the Sugar Land Space Cowboys this season.
Matijevic could get an opportunity to give some guys days off and add a little bit more depth to this already stacked Astros lineup.
Altuve could return as soon as Friday, April 29th in Toronto. Until then, these players and others could give the Astros a boost during the All-Star second basemen's absence.
One of the big factors that led to the Texans' loss to the Jaguars on Sunday was the secondary. Multiple flags for pass interference gave Jacksonville more opportunities to pick up first downs and score points.
Can confirm #Texans backup CB Shaq Griffin was cut.

Griffin started 6 games this year when Derek Stingley was out with a hamstring.
— DJ Bien-Aime (@Djbienaime) November 29, 2023
So it's no surprise that DeMeco Ryans is making some changes to his defense this week. According to several reports, Texans corner Shaq Griffin has been cut.
Nickel corner Tavierre Thomas was flagged for PI more than once on Sunday, and was burned badly by Jaguars receiver Calvin Ridley for a touchdown.
DeMeco was asked after the game if he considered replacing Thomas with Desmond King or Shaq Griffin. Ryans didn't give a definitive answer, but it looks like we got one today.
One has to wonder if Desmond Kings' experience playing nickel was the reason for his promotion to the active roster and why Griffin was released. If Thomas continues to struggle, King looks like the next man up to replace him.
#Texans activate Denzel Perryman, promote Desmond King to active roster, release Shaq Griffin, sign Matt Ammendola and Garret Wallow to practice squad, released Gerrid Doaks from practice squad and placed Tytus Howard (knee-patellar tendon surgery pending) on injured reserve https://t.co/knyyoqo7yC
— Aaron Wilson (@AaronWilson_NFL) November 29, 2023
The Texans also made some other adjustments to their roster on Wednesday, per Aaron Wilson. Linebacker Denzel Perryman returns from suspension, kicker Matt Ammendola and linebacker Garret Wallow join the practice squad. They also released Gerrid Doaks from the practice squad.
The other big piece of news involves left guard Tytus Howard. He heads to injured reserve, ending his season after hurting his knee against Jacksonville.
SportsMap Emails
Are Awesome