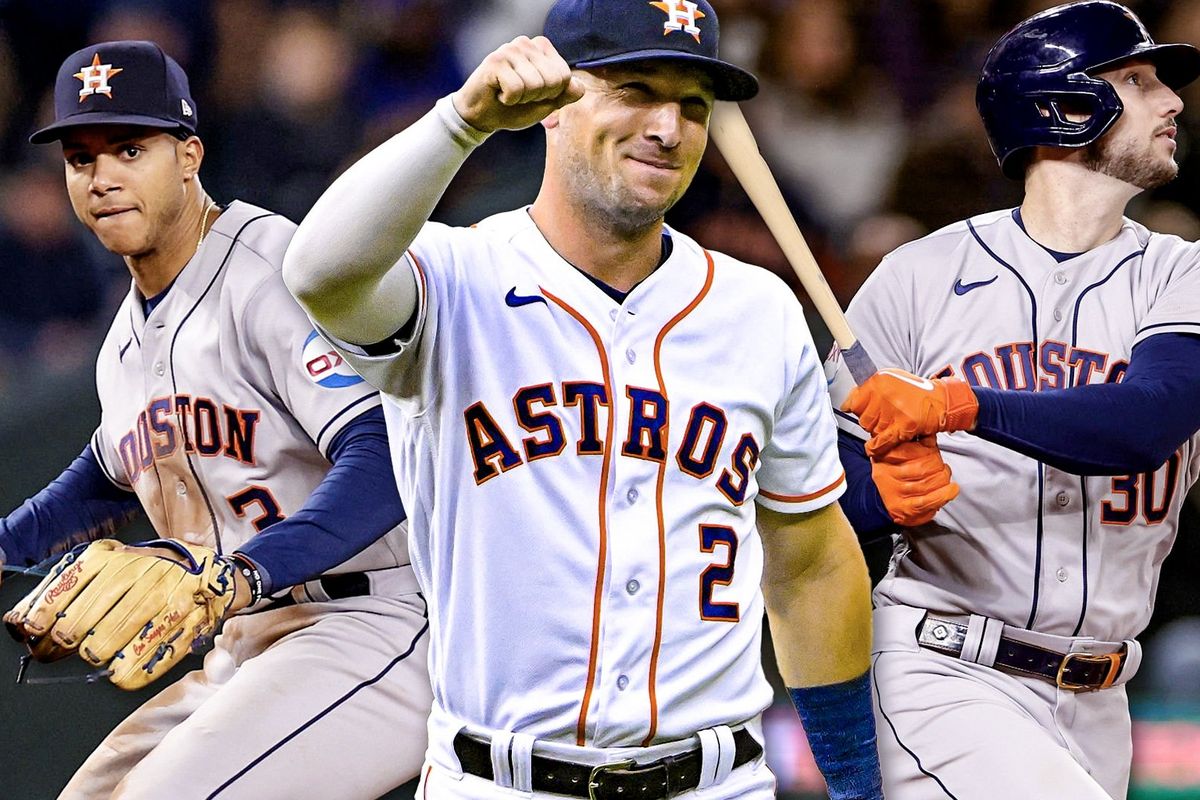 Jeremy Pena vs. Carlos Correa. Composite Getty Image.
After Carlos Correa belted three hits, made a dazzling play in the field and led the Minnesota Twins over the Astros in Game 2 of the ALDS, the media went all fanboy on the former Astro shortstop who came back to bite Houston in the butt.
Sports writers and broadcasters lauded Correa as a megastar beast who shines in the biggest moments. X, formerly Twitter, lit up with (not all, some) Astros fans moaning "shoulda paid Correa whatever it took for him to stay with the Astros" remorse.
What it took was $105 million over three years – the Astros offer wasn't close – and Correa signed with the Twins.
Baseball is the most statistics-laden sport, and each player is measured by at least 60 statistics, that I could find, some of them mind-numbing, from simple batting average to cWPA (championship win probability added for offensive player), RE24 (base-out runs added), Rtot/yr (total zone total fielding runs above average per 1,200 innings), RF/9 (range factor per nine innings – putouts plus assists), and CRDX (caught in rundown in extra innings percentage).
I made up one of those stats, go on baseball-reference.com and find it.
That's the thing about numbers – they don't lie and there's no escaping them. Sunday was just one game. Sure Correa is a spectacular player with a booming personality. But spectacular doesn't steal bases, and personality won't beat the Astros.
When you boil down and sous vide the numbers, the Astros did the right thing by allowing Correa to leave over money, instead investing their shortstop futures in Jeremy Peña.
Right now, as we head to Game 3 of the 2023 ALDS, give me Pena as my shortstop over Correa.
Correa is 29 years old, a veteran of nine years in the big leagues. He's opinionated and a team leader in the clubhouse. He's got broadcasting in his future. Pena is older than he looks coming off his rookie season. He's 26. He's a quiet sort who doesn't squawk even when Jose Altuve orders him to park his car (in HEB commercials).
Correa made (I didn't say earned) $33,333,333 million this season. He batted .230 in 135 games with 18 home runs. That's basically what Jose Abreu contributed to the Astros this season. Here's the difference: the Twins have moved Correa into the cleanup spot (4th) for the ALDS. Astros fans are pleading with manager Dusty Baker to move Abreu out of the 5th spot for the ALDS. Disappointing is in the eye of the beholder.
Pena made $750,000 this season. He batted .263 in 150 games. I know that salary doesn't define a player's worth, and it isn't my money paying him, but you're going to tell me that Carlos Correa is 44 times a better player than Jeremy Pena?
The media was all smoochy face over Correa after Game 2 – the great clutch player in big moments. Correa's lifetime batting average in the post-season, including Sunday's 3-hit barrage, is .285. Peña's batting average is .345 with 20 hits, 4 homers, 8 RBIs and 12 runs scored in 13 games in his post-season career.
You might recall that he was MVP in both the ALCS and World Series last year. He isn't laying down in this year's ALDS. He's 3 for 8 with a .375 batting average.
I'll give Correa this, his fielding play at short Sunday was excellent, and his play throwing out Bo Bichette at home during the wild card was one of the best plays I've ever seen an infielder make. But who is the reigning American League Gold Glover at shortstop? That's Jeremy Pena, who made his own ridiculous fielding play on Sunday.
Correa has one Gold Glove over his nine-year career. Pena is one-for-one in Gold Gloves.
Stealing bases isn't the end all of a player's running ability, but it's certainly important when a team needs to get a runner in scoring position in late innings. Correa stole exactly zero bases this year. In fact, he hasn't pilfered a base in his last four seasons. Pena stole 13 bases this year. That's not Rickey Henderson, but 13 is more than none.
I'm not saying that Jeremy Pena is a better player than Carlos Correa at this point in time (maybe I am). I'm just cautioning, let's not go overboard with Correamania until we see which team advances to the ALCS. I'm on Pena and the Astros.
"Another one!"- DJ Khaled
That's the first thing that came to mind when I heard the news of Tytus Howard being shut down for the season because of a knee injury. They've had more injuries on the offensive line this season than Nick Cannon has Father's Day cards. Almost every member of the offensive line has spent time on the injury report. Howard went down in the same game in which Juice Scruggs was finally on the active roster. He missed the first 10 games due to a hamstring injury. The irony of next man up has never been so in your face.

The other thing that came to mind was the soap opera As the World Turns.
Howard had just signed an extension this offseason. So did Laremy Tunsil and Shaq Mason. They drafted Juice Scruggs, and signed a few guys too. Those moves, along with other holdovers, were expected to fill out the depth chart. Then a rash of injuries struck. At one point, only one of the original five guys expected to start was playing! In fact, they beat the Steelers 30-6 with that backup offensive line!

One can't have the expectation of backups to perform as good as the starters. They're professionals and are on an NFL roster for a reason. However, the talent gap is evident. One thing coaching, technique, and preparation can't cover is lack of ability or talent. The Texans have done a good job of navigating the injury minefield this season. While the Howard injury will hurt, I have faith in the guys there still.
As of this writing, the Texans are in the eighth spot in the AFC playoff picture. The Steelers, Browns, and Colts are all in front of them at the fifth through seventh spots respectfully. They've beaten the Steelers already. They play the Browns on Christmas Eve and their starting quarterback is out for the season. The Colts are relying on the ghost of Gardner Minshew to steer their ship into the last game of the season vs. the Texans with a possible playoff trip on the line. The Broncos and Bills are the two teams immediately behind them. They play the Broncos this weekend. Even though they're on a hot streak, this is the same team that got 70 put on them by the Dolphins. The Bills are the old veteran boxer who still has some skill, but is now a stepping stone for up & comers.
To say this team should still make the playoffs would be an understatement in my opinion. I believe in them and what they have going on more than I believe in the teams I listed above. That includes teams around them in the playoff race that aren't on their schedule. The one thing that scares me a little moving forward is the sustainability of this line. When guys get up in age as athletes, it becomes harder to come back from injuries. The injuries also tend to occur more frequently when it's a knee, foot, ankle, shoulder, elbow, or another body part critical to blocking for C.J. Stroud.
I know they just re-signed three of those guys and drafted one they believe can be a starter, but depth and contingency plans are a way of life in the NFL. We see how important depth was this season. Why not plan ahead? Don't be surprised if the Texans spend valuable draft capital on the offensive line. By valuable, I'm talking about first through third or fourth rounders. Those are prime spots to draft quality offensive lineman. Whether day one starters or quality depth, those are the sweet spots. The only guy on the two deep depth chart for this offensive line that wasn't drafted in one of those rounds was George Fant, who was an undrafted rookie free agent. While I highly doubt they spend any significant free agency dollars on the group, I'm not totally ruling it out.
The bottom line is, this team will be okay on the line for the remainder of this season. The only way that doesn't happen, more injuries. Stroud is clearly the franchise guy. Protecting that investment is a top priority. I don't care about a number one receiver, or a stud stable or singular running back if the quarterback won't have time to get them the ball. If the pilot can't fly the plane, you know what happens. So making sure he's happy, healthy, and has a great crew is of the utmost importance.
SportsMap Emails
Are Awesome