Astros final embarrassment to Yankees hits New York right in the bottom line
Sep 15, 2023, 11:29 am
They're practically giving away tickets in New York.Composite Getty Image.
There's a sign outside Goode Company Bar-B-Q on Kirby that says, "You might give some serious thought to thanking your lucky stars you're in Texas."
Especially if you're a baseball fan. Because in Houston, and begrudgingly in Arlington, baseball is still a thing in September. It's not like that in other, less fortunate places.
I'm heading to New York City next weekend for the Feast of San Gennaro celebration. That's when they block off streets in Little Italy for one of the world's great food events. Italian restaurants line the sidewalks with carts selling pizza, sausage and pepper sandwiches, calzones, gelato, cannolis, and zeppoles, those deep-fried Italian donut balls that make you stagger back to your hotel for a nap.
While I'm up there, I figured I'd go to a Yankees game. The Bombers are home that weekend against the Arizona Diamondbacks. Since the Yankees are averaging 41,054 fans this year, I figured my best chance of getting a good ticket was on StubHub or another secondary market site.
I'll say.
I checked availability on StubHub, Vivid Seats, and SeatGeek. There were thousands, no exaggeration, thousands of previously purchased tickets for re-sale, as cheap as $4. Yeah, Yankees fans have given up on their team. They're unloading their bought tickets for peanuts - pennies on the dollars. You can attend a Bronx Bombers game in once-imposing Yankee Stadium for cheaper than a medium Fluffernutter Blizzard at Dairy Queen.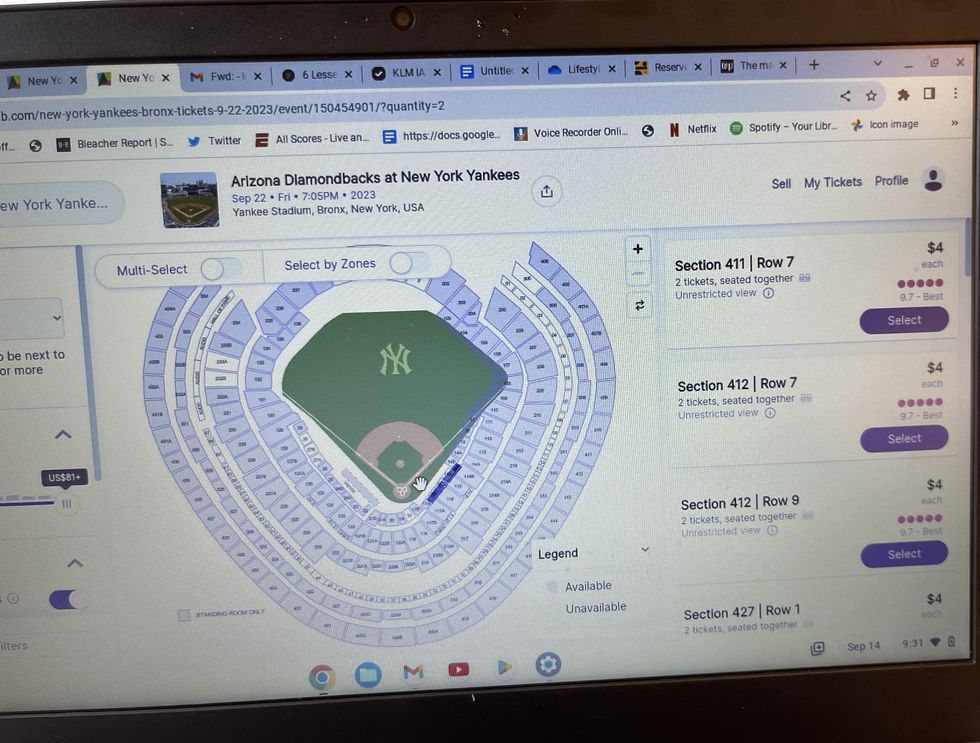 Photo by Ken Hoffman.
Most of the $4, $5 and $6 Yankees tickets are in the upper deck and bleachers. But at those prices, I can get closer to the action. I wound up buying a front row ticket in the mezzanine for $24. The original price of that ticket was $138.50. Plus the fan giveaway for my game is a Yankees fleece vest. I'd be losing money if I didn't go to the Yankees game.
I paid extra for my ticket because, it doesn't matter what level I'm on, I love the front row. You get an unobstructed view of the field. More important, nobody can stand up in front of you. I'd rather be in the front row of the bleachers or sitting in front of my TV than somewhere in the middle of field level.
Example: a couple of years ago, I was invited to an Astros game - second row field level behind first base. Fantastic seat, I thought. I'm in. Then the guy in the front row directly in front of me decided he would stand practically the whole game. When I asked why he needed to stand despite no one in front of him, he went all David Puddy ("gotta support the team") on me and said a real fan stands and lame people sit. Thanks, Puddy buddy.
The Houston Astros happen to be at home in Minute Maid Park the same night I'll be at Yankee Stadium. Cheapest ticket on the secondary market at Minute Maid Park - $37, nearly 10 times more expensive than the Yankees game.
My ticket at Yankee Stadium - $24. An equivalent ticket on the secondary market at Minute Maid Park - $179. Bottom line: in September secondary market Yankees tickets sell for less than face value. Secondary market Astros tickets sell for more than face value.
Of course the Yankees are yesteryear's news playing out the schedule, while the Astros are a modern-day dynasty playing meaningful games. You get what you pay for.