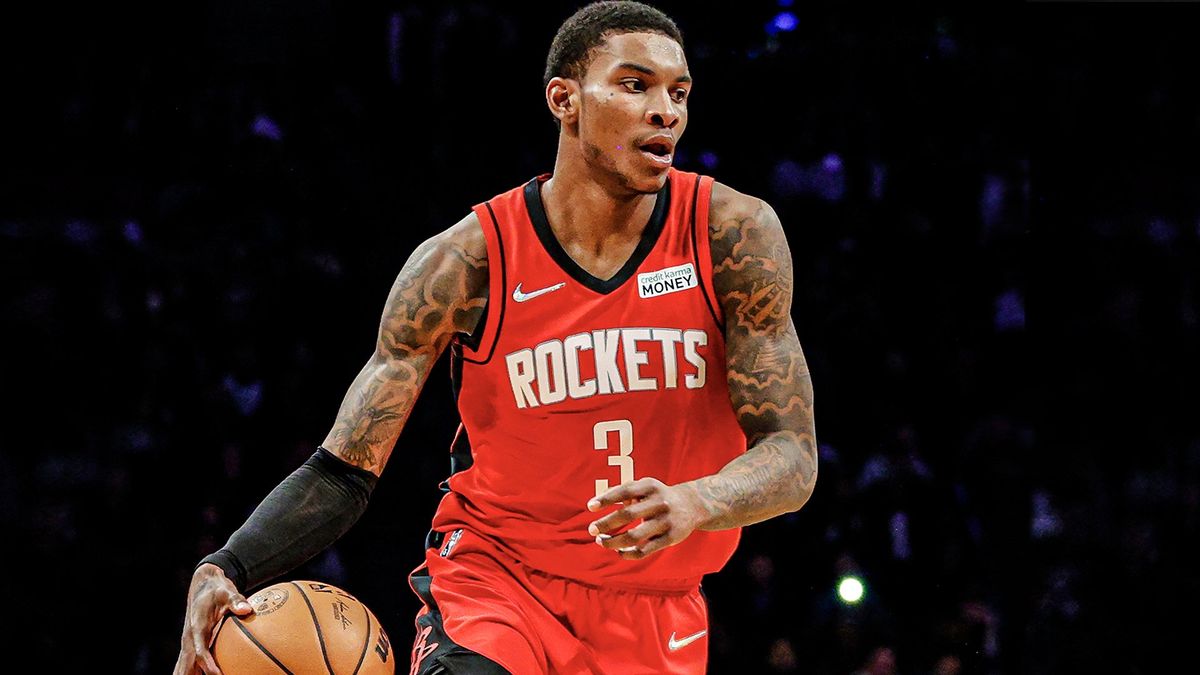 Kevin Porter Jr. is being traded to the Thunder. Photo by Sarah Stier/Getty Images.
ESPN's Adrian Wojnarowski is reporting that the Houston Rockets and the Oklahoma City Thunder have a trade in place.
ESPN Sources: The Houston Rockets are trading G Kevin Porter Jr., and two future second-round picks to the Oklahoma City Thunder — who are waiving Porter Jr., immediately. Thunder are sending the Rockets Victor Oladipo and Jeremiah Robinson-Earl in the transaction. pic.twitter.com/PBaHA0f5lW
— Adrian Wojnarowski (@wojespn) October 17, 2023
Due to Kevin Porter Jr.'s legal issues, Houston is trading Porter Jr. and two future second round picks (2027 2nd-round pick via Timberwolves/2028 second-round pick via Bucks) to the Thunder for guard Victor Oladipo and power forward/center Jeremiah Robinson-Earl.
Per Woj:
Essentially the deal allows the Thunder to gather up draft assets and requires them to pay the $16.9 million of guaranteed salary left on Porter's new four-year contract -- and saves the Rockets $5.5 million in salary.
For Houston, Oladipo is a familiar face as he played in 20 games for the Rockets during the 2020-2021 season. He played 50 games for the Heat last year, scoring just under 11 points per game.
Robinson-Earl is heading into his 3rd season in the league, playing his first two seasons with the Thunder. He played in 43 games last season, scoring 6.8/PPG.
The Houston Texans needed a huge performance from Nico Collins on Sunday after Tank Dell went down with a season-ending injury, and boy did they get it.
Collins finished the day with just under 200 receiving yards, and helped the team secure a huge victory, pushing the team's record to 7-5.
There's been a lot of discussion about whether Collins is a true No. 1 receiver in the NFL, and his numbers indicate he is. Nico is 9th in receiving yards in the NFL (991) with 6 TDs in 11 games.
Certainly, health will be a big factor in determining just how high his upside is. He only played in 10 games in 2022, and this is his first season with over 500 yards.
Outside of health, how Collins responds to all the extra attention he is about to receive due to the loss of Tank Dell, will tell us a lot about if he can perform like a true No. 1 receiver.
2024 will be the final year of Nico's contract and he'll be looking for a big pay day if he can continue this production. Which makes us wonder, should the Texans pay him like a Top 10 receiver if he continues to put up these numbers?
Plus, the big concern with Tank Dell has always been his size, and if he can hold up in the NFL. Now that he's injured for the second time, and out for the season with his latest injury, should the Texans consider adding another receiver in the draft or free agency?
Don't miss the video above as we break it all down!
If you enjoy the videos, subscribe to SportsMapTexans on YouTube.