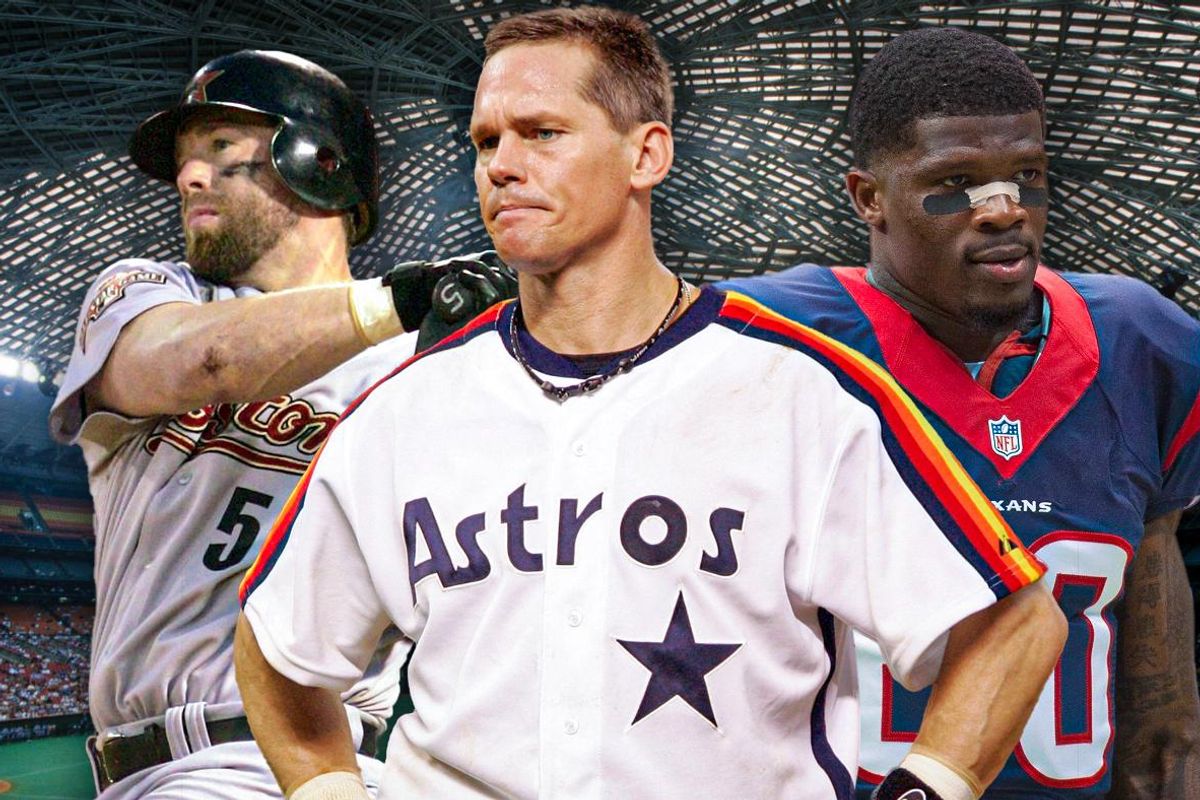 The rules need to be changed. Composite image by Brandon Strange.
Not saying we need to recall the voting machines or stop the steal, and absolutely the Houston Sports Hall of Fame inducted five deserving local heroes – Jeff Bagwell, Craig Biggio, Andre Johnson, Guy V. Lewis and Bill Yeoman – last week.
But the two greatest athletes ever to ply their trade in Houston are not in the Hall of Fame. Whatever silly criteria is keeping them out, the rules need to be changed to get this pair inducted next time around.
Both of these supremely gifted athletes are considered the world's greatest of all-time, and they're not in our local Hall of Fame?
I'm talking about Muhammad Ali and Simone Biles.
I can understand an argument saying Muhammad Ali wasn't raised in Houston and didn't live here as an adult, at least not for very long. But Ali has strong connections to Houston that can't be overlooked or denied
Ali fought four times at the Astrodome during his illustrious career. Only Madison Square Garden (8), Freedom Hall in his native Louisville (5) and the Las Vegas Convention Center (5) hosted more Ali fights.
Ali did live here for a short time. He bought a home at 5962 Ardmore during the turbulent '60s. He spent most of 1976 in Houston filming his biographical movie, The Greatest.
But most important, Ali chose Houston to stage a transitional moment in U.S. history. In 1967 Ali received a draft notice from Selective Service at his Ardmore Street home. Ali knew he would be drafted, the country was being torn apart by the Vietnam War, and he planned to claim he was a conscientious objector to avoid serving in the military. He moved to Houston on the advice of his lawyer who thought Houston might offer a more sympathetic jury than his hometown of Louisville if the case went to trial.
On April 28, Ali reported to the U.S. Custom House on San Jacinto Street in downtown Houston and refused to step forward to be inducted into the U.S. Army. He was arrested, and on June 20, convicted of violating Selective Service laws and sentenced to five years in prison and a $10,000 fine. That night, the crowd attending an Astros game erupted with cheers when news of Ali's conviction flashed on the famed exploding scoreboard.
The New York State Athletic Commission immediately suspended Ali's boxing license, soon followed by athletic commissions everywhere. Ali was stripped of his heavyweight boxing crown. He spent more than three years in boxing exile, not allowed to fight.
In 1971, the U.S. Supreme Court unanimously overturned Ali's conviction and the greatest fighter ever (just ask him) returned to the ring and reclaimed his heavyweight crown. He also became a hero of the civil rights movement, a humanitarian and philanthropist, admired and beloved everywhere in the world, especially in the U.S., where only a few years earlier his government tried to throw him in prison.
Sports Illustrated honored Ali as the greatest athlete of the 20th century and the greatest boxer of all time. Ali graced the S.I. cover 38 times. He was on the cover of Time magazine five times. His star is on the Hollywood Walk of Fame. He lit the Olympic flame, his hands trembling from Parkinson's Disease, in Atlanta in 1996. The Associated Press named him the most recognized athlete in history. He received the Presidential Citizens Medal from President Bill Clinton and the Presidential Medal of Freedom from President George W. Bush. When he passed away in 2016, Muhammad Ali was mourned as a world treasure.
Simone Biles is only 24 years old. Her career is far from over, so I get why the Houston Hall of Fame may want to wait to induct her. But why? She's already the greatest gymnast ever. She's won five Olympic medals, four of them gold. She's won 25 medals at the World Championships, 19 of them gold, the most in history. Whatever she accomplishes at the 2020 (now 2021) Olympics in Tokyo will just be icing on her career cake.
Biles grew up and lives in Spring. The Houston Hall of Fame isn't like other halls where the rules say an athlete must wait five years after retirement to be eligible for induction. An athlete either is or isn't a Hall of Famer – and Biles resoundingly is.
She has four gymnastic moves named after her. One of them involves a double twisting, double tucked salto dismount. (I pulled a hamstring just writing that.) She jumps and flips higher than any other gymnast. To say Biles is anything short of unbelievable and incredible and amazing is selling her short.
The 12 current members of the Houston Sports Hall of Fame are all champions and wonderful athletes. Carl Lewis especially was the world's greatest in his sport at one time. Ali (still) and Biles (now) are the greatest for all time. Next year, OK, Houston Sports Hall of Fame?
Trevor Lawrence went down with an ankle injury in a loss to the Bengals, which puts the Texans within reach. Can they overcome the injury to Tank Dell and win the AFC South?
Watch the video above to learn more!
SportsMap Emails
Are Awesome