Coming into the season with a rookie quarterback, there was a lot of optimism for the Texans and the future at the position. And with a legit head coach in DeMeco Ryans, most believed the team would be back on track sooner rather than later.
However, we didn't expect the turnaround to happen this quickly. In fact, when looking at the draft order for next season, the Texans' 2024 first round pick that was sent to the Cardinals isn't even in the Top 10.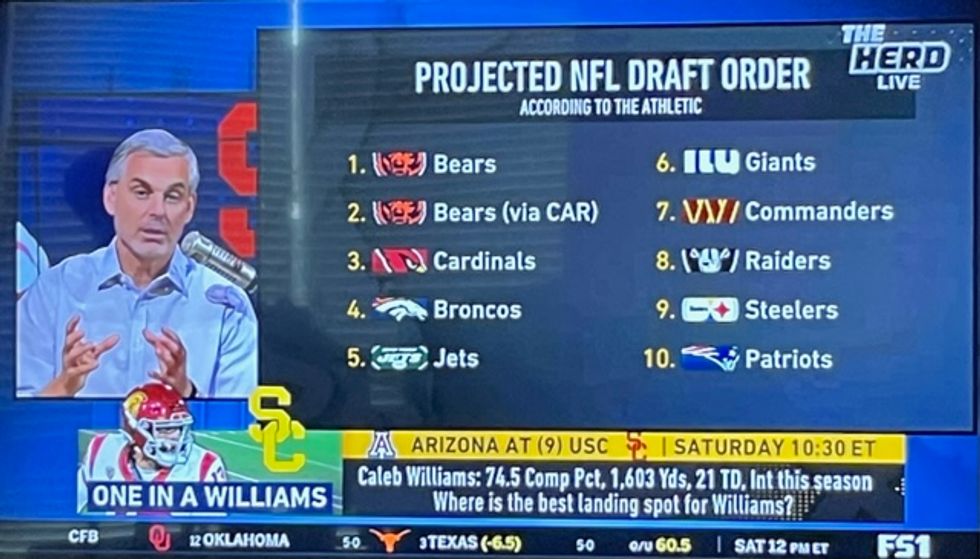 Screenshot via: FS1.
Many were critical that trading the Texans pick over Cleveland's was a huge mistake. It's early, but it doesn't look like Houston game up a Top 3 pick like many projected.
Plus, you can already make the argument that CJ Stroud is a Top 10 QB based on his stats through 4 games. And the Texans are tied for the best record in the AFC South after hammering the Jaguars and Steelers in back to back weeks.
With all this in mind, can we say that the Texans rebuild is officially over?
Be sure to watch the video above as we break it all down.
Don't miss Texans on Tap (a Texans podcast) every Monday on our SportsMap Texans YouTube channel.
The Houston Texans will look to get back on track this week against the Broncos, who are suddenly back in playoff contention after ripping off five straight wins.
Too bad Houston didn't get to play the Broncos earlier in the season.
The Texans host Russel Wilson and company this Sunday at NRG and are currently 3.5 point favorites. Vegas is expecting a lot of points as they set the total at 47, the second-highest of the week.

After two straight games with over 100 yards rushing, Devin Singletary and the Texans rushing game came crashing back down to Earth with 32 rushing yards combined between Singletary and Dameon Pierce.
Things could change this Sunday, with the Broncos allowing the most rushing yards per game (155.18). To be fair, many of the Broncos stats are skewed with their terrible start to the season, and a game in which they allowed a whopping 70 points to the Dolphins.
During Denver's winning streak, they held the Chiefs and Bills to 9 and 22 points, respectively. But the one edge the Texans have over almost every team in the NFL is quarterback play.
The Texans and CJ Stroud are 1st in passing yards per game (297.6) and 4th in total yards per game (396.4).
So who will come out ahead in this critical matchup?
Check out the video above for a full early breakdown of the game, plus predictions. And go Texans!