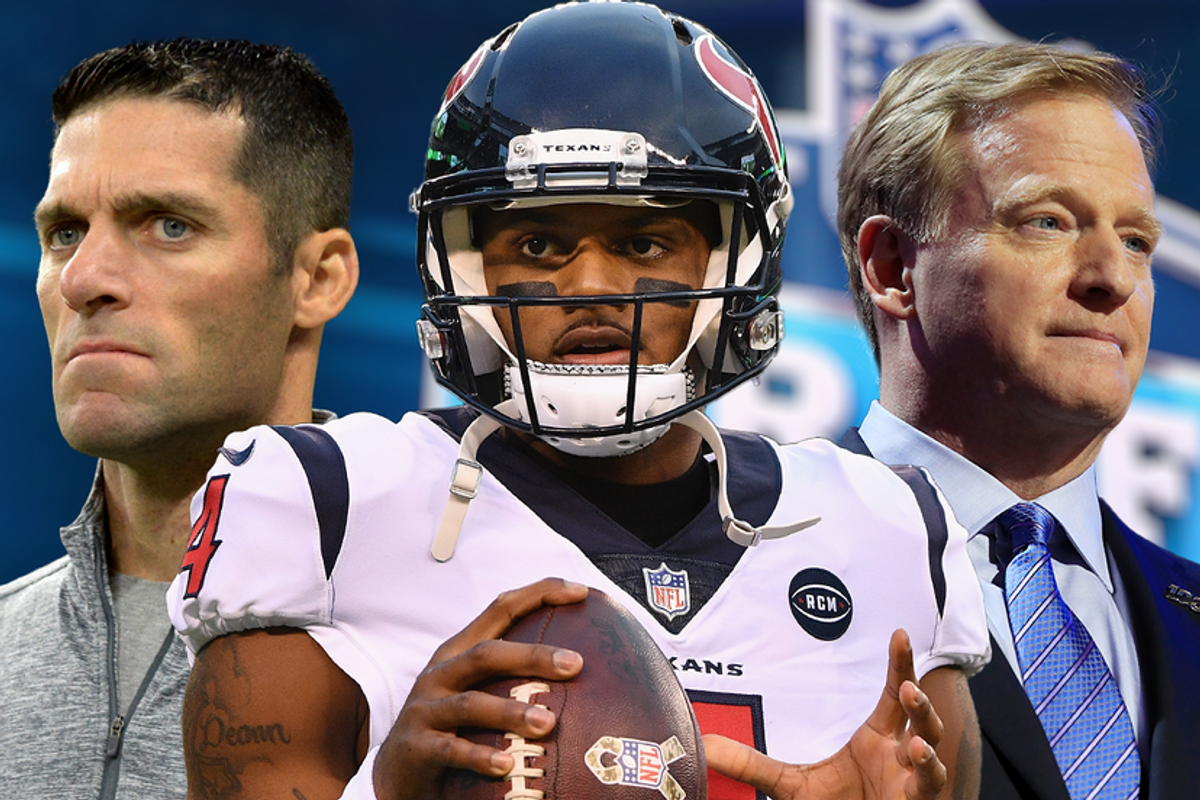 NFL commissioner Roger Goodell could lower the boom on Watson. Composite image by Jack Brame.
The other afternoon I was driving (5 mph stop and start) on I-45, listening to the radio and the sports talk host posed this question to his listeners:
Which will happen first – the baseball lockout ends or the Texans announce a Deshaun Watson trade?
Seriously? There will be a baseball season this year. There may not be a football season for Deshaun Watson in 2022.
What has happened, is there any indication, what makes anybody think that the Texans will find a trade partner for Deshaun Watson anytime soon?
Much like rush hour drivers on Houston highways, it's time for the media to slam the brakes on Deshaun Watson trade talk. Right now all the Watson noise is just the media talking among themselves.
This week's rumor has the Washington Commanders offering a slew of first-round picks for Watson. Add them to the Miami Dolphins, Minnesota Vikings, Carolina Panthers, Philadelphia Eagles and more unnamed mystery teams linked to courting Watson.
And yet here the Texans still sit with an albatross holding a $156 million contract who has no desire to play for the Texans and the Texans have even less interest in playing him. It's an unbelievable situation, until you remember we're talking about the Houston Texans.
Deshaun Watson has become the one thing he's never been – boring. Why have the Texans been unable to unload their exquisitely talented young quarterback? Think maybe it's because Watson faces 22 civil lawsuits and the possibility of criminal charges alleging sexual misconduct? While the Harris County district attorney is expected to decide whether to file criminal charges before April 1, all those civil cases could loom for months or who knows how long?
It's important to remember that Watson denies all the accusations and this is America, he's presumed innocent. As his lawyer Rusty Hardin repeatedly says, "Deshaun Watson did not do what he is accused of doing."
It may not matter how Watson's legal situation turns out. NFL commissioner Roger Goodell could lower the boom on Watson with a suspension based only on his personal disgust over Watson's alleged misbehavior with nearly two dozen masseuses.
Goodell's done it before. In 2010 Pittsburgh Steelers superstar quarterback Ben Roethlisberger was accused of sexually assaulting a female college student in a bar in Milledgeville, GA. Prosecutors investigated the accusation, did not find enough evidence to file charges, and the case was dropped. Goodell suspended Roethlisberger six games anyway.
Goodell wrote a letter to Roethlisberger explaining his decision. "I recognize that the allegations in Georgia were disputed and that they did not result in criminal charges being filed against you … that said, you are held to a higher standard as an NFL player, and there is nothing about your conduct in Milledgeville that can remotely be described as admirable, responsible, or consistent with either the values of the league or the expectations of our fans."
I know a legal eagle who is a close follower of the Watson case. He believes that Watson will be suspended for "some, most or all of next season." And "some" is about to leave town.
Goodell might be of mind to deal harshly with Watson, especially after being criticized for meting out mild punishment in past cases of violence against women. Ray Rice initially received only a two-game suspension for punching his fiancé, rendering her unconscious and dragging her body out of an elevator in 2014. Kareem Hunt missed only eight games for pushing and kicking a woman in 2018. No charges were filed against Hunt. The NFL suspended him for violating the Personal Conduct Policy.
This week Goodell suspended Atlanta Falcons receiver Calvin Ridley an entire season – for starters – for betting on NFL games. While gambling on football is legal, and the NFL is in bed with gambling sites, it is strictly against the rules for NFL players.
Goodell might be wary of appearing to punish a player more severely for gambling than a player accused of assaulting women.
The Athletic football writer Jeff Howe has it right: "Until Watson's legal situation is resolved, teams remain unwilling to pursue a trade for the Texans quarterback. ... Teams haven't shown any urgency to pursue a trade this offseason while his legal situation is still up in the air."
While April 1 is when Watson may find out whether he faces criminal charges, there are other dates affecting where, when and if he'll play football next season. NFL free agency starts March 16 and the NFL draft begins on April 28. That's when teams pretty much plot their plans and rosters set for next season.
Last week, Washington head coach Ron Rivera responded to rumors that the Commanders were pursuing a trade for Watson. He told CBS Sports: "I think in certain situations, clarity and some sort of resolution is probably better for all these things because we don't know who's available and we don't know what the circumstances are."
Clarity and resolution are nowhere to be found in Deshaun Watson's world these days.
"Another one!"- DJ Khaled
That's the first thing that came to mind when I heard the news of Tytus Howard being shut down for the season because of a knee injury. They've had more injuries on the offensive line this season than Nick Cannon has Father's Day cards. Almost every member of the offensive line has spent time on the injury report. Howard went down in the same game in which Juice Scruggs was finally on the active roster. He missed the first 10 games due to a hamstring injury. The irony of next man up has never been so in your face.

The other thing that came to mind was the soap opera As the World Turns.
Howard had just signed an extension this offseason. So did Laremy Tunsil and Shaq Mason. They drafted Juice Scruggs, and signed a few guys too. Those moves, along with other holdovers, were expected to fill out the depth chart. Then a rash of injuries struck. At one point, only one of the original five guys expected to start was playing! In fact, they beat the Steelers 30-6 with that backup offensive line!

One can't have the expectation of backups to perform as good as the starters. They're professionals and are on an NFL roster for a reason. However, the talent gap is evident. One thing coaching, technique, and preparation can't cover is lack of ability or talent. The Texans have done a good job of navigating the injury minefield this season. While the Howard injury will hurt, I have faith in the guys there still.
As of this writing, the Texans are in the eighth spot in the AFC playoff picture. The Steelers, Browns, and Colts are all in front of them at the fifth through seventh spots respectfully. They've beaten the Steelers already. They play the Browns on Christmas Eve and their starting quarterback is out for the season. The Colts are relying on the ghost of Gardner Minshew to steer their ship into the last game of the season vs. the Texans with a possible playoff trip on the line. The Broncos and Bills are the two teams immediately behind them. They play the Broncos this weekend. Even though they're on a hot streak, this is the same team that got 70 put on them by the Dolphins. The Bills are the old veteran boxer who still has some skill, but is now a stepping stone for up & comers.
To say this team should still make the playoffs would be an understatement in my opinion. I believe in them and what they have going on more than I believe in the teams I listed above. That includes teams around them in the playoff race that aren't on their schedule. The one thing that scares me a little moving forward is the sustainability of this line. When guys get up in age as athletes, it becomes harder to come back from injuries. The injuries also tend to occur more frequently when it's a knee, foot, ankle, shoulder, elbow, or another body part critical to blocking for C.J. Stroud.
I know they just re-signed three of those guys and drafted one they believe can be a starter, but depth and contingency plans are a way of life in the NFL. We see how important depth was this season. Why not plan ahead? Don't be surprised if the Texans spend valuable draft capital on the offensive line. By valuable, I'm talking about first through third or fourth rounders. Those are prime spots to draft quality offensive lineman. Whether day one starters or quality depth, those are the sweet spots. The only guy on the two deep depth chart for this offensive line that wasn't drafted in one of those rounds was George Fant, who was an undrafted rookie free agent. While I highly doubt they spend any significant free agency dollars on the group, I'm not totally ruling it out.
The bottom line is, this team will be okay on the line for the remainder of this season. The only way that doesn't happen, more injuries. Stroud is clearly the franchise guy. Protecting that investment is a top priority. I don't care about a number one receiver, or a stud stable or singular running back if the quarterback won't have time to get them the ball. If the pilot can't fly the plane, you know what happens. So making sure he's happy, healthy, and has a great crew is of the utmost importance.
SportsMap Emails
Are Awesome