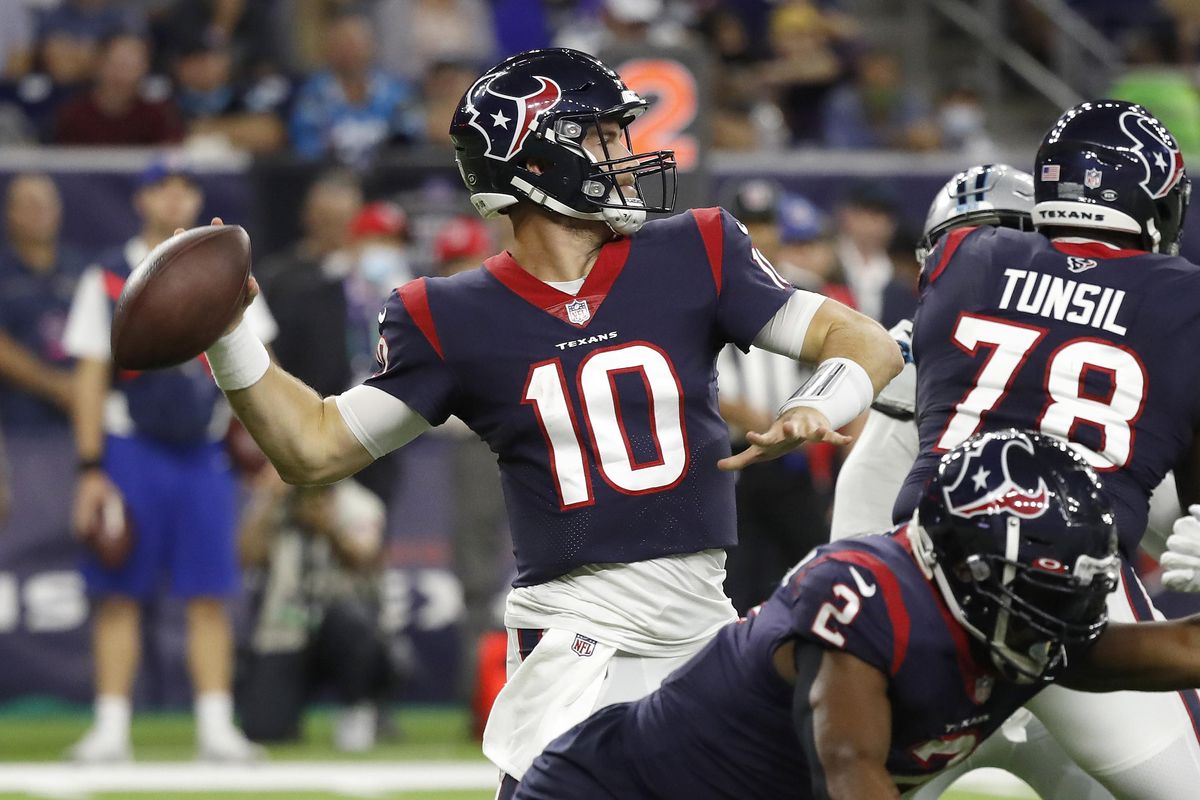 Will Davis Mills take the next step? Photo by Bob Levey/Getty Images
Houston Texans training camp is underway, and as it is for most football teams, all the city's eyes are on second-year quarterback Davis Mills.
Mills, who played in 13 games for the Texans in 2021 and started in 11, will likely be QB1 when Houston takes the field on Sept. 11 against the Indianapolis Colts. For Texans fans that have had to sit through the past two seasons of agony, the near certainty of who the starting quarterback is should bring a sense of optimism around the 20-year-old franchise.
Houston fans know the story by now. The 6-4 quarterback closed the 2021 season with nine touchdowns and only two interceptions after his subpar, and at times, brutal first six career starts.
Let's look at a possible best-case scenario for Mills. What if the Stanford product leads Houston to eight, nine or even more wins, heck even playoffs, while putting together a 25-touchdown or more season and limiting his interceptions to 10 or less.
That would certainly be enough for the Texans to confidently say they have "the guy" in Mills and go forward with the 23-year-old. He will be 24 by the time the 2022 season ends.
The exciting part for fans is that a 25-touchdown; 10-pick or less season is not that far-fetched either. Mills ended 2021 with 16 touchdowns, 10 interceptions and 2,664 yards. Six of those interceptions came against the Buffalo Bills and Colts, two of the NFL's top defenses in the NFL in 2021.
Now in Year 2, throwing nine more touchdowns in six more starts while holding off on the multi-interception games is not asking Mills to reinvent the wheel. The exciting thing is if Mills does take that next step, it will likely mean the surrounding pieces took a leap as well.
Of course, let's slow down. There is a worst-case scenario for Mills. He could fail to build on his final five games in 2021; struggle to play a consistent 2022 season; and the Texans win 4 games or less for the third consecutive year. NFL defensive coordinators will figure out Mills' weaknesses in 2022. He could fail to adjust.
So what? If that scenario plays out then the Texans can cut their losses and go in a different direction in the 2023 NFL Draft. The Texans are in a no-lose scenario.
Even if Mills plays well enough to show improvement but not enough to declare him the next franchise quarterback in a six-or-seven-win season, Houston also has the draft capital to be flexible.
Texans fans struggled to watch the Bill O'Brien-era end with the 24-0 debacle against Kansas City, which was followed by DeAndre Hopkins being shipped out for a second-round pick and running back David Johnson, and well the list goes on. Everyone knows what happened with Deshaun Watson, and even JJ Watt left for greener pastures.
After what seemed like years of not having a first-round pick, or in the case of 2021, what seemed like a punt of a season, the clouds have parted over the city of Houston.
The Texans have the rebuild off the ground. While there is a lot of work left to do, Houston is playing with house money at quarterback, and for that reason, fans should be excited for the 2022 season.
Rockets' Alperen Sengun recently was a guest on Paul George's podcast and spoke about a conversation he had with James Harden.
He said Harden told him he was proud of him. This led George to saying he thinks this means the torch has been passed from Harden to Sengun.
Which made us wonder, is this now Sengun's team? Or is that a little premature and the true leader of the team is head coach Ime Udoka or Fred VanVleet?
Plus, Jalen Green has responded positively from being benched. Is this proof that Ime Udoka has the team taking more accountability and heading in the right direction?
Be sure to watch the video above as we break it all down!
If you enjoy the videos, subscribe on YouTube for our latest content.
Related Articles Around the Web
SportsMap Emails
Are Awesome