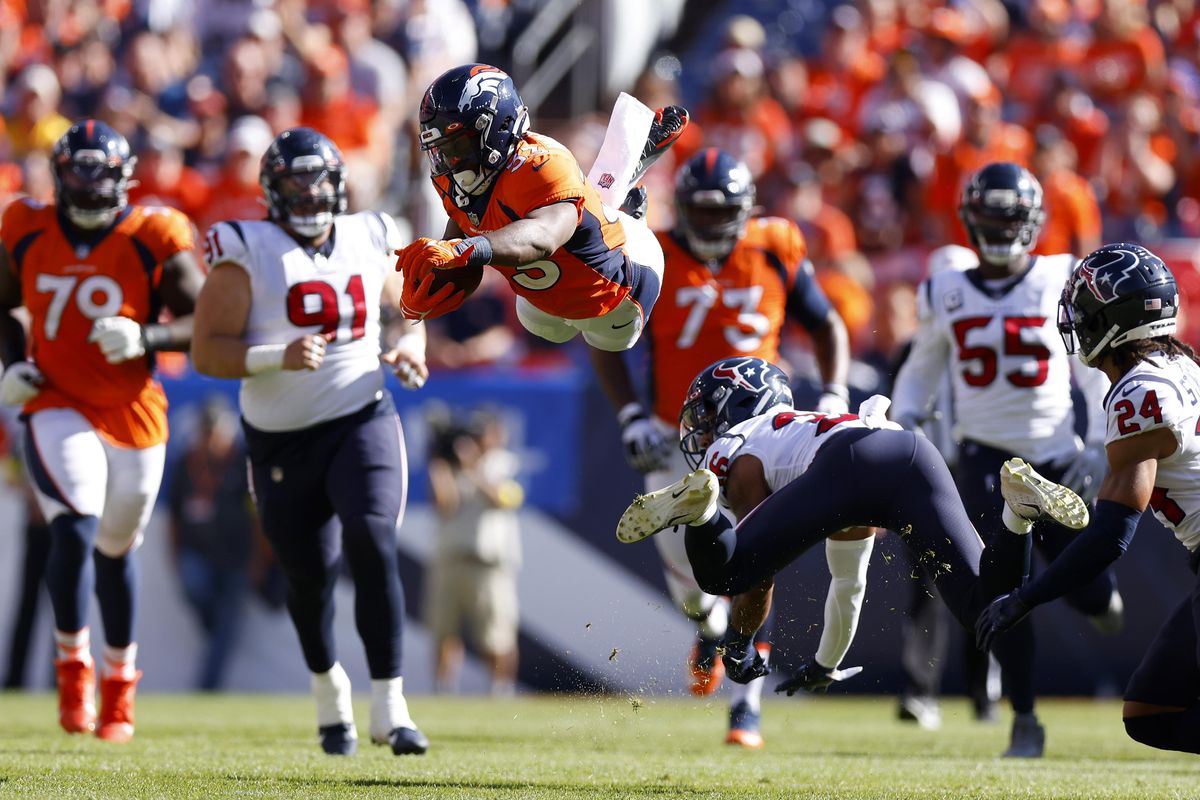 The Texans hope to bounce back against the Bears this Sunday. Photo by Justin Edmonds/Getty Images.
The Texans are off to a rocky start of what was s'posed to be their year of redemption, resurrection and return to respectability. At least that was the hope.
They had finally escaped the ugly Deshaun Watson spotlight. They hired a head coach with experience, who's liked by his players and isn't in over his head. They returned to the world of first-round draft picks. Their promising young quarterback was returning with a year under his belt. They even lowered the price of beer and hot dogs to lure fans back to NRG Stadium.
Vegas had them making progress, setting their over/under for wins at 4.5, a baby step forward from consecutive four-win seasons.
They went 3-0 in preseason. Yeah, it was all looking up.
But now, after only two games – and one of them wasn't even a loss – it looks like some of the fan base and all of the media is pushing the panic button.
The season started with a 20-20 tie at home against Indianapolis. The Colts were favored by 8 points. Not a loss, certainly not a loss for Texans fans betting on the locals. But a game the Texans clearly should have won. Especially after realizing the Colts were shellacked by the Jacksonville Jaguars the following week.
Then it was off to Denver as 10-point dogs and a troubling 16-9 loss with the Texans failing to score a touchdown. Another game the Texans should have won. Denver was horrible, mismanaging timeouts, double-digit dumb penalties and apparently forgetting there is a play clock in the NFL. It got so bad that the crowd began counting down the seconds before another penalty flag flew. The Mean Machine from The Longest Yard was a more disciplined football team than Denver last Sunday.
Still, not time to push the panic button. Not yet. But if the Texans lose to the Chicago Bears, another game they should win this Sunday … it might be time to pack up the 2022 season. Sunday is must win because the Texans' schedule hits a rough slate after that, with the Chargers at home, on the road against the Jags and back home for the Titans and Eagles.
There is a bright side to this malaise. The Texans are 2-0 against the spread, so they've performed better than the Vegas wiseguys predicted.
The Texans play in the AFC South, where only one team has so much as a win so far. The bad news is, that one team is Jacksonville, which was forecast as doable wins for the Texans, but maybe not so much after their shutout destruction of the Colts last Sunday.
Quarterback Davis Mills, so full of promise, has been a disappointment. For a quarterback with a reputation for throwing accurate balls, he's playing like a nervous rookie. He's the 29th-rated passer in the NFL. There are only 32 teams. Silver lining – Bears quarterback Justin Fields is No. 30.
The more troublesome thing about Mills, he's not exactly a Fearless Leader on the field. He is a quiet, thoughtful, shy type. That'd be fine if he was dating your sister, but the Texans need a firebrand. You take one look at Aaron Rodgers or Tom Brady and you see a maniac who's obsessed with winning. Not saying that Mills isn't driven to win, but it wouldn't hurt to show it. Get in a receiver's face, throw your helmet on the sidelines, smash a Microsoft Surface tablet.
To be fair, Mills is in perfect step with the Texans personality. The Texans are, let's put it this way, not exactly an exciting glamour team. Last week, CBS offered the Texans-Denver game to all 20 TV markets in Texas. Only one – Houston - aired the game. Every other market went with the Cowboys-Bengals game.
Unless this season turns around, starting with a win Sunday over the Bears, the big winner for the Texans losing will be Alabama quarterback, Bryce Young. The Texans would be in line to draft him with an early pick. He's fiery, thoroughly entertaining, a Heisman Trophy guy, electric and makes one hell of a commercial. His spot for Dr. Pepper is hilarious. He'd light up this city.
One of the big factors that led to the Texans' loss to the Jaguars on Sunday was the secondary. Multiple flags for pass interference gave Jacksonville more opportunities to pick up first downs and score points.
Can confirm #Texans backup CB Shaq Griffin was cut.

Griffin started 6 games this year when Derek Stingley was out with a hamstring.
— DJ Bien-Aime (@Djbienaime) November 29, 2023
So it's no surprise that DeMeco Ryans is making some changes to his defense this week. According to several reports, Texans corner Shaq Griffin has been cut.
Nickel corner Tavierre Thomas was flagged for PI more than once on Sunday, and was burned badly by Jaguars receiver Calvin Ridley for a touchdown.
DeMeco was asked after the game if he considered replacing Thomas with Desmond King or Shaq Griffin. Ryans didn't give a definitive answer, but it looks like we got one today.
One has to wonder if Desmond Kings' experience playing nickel was the reason for his promotion to the active roster and why Griffin was released. If Thomas continues to struggle, King looks like the next man up to replace him.
#Texans activate Denzel Perryman, promote Desmond King to active roster, release Shaq Griffin, sign Matt Ammendola and Garret Wallow to practice squad, released Gerrid Doaks from practice squad and placed Tytus Howard (knee-patellar tendon surgery pending) on injured reserve https://t.co/knyyoqo7yC
— Aaron Wilson (@AaronWilson_NFL) November 29, 2023
The Texans also made some other adjustments to their roster on Wednesday, per Aaron Wilson. Linebacker Denzel Perryman returns from suspension, kicker Matt Ammendola and linebacker Garret Wallow join the practice squad. They also released Gerrid Doaks from the practice squad.
The other big piece of news involves left guard Tytus Howard. He heads to injured reserve, ending his season after hurting his knee against Jacksonville.
SportsMap Emails
Are Awesome