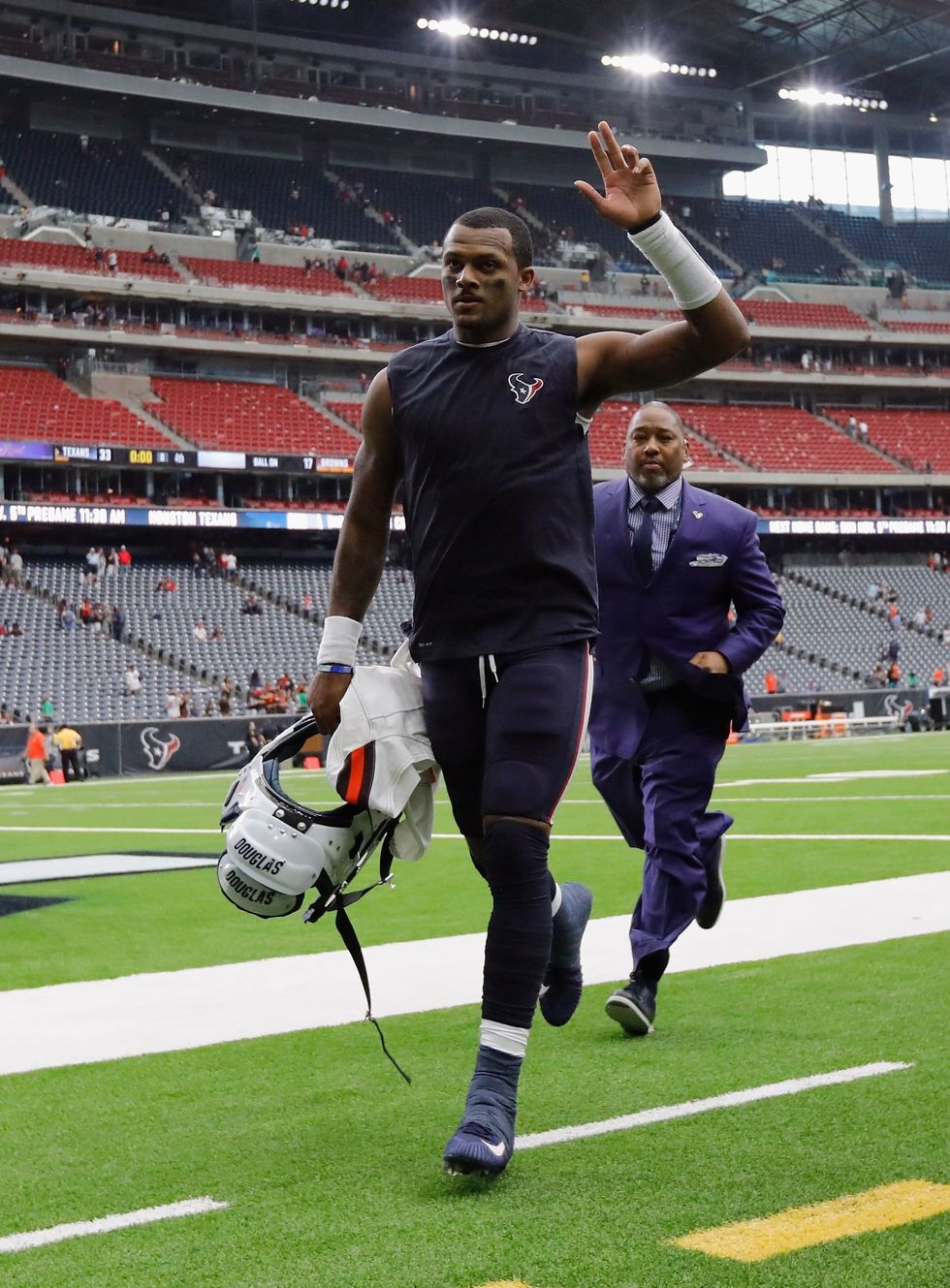 Deshaun Watson needs to relax. Tim Warner/Getty Images
What happened to that fun brand of football we were treated to last year? Where is that up and down the field, no fear, high flying offense that put up 34 points a game? Where did it go?
I know we're only two games in but if those two games are any indication it looks like Deshaun has been O'Brienized and that's not a good thing. Is this the same offense that Brian Hoyer ran? That Brock Osweiler ran? That Tom Savage ran? I certainly hope not.
I know what I say doesn't matter but I don't want Deshaun running BOB's offense. I want BOB to run Deshaun's offense. He's different than Hoyer and Brock and Savage. That's why they drafted him. That's why we had such high hopes for this season.
Where are the RPO's they put in last year? Where are the moving pockets? The bootlegs? Every shotgun pass is a five or seven step drop, every time he's under center it's play action.
On their second drive of the game against the Titans penalties and a botched snap had them in a third and 27. That's a next to impossible situation. Deshaun took the snap, had time and had D-Hop wide open about 15 to 18 yards down the field. It looked like he was looking right at him but instead of pulling the trigger he pulled it down and ran. It wasn't enough as Fairbairn came up short on the field goal.
That wasn't the only time though. These past two weeks he's been tentative, like he's got information overload. I'm not saying he can't think or read defenses. He certainly can. You don't win a national championship or throw 19 TD's with 8 picks your rookie year if you can't think.
It just doesn't look like he's having any fun. It looks like he's thinking and not playing, like the weight of the world is on his shoulders and his social media posts are confirming it.
Last week he went after Pat D. Stat who was tweeting about his footwork. He told Pat to "keep that same energy." He's since deleted it but why is he worried about what a writer thinks about his footwork?
In his postgame press conference he told anyone who's hitting the panic button to not hop back on the train later in the season. He even brought up his tough homeless childhood. Where the heck did that come from? Why would he be thinking about that terrible time in his life in a postgame press conference?
People are tweeting him bible verses about God's plan and he's retweeting with Amens. Deshaun's faith in God is admirable but it seems a little early to be thinking that this is some test from God. After all it's just an 0-2 start; nothing to hit the panic button over.
Deshaun, have some fun out there. Take off on a 60 yard run. Bootleg and hit Ryan Griffin on a 30 yard crossing route. Chuck one up for Will Fuller. Give it to D-Hop on a reverse and you go out on a wheel route. That'd be sweet.
Get back to playing the game you love with some joy. Stop worrying about your critics or fans who are mad about a slow start. And for goodness' sake try not to think about the worst time of your life right after a game.
This is the best time of your life. You're the best quarterback in Houston Texans franchise history.
Act like it.
After a quiet offseason the Houston Astros finally made some moves this week to bolster their roster by adding backup catcher Victor Caratini in free agency.
The club also acquired some bullpen help by trading for Royals reliever Dylan Coleman.
Astros GM Dana Brown also garnered a lot of attention this week by proclaiming Jake Meyers will get an opportunity to be the everyday starter in center field.
And while the Astros have been connected to several free agent relief pitchers by various media outlets, it appears Houston isn't looking to spend much money.
On the other hand, the Yankees went out and traded for superstar outfielder Juan Soto, and have shot past the Astros when it comes to World Series odds.
Which begs the question, have the Astros done enough to compete with the Yankees in 2024?
To be fair, we've seen this movie before. The Yankees historically out spend every team, but they've been a little more conservative over the last few years.
But now, they look like the Yankees of old when it comes to payroll.
Plus, we heard rumors a few weeks ago that the Astros might be looking to trade Jake Meyers. And now all of a sudden he's getting the first crack at the starting job in center?
Could this be a smoke screen from Dana Brown to try to elevate his trade value? We've seen the Astros value defense in center field before, they let George Springer walk and replaced him with Myles Straw.
Be sure to watch the video above as we decipher what the Astros are really trying to accomplish this offseason, and successful they can be in the AL in 2024.
SportsMap Emails
Are Awesome