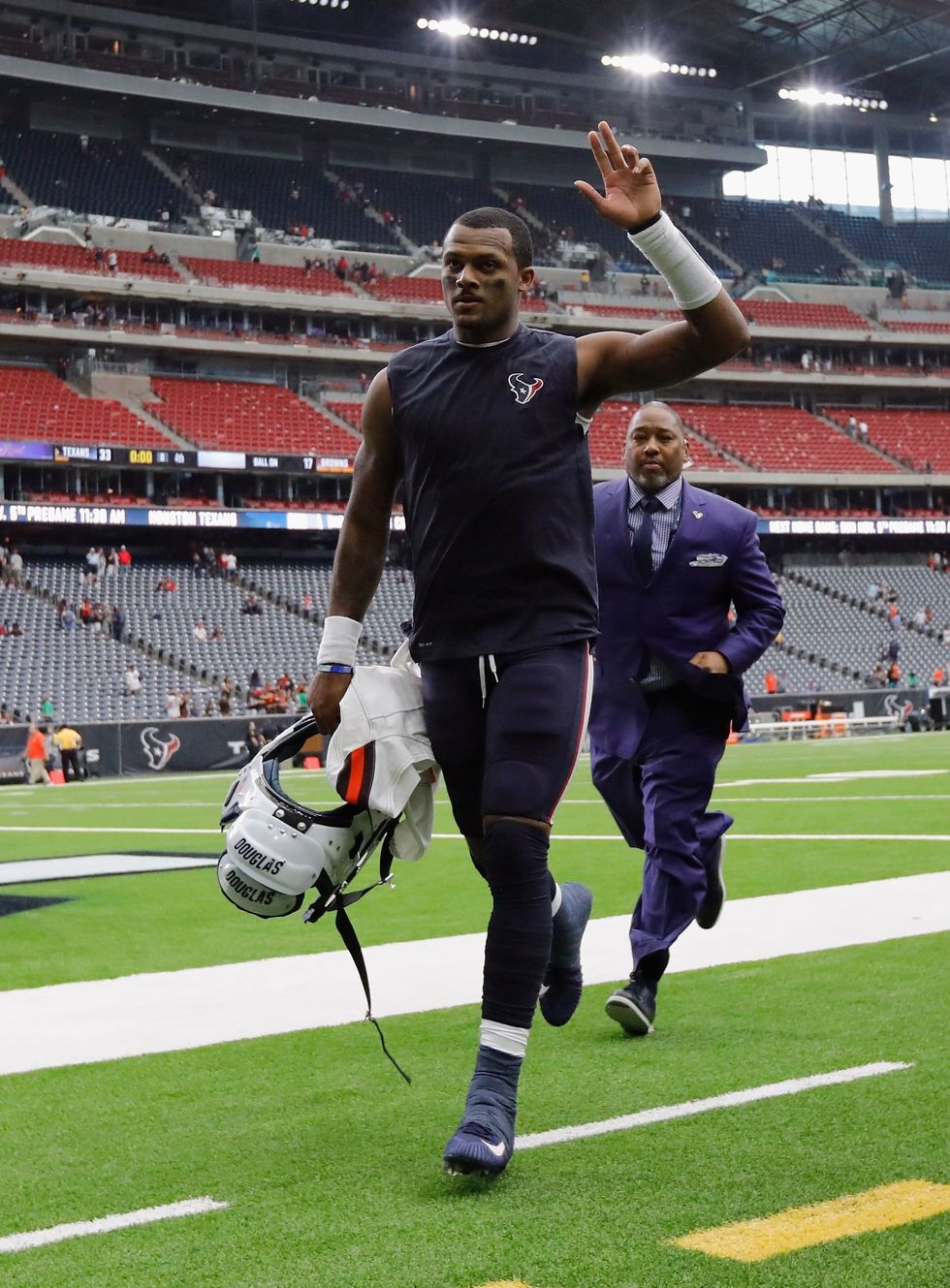 A healthy Deshaun Watson will be huge for the Texans. Tim Warner/Getty Images
Sunday night, we were witness to another great Super Bowl. Some prisoners of the moment characterized it as the best ever. The storyline of The Philadelphia Eagles' head coach going from high school coach to Super Bowl winning coach in ten years was fascinating. But let's get real. Houston Texans fans are waiting to see their head coach Bill O'Brien be the first seed from the Bill Belichek tree to blossom a fruitful harvest on its own.
Now that O'Brien has a general manager he seems to approve of in Brian Gaine, I'm interested in seeing what the two of them can accomplish together. This offseason will be particularly challenging because they'll be working sans 1st and 2nd round picks in the draft. Aiding in the plans will be an estimated $52 million dollars in cap space (h/t spotrac). There are a ton of different moves needed to be made in order for the Texans to climb the mountain and be the next unlikely Super Bowl winner. Here are five of those moves I believe will help them get to the mountaintop presented in no particular order:
Sign Guard Andrew Norwell
Norwell is 26 years old and is one of, arguably the best offensive lineman on the market this offseason. Many would say anything is better than what they've had at guard. Some could argue that throwing big money at the problem may backfire like it has in the past. I advise them to go look at how this guy played in a system conducive to a mobile quarterback and reassess that notion.
Sign Wide Receiver Jarvis Landry
Sure "Juice" had an off-field incident involving domestic violence, but he's also the kind of guy who could flourish opposite DeAndre Hopkins, or in the slot, that could help this team thrive on offense. He's caught at least 84 balls every year, twice going over 100, for a Miami team that's been less than stellar. Playing with Deshaun Watson and being closer to home may assist Juice in taking his career, and this team, to heights unheard of previously.
Invest In A Quality Backup Quarterback
When Watson went down, the offense went with him. Having a backup quarterback that can run the same offense would help things along should Watson not be ready for the beginning of the season, or if he should miss time due to injury. Seattle Seahawks backup Trevone Boykin could be a potential trade target for a relatively low price. Chase Daniel, Joe Webb, Josh Johnson, and possibly even Teddy Bridgewater are all potential targets in free agency.
Bolster Defensive Backfield
Whether it's through the draft, free agency, or armed robbery, the Texans need to find help at corner and safety this offseason. Jonathan Joseph should be gone, Kareem Jackson should move fulltime to safety and Kevin Johnson has been vastly underwhelming. This leaves openings on the depth chart. Whether it's Hopkins' open recruitment of Malcolm Butler, finding a late round gem or a current guy on the roster stepping up, something needs to happen in the defensive backfield because opposing receivers are more open than Bissonnet street walkers on the weekend. EJ Gaines and Tre Boston also come to mind.
Trade A Star
Fred Faour wrote an article about trading Jadeveon Clowney. It may not be the popular thing to do, but he's the best trade asset this team has to offer. Or perhaps it's time to see what they can get for JJ Watt. He's coming off two seasons lost to major injuries so he may not fetch much. The same can be said for Whitney Mercilus. Hopkins is out of the question given the cap hit they'd take after resigning him last season. Beyond those guys, the Texans aren't in a position to move anyone else and expect anything significant in return. I'm sure there's a team out there that'd be willing to part with some decent draft picks or players for one of those three pass rushers.
These are just five of the many moves the Texans can make. There are lots of holes on this roster to fill and most of them will not be filled this offseason. Luckily for them, the NFL is built on parity. There are teams who make complete turnarounds in one offseason. Most times it comes with the aid of hitting home runs with draft picks, especially the ones the Texans don't have. Challenging as it may seem, it can be done. The best thing for fans is to pray Watson comes back healthy and stays that way for an entire season. If that doesn't happen, all will be for naught.
Rockets' Alperen Sengun recently was a guest on Paul George's podcast and spoke about a conversation he had with James Harden.
He said Harden told him he was proud of him. This led George to saying he thinks this means the torch has been passed from Harden to Sengun.
Which made us wonder, is this now Sengun's team? Or is that a little premature and the true leader of the team is head coach Ime Udoka or Fred VanVleet?
Plus, Jalen Green has responded positively from being benched. Is this proof that Ime Udoka has the team taking more accountability and heading in the right direction?
Be sure to watch the video above as we break it all down!
If you enjoy the videos, subscribe on YouTube for our latest content.
Related Articles Around the Web
SportsMap Emails
Are Awesome