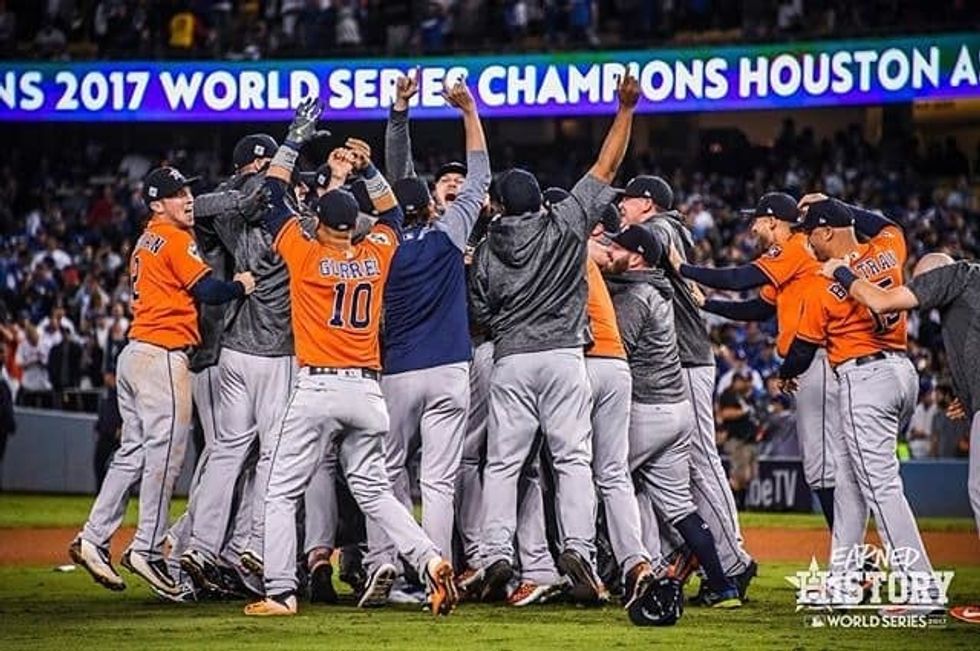 The Astros have a great shot to win it again this year because of their roster management. mlb.com/Astros
Houston Astros manager A.J. Hinch announced that Justin Verlander, not Dallas Keuchel, will be the Opening Day starter. Keuchel had started the previous three Opening Days for the Astros, all three were wins. Keuchel debuted with the team in 2012 and has been around for the lowest lows and the highest high of winning the World Series last season. The fact that Hinch decided to go with Verlander instead of Keuchel is a sign of a turning tide for the Astros, and I don't care about who's feelings were hurt because of it.
Typically when a team wins a World Series, it's done a couple of ways. One way is the New York Yankees model. This is when the team "buys" a trophy by spending obscene amounts of money on free agents to field the best team the owner's checkbook will allow. Given the loose salary cap structure in MLB, teams can spend as much as they want with little to no penalty. Losing draft picks by signing high dollar free agents can decimate a team's farm system, but who cares when you can write a check and replenish your talent?
The other way to build a winner is through homegrown talent. Drafting and developing your own talent, then bringing them up from the minors while they're still young, cheap, and under team control is another method. The Kansas City Royals won in 2015 with this formula. Now that some of those guys are up for new deals, they aren't able to resign them out of fear of a growing payroll the likes of which smaller market teams can't handle.
The other method is a blend of the two previous methods mentioned. The Astros have effectively employed a combo of homegrown talent, and wise free agent buys in their recent success. Trading for Verlander and Gerrit Cole, signing Charlie Morton and Josh Reddick, as well as bringing up homegrown guys like Keuchel, Jose Altuve, Carlos Correa, and George Springer helped this team win a World Series last season.
General Manager Jeff Luhnow brings a whole new meaning to roster flexibility. He's managed to make the right moves to build a contender, all the while ensuring that the team is set up to contend for a number of years to come. The Verlander and Cole deals didn't empty the minor league system of top talent. The free agent signings haven't taken away draft picks. The homegrown talent is coming up for new deals, but the years are staggered and the minor leagues are filled with replacements. Luhnow has maintained roster flexibility which has allowed the team to contend for years to come.
Perhaps this is the sign of a turning tide. Teams that "buy" a World Series end up further behind the curve because their stars age under fat contracts they can't trade away. Other teams that build a contender from within usually can't afford to keep them together and either trade away their stars or lose them without compensation. The Astros are in a unique position to keep the train rolling. The San Francisco Giants of the early 2010s were the last team to effectively employ this strategy when they won titles in 2010, 2012, and 2014. They've since hit a rough patch, but no one can take away their three titles. The Yankees of the late 90s/early00s had a similar strategy until they turned to throwing money at their problems.
I truly hope this team can use good roster management to ride the wave of success for at least a few more years to come. This city got its first taste of a championship winner in over twenty years. After going through Harvey, it was a much-needed respite. I really don't give a damn about how it's done, who gets traded, who gets resigned, or who gets let go. Enjoying sustained success has a cost. I'd rather pay it than wallow in the purgatory of mediocrity.
All of a sudden, the Houston Texans have won three straight and host the Jacksonville Jaguars for a highly anticipated game this weekend
If the Texans come away victorious, they will take possession of first place in the division, and be in position to host a home playoff game for the first time since 2019.
Which got us thinking, is this the best version of the Texans we've ever seen? Many would say the best Texans teams were the ones coached by Gary Kubiak with Matt Schaub at QB. Or some may say it was the Bill O'Brien 2019 team with Deshaun Watson pulling the trigger at QB.
Regardless of which era of the Texans you believe was the best, one thing is for sure. This year's team has us optimistic on several levels. Ownership seems to have figured things out with the Easterby days behind us. Nick Caserio is a serious candidate for Executive of the Year, CJ Stroud is a favorite for Offensive Rookie of the Year, and has a chance to win MVP. And DeMeco Ryans has a legit shot at Coach of the Year.
But let's go even further. Has DeMeco done enough already to be considered the franchise's best coach? Many would say these questions are entirely premature, but are they really?
We could also make the argument that Tank Dell is already the third-best receiver in franchise history behind Andre Johnson and DeAndre Hopkins. He already has as many touchdowns (6) as Dre and Hopkins combined in their rookie seasons.
And let's make things even more interesting. Is CJ Stroud the best Houston QB since Warren Moon?
Be sure to watch the video above as we answer all these questions!
SportsMap Emails
Are Awesome