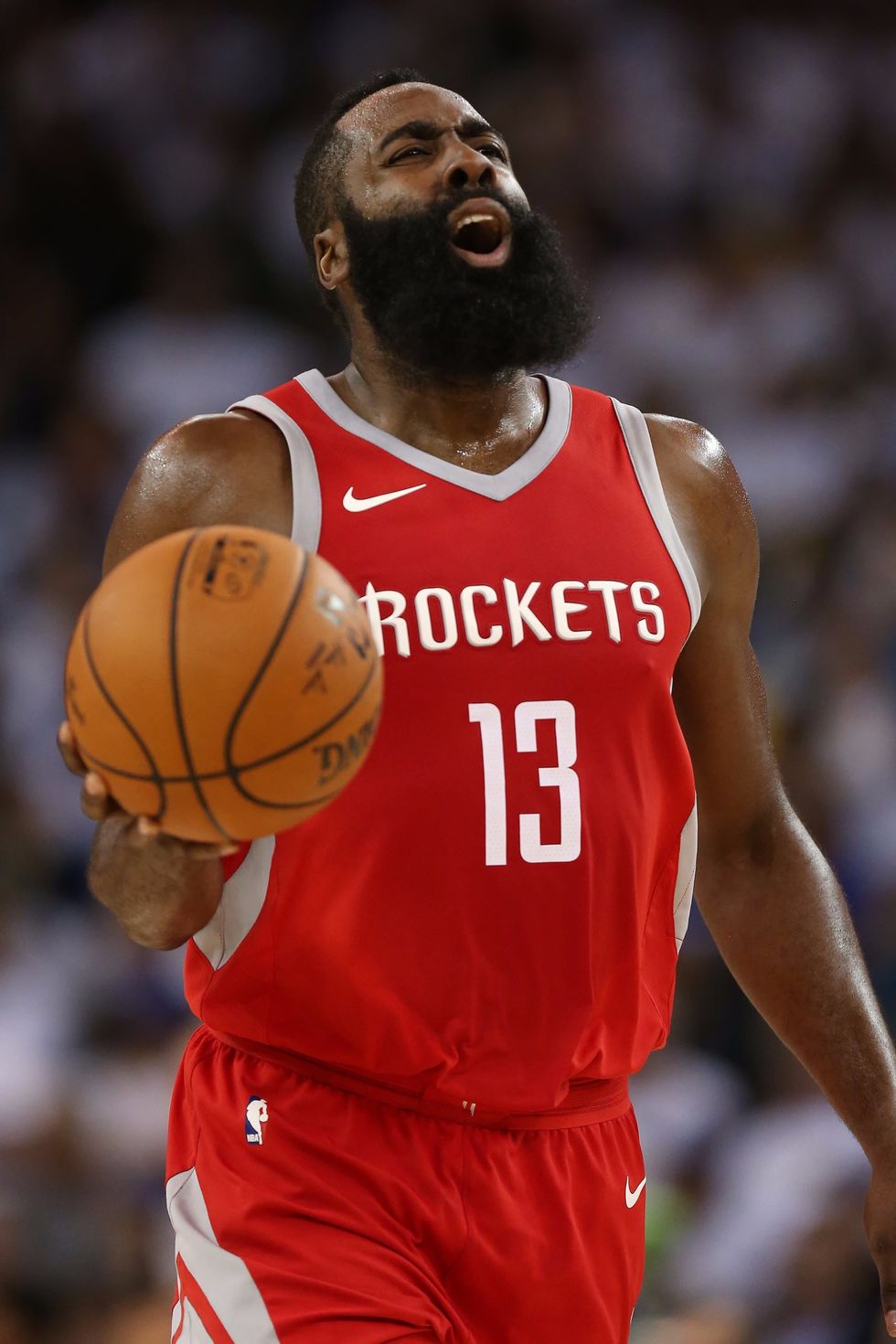 James Harden has raised his game. Ezra Shaw/Getty Images
I would like to formally apologize to everyone who is involved in the Rockets organization, maybe not Tilman Fertitta, he wasn't the owner when I made my now regrettable proclamation. But everyone else deserves my deepest regrets.
After each of the last three seasons I have proclaimed that the Rockets are in James Harden purgatory. James is a great player and has been for a while but he hasn't been good enough or focused enough to lead them to the promised land. They weren't in NBA hell and they weren't  in NBA heaven. They were floating somewhere in between.
Right now though they seem to be knocking on the pearly gates and I never thought that would happen.
I've stated emphatically more than a few times that the Rockets would never win a championship with James Harden. They obviously haven't proven me wrong yet but I'm now a believer in James and the organization. I'm all in on this team. I'm all in on James.  
It's certainly not all on James. Every superstar needs help. The GOAT Michael Jordan didn't win his first NBA title until his seventh season. He didn't have enough around him until then. As little credit as Michael would like to give him, it was GM Jerry Krause who put the pieces in place for their historic run.
Which leads us to the job that Daryl Morey has done this season. No one has tinkered more than Daryl trying to find the perfect combination of players that will mesh with James. It isn't easy. Every GM is at the mercy of the marketplace. Every offseason they look at who is available at what price and are they the right fit for what we're trying to do?
This offseason it all came together with Chris Paul, P.J. Tucker and Luc Mbah a Moute but it was Daryl who still had to identify them, find the cap room, convince the players to come here and sign them. It's always hit or miss. This offseason was not a hit. It was a grand slam.
These pieces all fit. Sometimes they don't (see: Corey Brewer). These do, especially Chris Paul. Go figure, adding a Hall of Fame point guard can improve your team. I will admit that I wasn't convinced that he was the perfect fit here. James loves to have the ball in his hands as does Paul. I thought at some point they'd literally be fist fighting at midcourt. Couldn't have been more wrong there either.
Chris makes James better in every way. He just seems more focused. He just seems to care more about the ball. He just seems more urgent.
Dare I say it, he almost seems likeable.
To me Harden has been the least likeable star in this city. Altuve? J.J.? Correa? Verlander? Deshaun? In my mind James comes in behind all of them on the likeability scale. If we've learned anything lately it's that we really don't know what sports stars are really like.  We didn't know anything about Tiger Woods until all his transgressions were exposed. There's no reason to think our guys are shady but James does have some stink on him.
His run-in with Moses Malone Jr. None of us are sure exactly what happened but it's a bad look.

His yacht commercial. We know you have money James. We don't care.

His nightlife reputation. I'm the last one to criticize anyone's partying habits but there are a lot more people who care if James succeeds than if I do.

Elimination James. This is the most egregious and the one that will be the biggest obstacle to overcome. The evidence is accumulating: the '12 Finals, game 5 of the '15 WCF and game 6 vs the Spurs last year. He's got to play better in the biggest games. He can't play any worse.
But 2018 James has me thinking that he's changed somehow. Whether it's just his demeanor, his attitude, how much more he seems to care about winning, how much more he's taking care of the ball, how much more defense he's playing, I don't know what it is but he just seems different to me.
And I hope that he proves me wrong. These Rockets can win it all and to me that's all that matters. Will they? I don't know. Even with home court advantage they will be an underdog to a healthy Warriors team. But there's no shame in losing to them. You can call that a losers' mentality but I call it fate.
There have been great teams that came along at the wrong time and ran into historically great teams. That doesn't mean they weren't great themselves. The Luv Ya Blue Oilers who were foiled by the Steelers and the Stockton-Malone Jazz who were stonewalled by the Bulls and would have been champions in almost any other era. They were great teams. They just don't have the hardware to prove it.
I'm not saying this Rockets team won't beat the Warriors and I'm not making any excuses for them. I'm just saying I was wrong. They can win a championship with James Harden. I'm just not sure they will.
All of a sudden, the Houston Texans have won three straight and host the Jacksonville Jaguars for a highly anticipated game this weekend
If the Texans come away victorious, they will take possession of first place in the division, and be in position to host a home playoff game for the first time since 2019.
Which got us thinking, is this the best version of the Texans we've ever seen? Many would say the best Texans teams were the ones coached by Gary Kubiak with Matt Schaub at QB. Or some may say it was the Bill O'Brien 2019 team with Deshaun Watson pulling the trigger at QB.
Regardless of which era of the Texans you believe was the best, one thing is for sure. This year's team has us optimistic on several levels. Ownership seems to have figured things out with the Easterby days behind us. Nick Caserio is a serious candidate for Executive of the Year, CJ Stroud is a favorite for Offensive Rookie of the Year, and has a chance to win MVP. And DeMeco Ryans has a legit shot at Coach of the Year.
But let's go even further. Has DeMeco done enough already to be considered the franchise's best coach? Many would say these questions are entirely premature, but are they really?
We could also make the argument that Tank Dell is already the third-best receiver in franchise history behind Andre Johnson and DeAndre Hopkins. He already has as many touchdowns (6) as Dre and Hopkins combined in their rookie seasons.
And let's make things even more interesting. Is CJ Stroud the best Houston QB since Warren Moon?
Be sure to watch the video above as we answer all these questions!
SportsMap Emails
Are Awesome