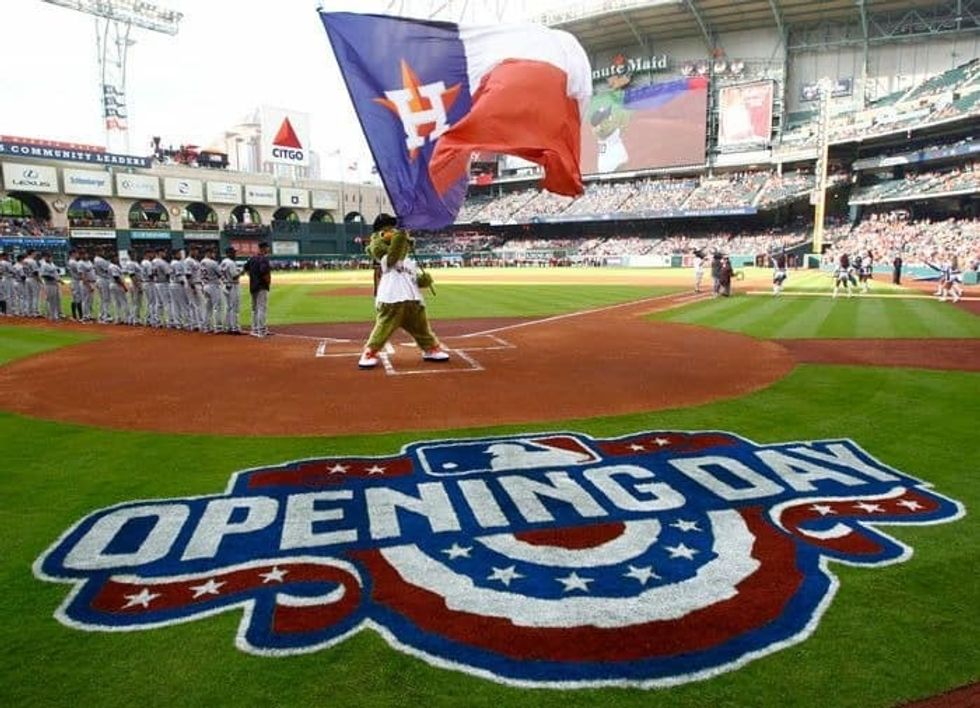 Last week I had a little Twitter battle with a guy about Astros Opening Day. I think it's stupid that the Astros are opening the season on the road against a bad Texas Rangers team. I want the World Series champion Astros to play a good team at home to start the season. He said it was a foolish take. I accidentally called him an idiot. Well, maybe not accidentally.
He's an idiot.
How great would it be to see Verlander vs Sale or Kershaw in game one? And why not? The model is there. Just look at the most popular league in the country and they'll show you how to do it.
Here's how the NFL kicked off the last three seasons:
2015  Pittsburgh at New England
2016  Carolina at Denver (Super Bowl rematch)
2017  Kansas City at New England
The Super Bowl champ AT HOME against a quality opponent four days before the rest of the league kicked off. What a novel concept: give your fans something to get excited about and look forward to the first week of the season.
Here's how the NBA opened their 2017-18 season:
Boston at Cleveland
Houston at Golden State
Kyrie Irving returning to the city he spurned and the West's two best teams going at it in the champ's home city. Well done Adam Silver.
So how is baseball opening its 2018 season?
Houston at Texas
NY Yankees at Toronto
Minnesota at Baltimore
Boston at Tampa Bay
Chicago Cubs at Miami
Washington at Cincinnati
San Francisco at LA Dodgers
Cleveland at Seattle
Colorado at Arizona
The only playoff teams facing off in their opening series are the National League wild cards Colorado and Arizona. Otherwise, every playoff team is playing a team that finished last year with a losing record and all but the Dodgers are on the road.
Houston-Texas is a rivalry as is LA and San Fran and Kershaw vs Bumgarner is a nice matchup to kick off the season but any scheduling positive is purely coincidental.
You see, baseball has no way of knowing who or where their champs should play on Opening Day because their schedule comes out in mid-September, weeks before the previous regular season ends.
I'm sure there's a good reason for that. There's a lot of travel involved in baseball. Hotels and airlines have to be set up. I get that. But somehow the other sports manage to schedule all their hotels and planes even though their schedules come out well after their seasons end and they have less time to do it.
MLB schedule released: September 12
First pitch: March 29
198 days to get ready
NFL schedule released:  April 17-19
Opening kickoff: Sept. 6
About 140 days to get ready
NBA schedule released: August 14
Opening tip: October 17
63 days to get ready
How in the world does basketball do it? Their schedule comes out just two months before their opening games while baseball needs 6 and half months. Granted they play about half as many games as baseball, but they only play one game per city so they have a lot more travel to set up. The Rockets have to fly to 41 road games while the Astros have 26 city flights so this early schedule release is hard to defend.
Regardless, there really is no excuse for this anyway. On September 12th you know who the best teams are and you can guess who will be the best teams next year. Cincinnati? San Francisco? They won 68 and 64 games respectively last year, and they're playing the two best teams in the National League on Opening Day.
Come on baseball. Wake up. If you wonder why there's no excitement for your upcoming season it's because you're not creating it.
We've seen what the NFL does to start the season. It doesn't really need to, the game sells itself no matter the date.
Basketball is a much better barometer. It wasn't that long ago that the NBA was looking up at MLB in the popularity standings. Not anymore. Part of that was an aggressive marketing schedule strategy.
Let's start with Christmas Day. The NBA sets up its Christmas Day television schedule with its best matchups and then fills in the rest of the schedule around it. It owns Christmas day.
What day does MLB own? You'd have to try to own something to actually obtain it. If the 4th of July falls on a Monday or Thursday, chances are your favorite team will have the day off. To me, that's just ridiculous.
It should be all hands on deck for holidays and it should be a celebration of baseball.

Here's how Memorial Day and the 4th of July should look:
Indians-Nationals at 11:00 AM Eastern
Cardinals-Cubs at 2:00
Yankees-Red Sox at 5:00
Astros-Dodgers at 8:00
Diamondbacks-Rockies at 11:00
All on ESPN and/or FOX all day long.
Hot dog deals and Coors Light specials at every park. Fireworks after the night games. You will own the day.  
Yeah, Memorial Day and the 4th of July are days America loves to barbeque.
I'm not sure if anyone knows this but Christmas used to be a religious day. Now it's all about presents and the NBA.
If people want to barbeque let them tailgate. Baseball isn't a tailgating sport you say? Well, change that.  Barbeque and baseball. They just might go together.
And good lord baseball when the best teams in the league are playing, schedule them on the weekends. The Astros and Yankees will play seven times this year and not once on a Friday, Saturday or Sunday. Those games should be on FOX on Saturday and ESPN's Sunday night game of the week.
Come on baseball. We want to consume your product. It's not that hard.
We saw big games from Will Anderson, Derek Stingley Jr., & Nico Collins on Sunday. Jimmie Ward with the game winning pick. C.J. Stroud doing C.J. Stroud things. Things are starting to come together. And Texans GM Nick Caserio deserves a lot of credit.
Check out the video above to find out more!
SportsMap Emails
Are Awesome