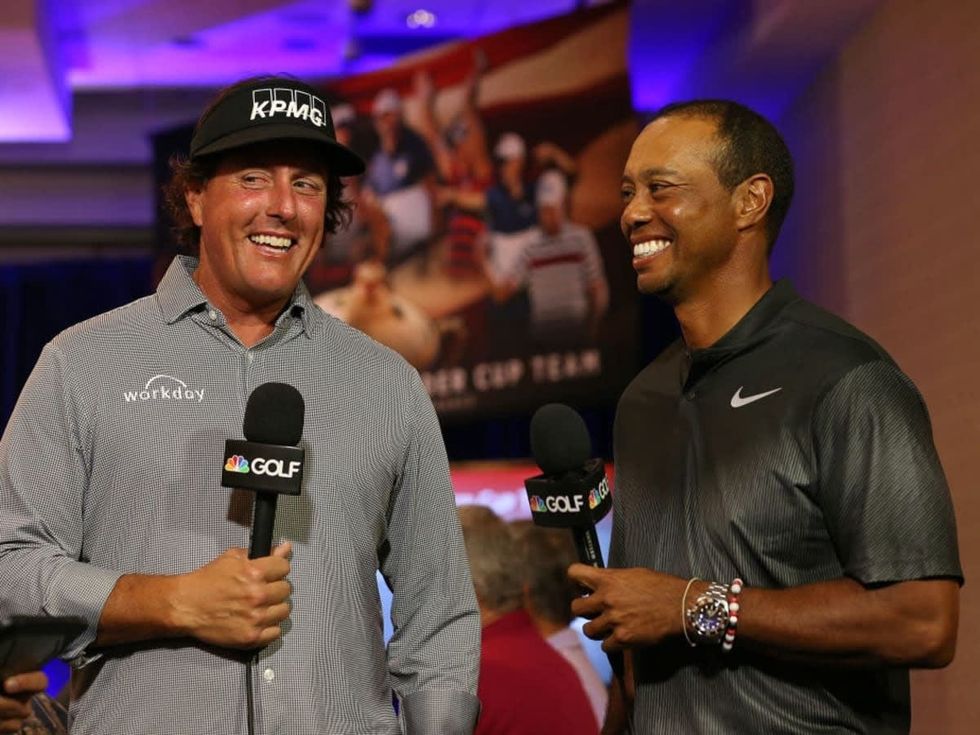 Mickelson and Woods are all smiles after landing this showdown's payout. Photo by Rich Schultz/Getty Images
This article originally appeared on CultureMap.
To my golf buddies: Are you going to pay $20-$30 to watch Tiger Woods go one-on-one against Phil Mickelson the day after Thanksgiving on pay-per-view TV?
Let me rephrase that. Do you have any interest in watching the world's No. 13 golfer (Woods), who hasn't won a major tournament in more than a decade, play the No. 26 golfer (Mickelson), who hasn't won in five years and whose golf career is clearly in decline?
The winner-take-all prize is $9 million, not counting side challenges like longest drive, closest to the pin and other bets. So stupid. I wonder how Justin Rose and Brooks Koepka, the actual No. 1 and No. 2 golfers in the world, feel about Tiger and Phil pushing them aside for the big money?
Let's contrast this with tennis, where the No. 1, No. 2, and No. 3 stars — Novak Djokovic, Rafael Nadal, and Roger Federer — are playing at peak performance and each won a Grand Slam event in 2018. If the No. 13 tennis player went against the No. 26 player on pay-per-view TV, it would pit Fabio Fognini of Italy vs. Richard Gasquet of France. How many people would pay to watch? In the words of a celibate George Costanza: absolute zero!
I understand it makes sense to have American golfers on the pay TV special. But there are six Americans ahead of Woods in the world rankings, and 13 players ahead of Mickelson. That's not a good sign for golf, when its two most (only) marketable stars are past their prime and don't win the biggest tournaments.
Dog-gone election result 
Here's an out-of-state election result that surprised me. Florida, where craziness lives, voted 69-31 percent to approve Amendment 13, banning greyhound racing by 2020. The Sunshine State currently has 11 dog tracks. Florida becomes the 41st state to abolish the so-called "Queen of Sports." Stop guessing, horse racing is the "King of Sports."
One by-product of the ban, between 5,000 and 7,000 racing dogs will have to find new dog tracks or go up for adoption. Since only six tracks will be in business in the U.S. after 2020, most of Florida's greyhounds will be available for adoption. That's not counting all the greyhound pups who haven't qualified for racing yet.
Texas hasn't banned dog racing at the voting booth, but the industry is in such free fall that it's going away all by itself. Live racing is rarely held anymore at our three dog tracks, in La Marque, Harlingen and Corpus Christi. Gulf Greyhound Park on I-45 in La Marque effectively closed as fulltime facility in 2016. Now it offers live simulcast betting on dog and horse racing from around the country seven days a week, doors open at 11 a.m.
Most blame (or credit) the decline in Texas dog racing to cruelty concerns and more popular casino gambling in surrounding states. Of course we can't have casino gambling in Texas because our courageous, righteous leaders in Austin are more concerned about who goes potty in which public restrooms. Funny, they sure don't mind accepting donations from casino operations in other states, though. Okay, not so funny. Put casino gambling on the ballot, I dare you.
A serious Hoffman warning
You know me, always adventurous, always health-minded when it comes to food. I've been hearing a lot about new ways that cauliflower is being used to create healthier options. For example, you can get a pizza on crust made from cauliflower. That sounds criminal.
The most popular cauliflower product seems to be mashed cauliflower — as a substitute for mashed potatoes. Okay, I'll give it a shot. I bought a package of frozen Green Giant Mashed Cauliflower (with "no potato") for $4.99.
The deal is, mashed cauliflower is supposed to taste just like mashed potatoes (one of my favorite foods) and nobody can tell the difference. Really?
Mashed cauliflower is horrible. You know why? Because it tastes like cauliflower, one of nature's most hideous creations. Not only does it taste awful, it filled my house with a foul odor that had me opening windows and spraying Glade. I thought the smoke detector would go off in protest.
True, mashed cauliflower has fewer calories and carbs than mashed potatoes. But it's the ultimate pyrrhic victory: not worth it. You can control mashed potatoes' health hazard by going easy on the butter and milk and sour cream. I use I Can't Believe It's Not Butter and 2-percent milk and everybody loves my mashed potatoes at Thanksgiving.
Continue reading on CultureMap.
When Bryce Young and CJ Stroud were drafted with the first two picks of the NFL Draft, we knew they would be compared to one another for years to come.
And here we are just 11 games into the season and one quarterback has already seen his head coach fired. Panthers owner David Tepper spoke to the media on Wednesday and discussed his decision to fire Frank Reich, and also set the record straight on how they arrived at the decision to draft Young.
In so many words, Tepper basically blamed the Texans for how the top of the draft played out. He mentioned Stroud by name and said the Panthers were ready to draft him at No. 2 overall until the Texans backed out of the three-team trade with the Bears.
Tepper made a point of saying everyone in their building had Bryce Young as the top player on their draft board, despite rumors about Frank Reich preferring Stroud.
CJ Stroud and the Texans have been so much better than Bryce Young and the Panthers that Tepper clearly felt it was necessary to defend himself, and the decisions he's made for the organization.
In the end, the person that gets the worst end of the deal is Bryce Young. Coaching changes can be very difficult on young quarterbacks. And it looks like he'll have to learn a new offense in his second year when the Panthers hire a new coaching staff.
How fortunate we are as Texans fans to have DeMeco Ryans and CJ Stroud leading the team moving forward.
With all of this in mind, is there a reason Texans fans haven't fully bought in to the new-look Texans? JJ Watt was a guest on The Pat McAfee Show this week and was asked about the team's inability to fill the stadium on Sundays.
As a former player for the Colts, McAfee always thought Houston had the loudest and best fans in the NFL. And while the Texans are 9th in attendance this year according to ESPN, even CJ Stroud has asked for the fans to fill the stadium.
So there is something to it. You can see the empty seats in photos. So why aren't the Texans packing NRG with a shiny new franchise QB?
We believe the recent history of the team is why fans are slowly coming back. McAfee wasn't here for:
Bill O'Brien cussing at fans during games
Trading DeAndre Hopkins away for next to nothing
The Jack Easterby disaster
Deshaun Watson allegedly blaming ownership for why he wanted out
The Deshaun Watson scandal
Firing back-to-back coaches after one season, and the list goes on.
Don't miss the video above for the full conversation!
If you enjoy the videos, subscribe to SportsMapTexans on YouTube!
SportsMap Emails
Are Awesome