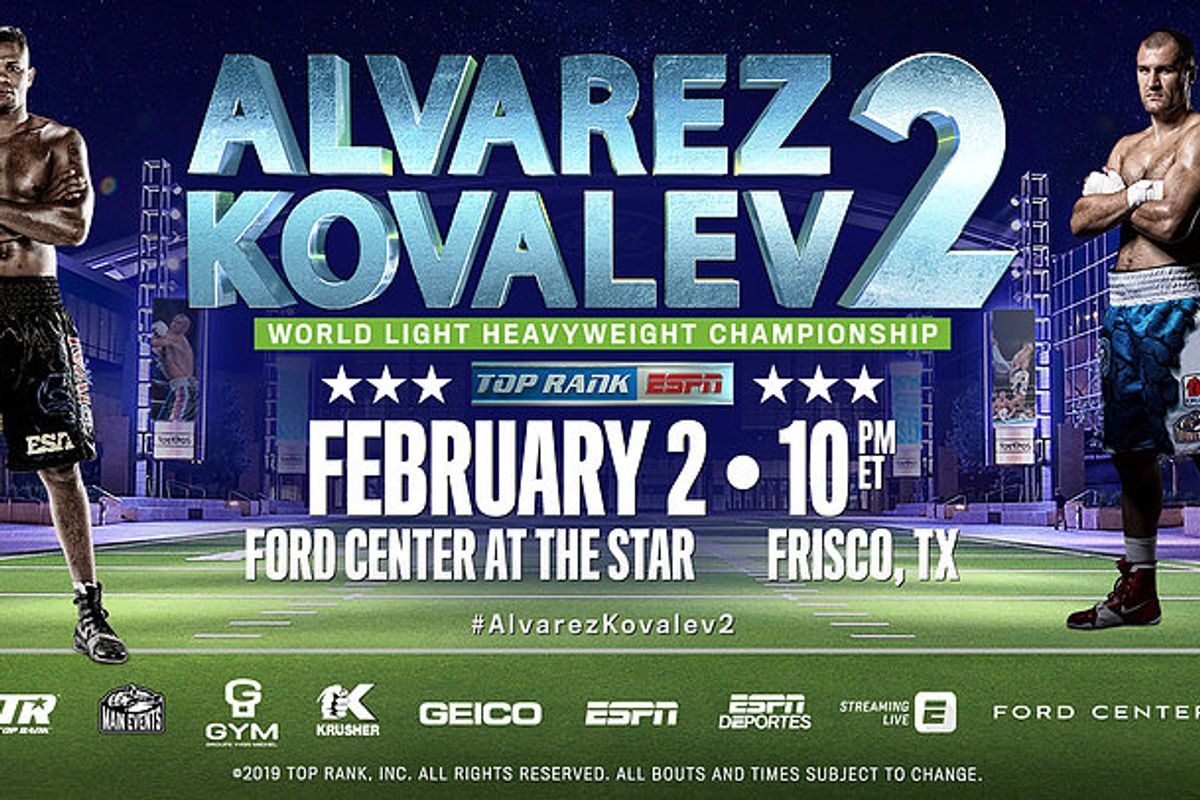 Sergey Kovalev's boxing career is at a crossroads. The one-time unified light heavyweight champion has lost three of his last five fights. He's been knocked out twice. First in his rematch with then pound for pound star Andre Ward in June of 2017. Then Kovalev (32-3, 28 KO) tasted the canvas again last August, when Eleider Alvarez (24-0, 12 KO) stunned Kovalev in the seventh round, ending his run as World Boxing Organization light heavyweight champion. Kovalev exercised his right to an immediate rematch, which takes place Saturday at The Ford Center in Frisco. The main event and co-feature will air on ESPN+, with further undercard fights airing on ESPN.
There are many factors that would lead one to believe that Kovalev is poised for a big comeback this weekend. The 35-year-old Russian national was ahead on all three judges' scorecards when Alvarez stopped him last time out. Going into round seven I had Kovalev up five rounds to one. But it was all erased when Alvarez landed a huge right down the middle, flooring Kovalev. It was by far the biggest punch Kovalev took in his career and he never recovered, failing to make it out of the round. Kovalev also showed confidence in ordering an immediate rematch. Oftentimes a fighter who has been knocked out will take a soft touch fight in their first return to the ring before trying to reclaim their belt. Kovalev wasn't interested in a tune up fight.
But despite several signs pointing to Kovalev bouncing back in a big way on Saturday, a huge distraction looms over Kovalev now and for the foreseeable future: Kovalev's trouble with the law. Less than two months after Kovalev's Saturday date with Alvarez, he'll be in a courtroom facing felony assault charges. Kovalev was arrested in June in Big Bear, CA (home of most of his training camps) for allegedly punching a woman in the face and attacking her dog. The alleged victim has filed an $8 million dollar civil lawsuit on top of the pending criminal action. The case is due in court on March 11.
Kovalev's only response to charges has come via instagram. Last week he ambiguously addressed the charges, saying among other things "Doesn't it seem strange to you that the incident happened in June of last year, and they announced it on the eve of my rematch against Alvarez?"
Over the next few months, Sergey Kovalev's life will change. Maybe he'll reclaim his WBO light heavyweight title belt. Maybe he'll join the ranks of former world class fighters who can no longer compete at the highest level. Maybe he'll be cleared of his alleged assault charges. Maybe he won't. The first two questions will be answered Saturday. As for the rest we will have to wait and see.
UNDERCARD REPORT
Immediately prior to the main event on ESPN+, boxing super prospect Teofimo Lopez will fight Diego Magdaleno in the co-feature bout. Lopez (11-0, 9 KO) is taking a big step up in competition in fighting Magdaleno (31-2, 13 KO) who is 11 years older and has previously challenged for a world title.
Before the action on ESPN+, regular old ESPN will carry the first two fights of the evening, headlined by WBO featherweight champion Oscar Valdez (24-0, 19 KO) defending his belt against Carmine Tommasone (19-0, 5 KO.) It's the first bout back Valdez, who hasn't fought since breaking his jaw in a gritty victory of Scott Quigg in March of last year. The 28 year old Valdez always puts on a great show and will be ready to do so once again following an 11 month layoff.
We saw big games from Will Anderson, Derek Stingley Jr., & Nico Collins on Sunday. Jimmie Ward with the game winning pick. C.J. Stroud doing C.J. Stroud things. Things are starting to come together. And Texans GM Nick Caserio deserves a lot of credit.
Check out the video above to find out more!
SportsMap Emails
Are Awesome