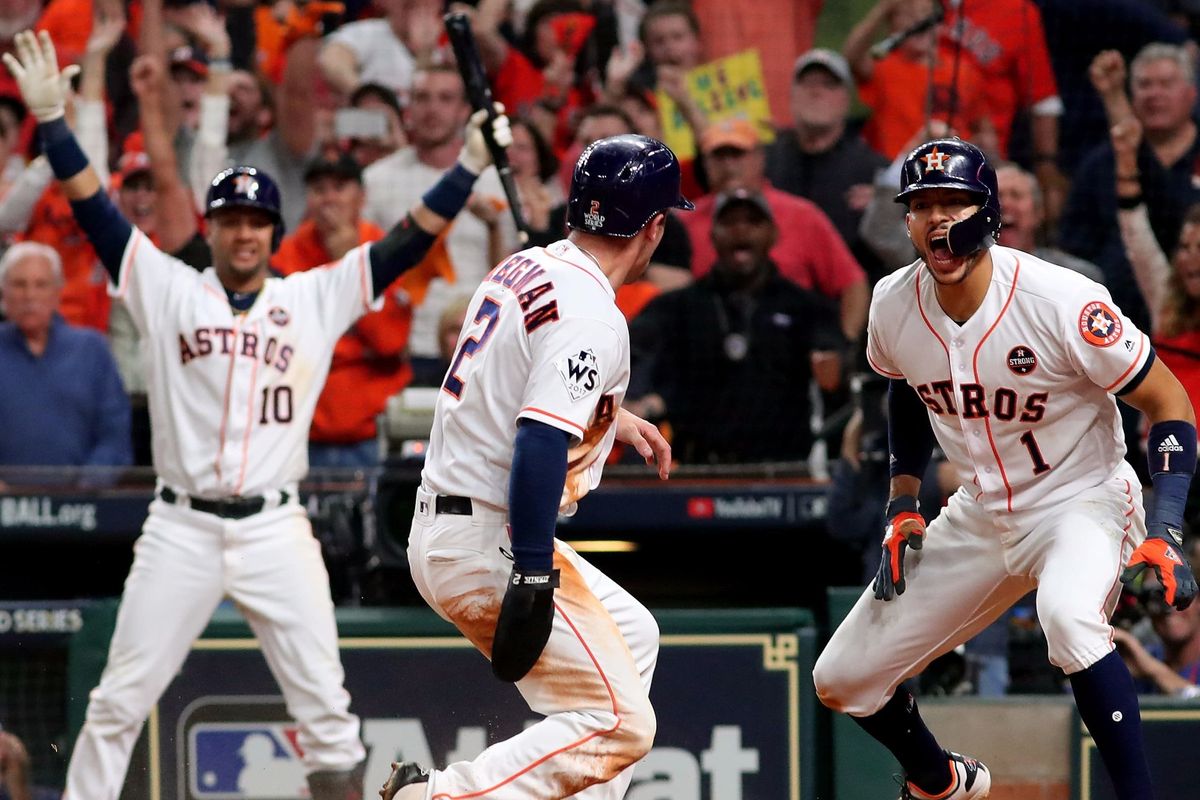 One more win and they're in. Photo by Jamie Squire/Getty Images
As they were at the start of the 60 game season, the Astros are a virtual lock to make the expanded postseason field. Unexpectedly, the only reason the Astros have a shot in October is because the field is expanded. Still, all they need is one win in three shots at the Rangers or one Angels loss as they play three at the Dodgers and the Astros are in and an absolute threat to win another American League pennant. This Astros squad is an average squad. The losses of Gerrit Cole, Justin Verlander, and Yordan Alvarez combined with all their key hitters dropping off from 2019 make Astros' mediocrity a simple fact of life. A mediocre but potent team can beat any better team in a best of three, best of five, or best of seven series. Heck, a bad team can beat a great team two out of three. The format is such that the Astros will be the sixth seed among the eight AL playoff teams, so they will be the road team in each game of a best of three series at the number three seed. They could be headed to Oakland, Minnesota, or Chicago.
A couple of peripheral bummers of the Astros to this point disappointing 2020…
One, Justin Verlander's dream of 300 career wins pretty much died with the ulna collateral ligament in his right arm. Verlander's one win this year combined with zero next year will have him at 226 career wins when he turns 39 in February of 2022. That Verlander can then average 15 wins per season through age 43 isn't utterly impossible but is extremely unlikely. While cementing his Hall of Fame credentials, Verlander didn't average 15 wins per season from 2015 through '19.
Two, Jose Altuve's collision course with the 3000 hit club has hit a major detour. I'm not declaring Altuve washed up, though only apologists and homers would describe his short season performance as better than feeble. He's been among the worst regulars in all of Major League Baseball this season. Altuve's best baseball is behind him. If he can get back to 2018 or 2019 Altuve that's plenty good, though not close to 2016 and 2017 Altuve. Well, Altuve failed to reach 170 hits in either 2018 or '19. Giving him 170 hits per season for each of the next eight seasons (bet the under), Altuve would be within about 30 hits of 3000 when approaching his 39th birthday at the start of the 2029 season. Craig Biggio remained a lineup regular at age 40 only so he could get to 3000.
Texans face another tough test against Steelers
It's no shocking upset if they win but the Texans probably come home from Pittsburgh Sunday night with an 0-3 record. As only four point underdogs they should have a much better shot than they did against the Chiefs and Ravens. Not that that is saying much. The Texans were pretty pitifully overmatched by the Chiefs and Ravens, the faint silver lining is that they're the two best teams in the AFC. It's possible the Steelers are the third best team (I'll take the Bills but it's possible). So even at 0-3 the Texans' season wouldn't be dead. Just two years ago they opened 0-3 before ripping off nine straight wins and finishing 11-5. But just as the 2018 Texans wound up, this season's team would be a total pretender.

All five starters back on the offensive line was supposed to be a boon to the Texans' offense. The pass protection has been porous and now has to deal with a top tier pass rushing Steeler defense. Deshaun Watson has been his usual terrifically elusive self, but merely okay throwing the ball. Offensively, 38-year-old Ben Roethlisberger has looked all right at quarterback after missing all but the opener last season with a blown out throwing elbow. Big Ben is not close to the mobility threat Patrick Mahomes and Lamar Jackson are, but the Texan D which has thus far been sieve-like against running backs will see two backs each over five yards per carry thus far in James Conner and Benny Snell.
At least the Texans will have no crowd noise to deal with at Heinz Field. The Steelers are 2-0 but have only beaten the awful Giants and the injury-battered Broncos.
Buzzer Beaters:

1. One game is one game but Bregman, Altuve, and Springer all homering Thursday night had to create some warm feelings for any Astros fan.
2. The Lakers-Nuggets series has been outstanding. Number of Rockets you think are watching any of it: over/under 2 1/2.
3. Greatest Bennys: Bronze-the one with the Jets Silver-Jack Gold-Goodman
We saw big games from Will Anderson, Derek Stingley Jr., & Nico Collins on Sunday. Jimmie Ward with the game winning pick. C.J. Stroud doing C.J. Stroud things. Things are starting to come together. And Texans GM Nick Caserio deserves a lot of credit.
Check out the video above to find out more!
SportsMap Emails
Are Awesome