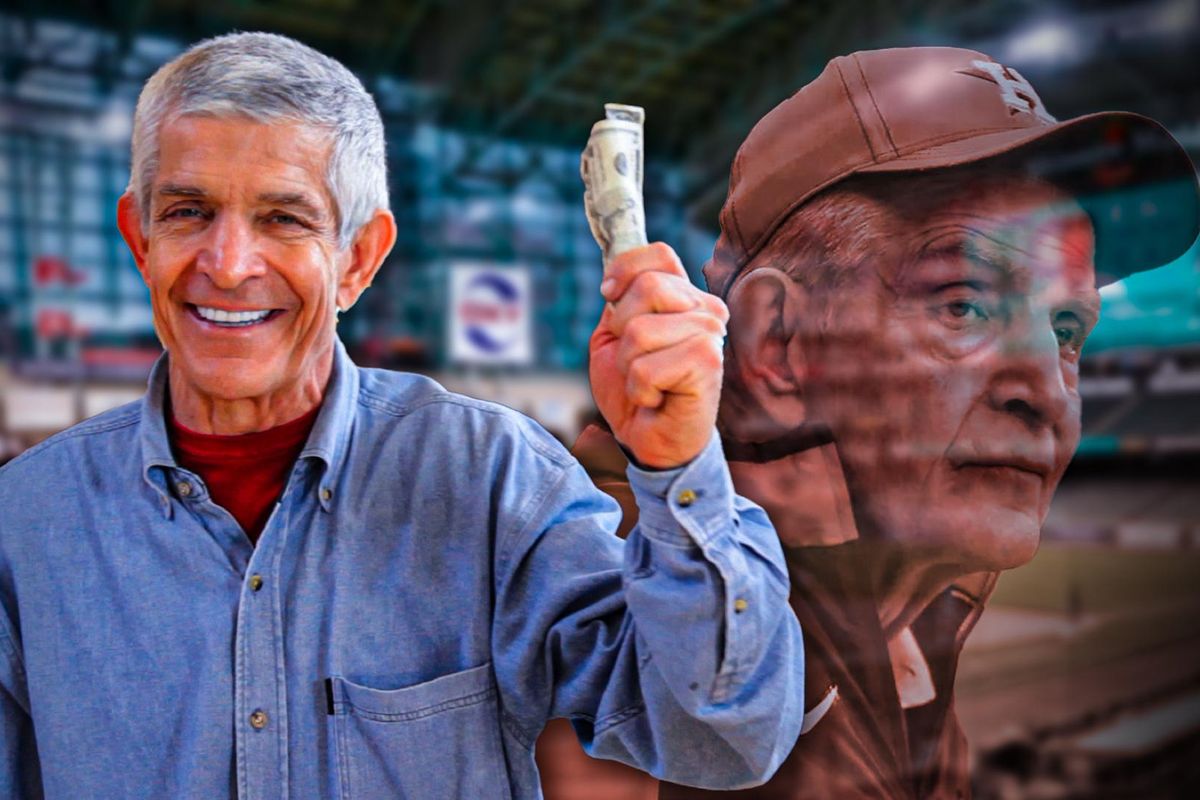 Mattress Mack profited from multimillions worth of free publicity. Composite image by Brandon Strange.
It was a final score almost as newsworthy as the Los Angeles Rams 23-20 victory over the Cincinnati Bengals in Super Bowl LVI.
Jim "Mattress Mack" McIngvale, owner of Gallery Furniture on "I-45 between Tidwell and Parker," lost $9.5 million, including the biggest wager ever placed on the Super Bowl, by betting straight up on the losing Bengals. Had the Bengals won, Mack would have turned a $16.2 million profit, about a $25 million swing of fortune.
It's been a rough go lately for Mack on his gambling bottom line. In addition to dropping $9.5 million on the "Big Game," he bet and lost $2 million on New England to win the Super Bowl, $700,000 on the Tennessee Titans to win the Super Bowl, and $6.15 million on Alabama to win the College Football Playoff.
Let's go to the tote board: Mattress Mack is more than $18 million in the hole for 2022 – and it's only February.
Add in Mattress Mack's mammoth multimillion dollar losing bets on the Houston Astros ($3.2 million in 2021, $13 million in 2019), one might suspect he would slow his roll of the dice on sports. If you think that, you don't know Mattress Mack. While he admitted that his Super Bowl loss stung, he felt worse that his customers lost out on getting free furniture. Hedging his bets, Mattress Mack ran a promotion – customers who spent more than $3,000 at his store would get their money refunded if the Bengals won.
"The Bengals lost, and it broke my heart because I wanted to see the customers get their money back, but it didn't work out that way," McIngvale commiserated on ESPN. "But you know what, we live to play another day. You win some, you lose some and sometimes you get rained out. I got up this morning, put on my big boy britches and went to work."
Despite losing millions on his wagers, Mattress Mack profited from multimillions worth of free publicity. He was all over TV, including ESPN, CNN and local stations, talking about his historic wagers. He also bought tons of commercial time mentioning that customers could buy high-quality, made in America mattresses, dining room sets and sofas at Gallery Furniture and possibly get their purchase free, free, free! He's been on TV more than Steve Harvey lately.
While most people on social media, especially in Houston, expressed sympathy for local hero Mack, others reveled in his losses. Of course, politics enters everything with one follower claiming Mattress Mack caught some instant karma for backing former President Donald Trump and not supporting Harris County Judge Lina Hidalgo.
Mack shouldn't feel that the betting gods are picking on him. According to sportsinformationtraders.com, studies show that only 3 to 5 percent of sports bettors make money over the long haul. You know who does make cheddar in the sports wagering industry? Casinos and handicappers who sell their betting tips. Many handicappers promise to give away free selections on a taped phone recording. You want a friend for life? Call one of those toll-free numbers. Thanks to Caller ID, you'll get return calls from the handicapper's boiler room until you beg for mercy.
While Mack is going through a cold streak that would make the South Pole envious, the really big loser is Texas. How silly was it that Mack had to drive over the border into Louisiana to make his bets legally, with a TV reporter in tow naturally. Louisiana is one of 30 states that allows sports gambling. Texas has been rock hard against casino and sports gambling and the earliest the state legislature will even consider it is next year. However, gambling's odds are improving with the Houston Texans pushing for legalized betting and big out-of-state money hustling our elected officials.
Mack really didn't have to flee to Louisiana to make his bets. He could have pulled his phone out of his pocket and bet on any of hundreds of online wagering sites. Nobody's sitting in a basement with headphones on tracing phone calls. I once opened an account at sportsinteraction.com based in Ireland, made one bet, won it, and cashed out. Got a check in the mail from the Wells Fargo Bank in Dublin.
Online gambling sites let you bet on much more than sports. For example, you can bet on the sex of a celebrity's baby, political races (Trump currently favored), dead pools, whether the female Super Bowl halftime singer will show cleavage, even the Academy Awards. Right now, you can risk your hard-earned money on who'll win the Oscar for Best Makeup and Hairstyling. The odds-on favorite is The Eyes of Tammy Faye. That's a movie?
You want a good time? Place a reasonable bet that you can afford to lose on a game and watch the game in a casino's sports book. Every play is life and death, there's whooping and hollering, and some sports books offer free hot dogs. It's exciting.
My friend Glen Macnow from WIP radio in Philadelphia was the first person to make a legal sports bet in Delaware in 2018. He put $50 on the Phillies to win that night. They won, he's brilliant. He also placed a $100 future bet on the Eagles returning to the Super Bowl in 2019. They didn't, what was he thinking? Because I live in Texas, where politicians are afraid to put gambling on the ballot, the best I could do was buy the first Krispy Kreme doughnut in Houston, after spending the night under a blanket on a lawn chair in the parking lot. I consider that a big win.
After a quiet offseason the Houston Astros finally made some moves this week to bolster their roster by adding backup catcher Victor Caratini in free agency.
The club also acquired some bullpen help by trading for Royals reliever Dylan Coleman.
Astros GM Dana Brown also garnered a lot of attention this week by proclaiming Jake Meyers will get an opportunity to be the everyday starter in center field.
And while the Astros have been connected to several free agent relief pitchers by various media outlets, it appears Houston isn't looking to spend much money.
On the other hand, the Yankees went out and traded for superstar outfielder Juan Soto, and have shot past the Astros when it comes to World Series odds.
Which begs the question, have the Astros done enough to compete with the Yankees in 2024?
To be fair, we've seen this movie before. The Yankees historically out spend every team, but they've been a little more conservative over the last few years.
But now, they look like the Yankees of old when it comes to payroll.
Plus, we heard rumors a few weeks ago that the Astros might be looking to trade Jake Meyers. And now all of a sudden he's getting the first crack at the starting job in center?
Could this be a smoke screen from Dana Brown to try to elevate his trade value? We've seen the Astros value defense in center field before, they let George Springer walk and replaced him with Myles Straw.
Be sure to watch the video above as we decipher what the Astros are really trying to accomplish this offseason, and successful they can be in the AL in 2024.
SportsMap Emails
Are Awesome