How MLB stacked the deck against Astros in latest off-field competition
May 25, 2021, 2:54 pm
There has to be a better way. Composite photo by Jack Brame.
This is the final week to vote in Major League Baseball's official 2021 "Food Fight," where fans get to pick which big league team has the best ballpark eats.
This is such a tricky, confusing and, I'll say it downright unfair, poll that Arizona may be auditing the results for the next 10 years.
Here's how it works: click on mlb.com/foodfight. You'll find a smorgasbord of outlandish concession items from all the Major League stadiums locked in March Madness-style brackets. Because there are 15 ballparks on each side of the brackets, two teams, the Astros and Angels, earned free passes into the second round.
Here are some of the contenders: Cold Lobster Roll (Red Sox), Seared Sockeye Salmon Sandwich (Mariners), Beer Braised Short Rib Grilled Cheese (Rays), Burgundy Pepper Tri Tip Nachos (Padres), Ghiradelli World Famous Hot Fudge Sundae (Giants) and Lobel's Steak Sandwich (Yankees).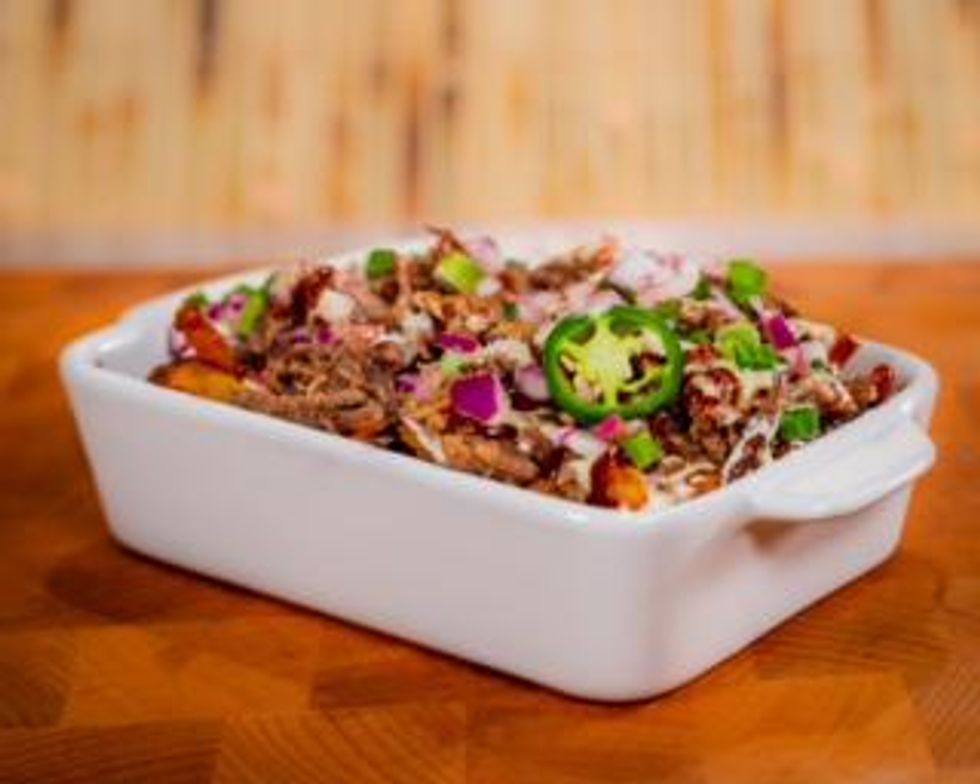 Astros Cowboy Fry. Photo via: Mat Drain.
Minute Maid Park is represented by a new item called Astros Cowboy Fry – a big ol' platter of fresh-cut French fries topped with queso blanco, chopped brisket, jalapeno ranch and green onions with a drizzle of BBQ sauce. Astros Cowboy Fry is available at Texans Legends Grills behind Sections 134 and 231 and costs $13.99.

Here's where I'm yelling "Stop the Steal." Astros Cowboy Fry is essentially a cranked-up side dish. How can it compete with a Lobel's Steak Sandwich or Cold Lobster Roll or Seared Sockeye Salmon Sandwich? I can't stop thinking how amazing the Ghiradelli World Famous Hot Fudge Sundae must be, especially with the Giants in the NL West hunt. The hot fudge is handmade in the ballpark using Ghiradelli chocolate. That's the good stuff.
Here's another monkey wrench in MLB's Food Fight. Since many of the nominated items are new this year, some ballparks will be handicapped by COVID-induced crowd limitations. Meanwhile, other stadiums, like Globe Life Field in Arlington and (starting tonight) Minute Maid Park are allowed full capacity of fans. More fans, more trying the new items.
But my biggest issue is, Astros Cowboy Fry isn't the best thing available at Minute Maid Park. To be honest, I didn't even know it existed, and Astros food is my beat. I'm still hung up on a certain New York-style hot dog with sauerkraut and spicy brown mustard, can't remember the cool name they call it.
The MLB site says "all 30 teams put up their ballpark's signature food item." So I asked Mat Drain, the Doyen of Dijon for ARAMARK, which runs all the food concessions at Minute Maid Park, why would you pick Astros Cowboy Fry as our representative?
He said, "I didn't." It seems that whoever's running the election at MLB.com (possibly a Yankees fan) did the choosing. If that's the case, having a Yankees fan pick the nominee from Houston is like the Republicans picking the Democrats' candidate for president. There's beef between Yankee and Astros fans, and I ain't talking about a Nolan Ryan all-beef hot dog.
Drain, the ARAMARK boss for all of Texas and Louisiana, said he would have gone with the simple, yet so elegant, baked potato topped with brisket, butter, sour cream, grated cheese and green onions to represent Minute Maid Park. They're huge and they're spectacular. Just some advice, you might want to share one of these. Otherwise rising for the seventh inning stretch could be, well, a stretch.
Drain said Astros fans are showing up and chowing down at Minute Maid this year like COVID 2020 never existed. In fact, sales of Dollar Dogs on Tuesday nights are up. Hey, it's Tuesday! And the red hot Dodgers are in town and Clayton Kershaw is starting against the Astros. Let's do this.