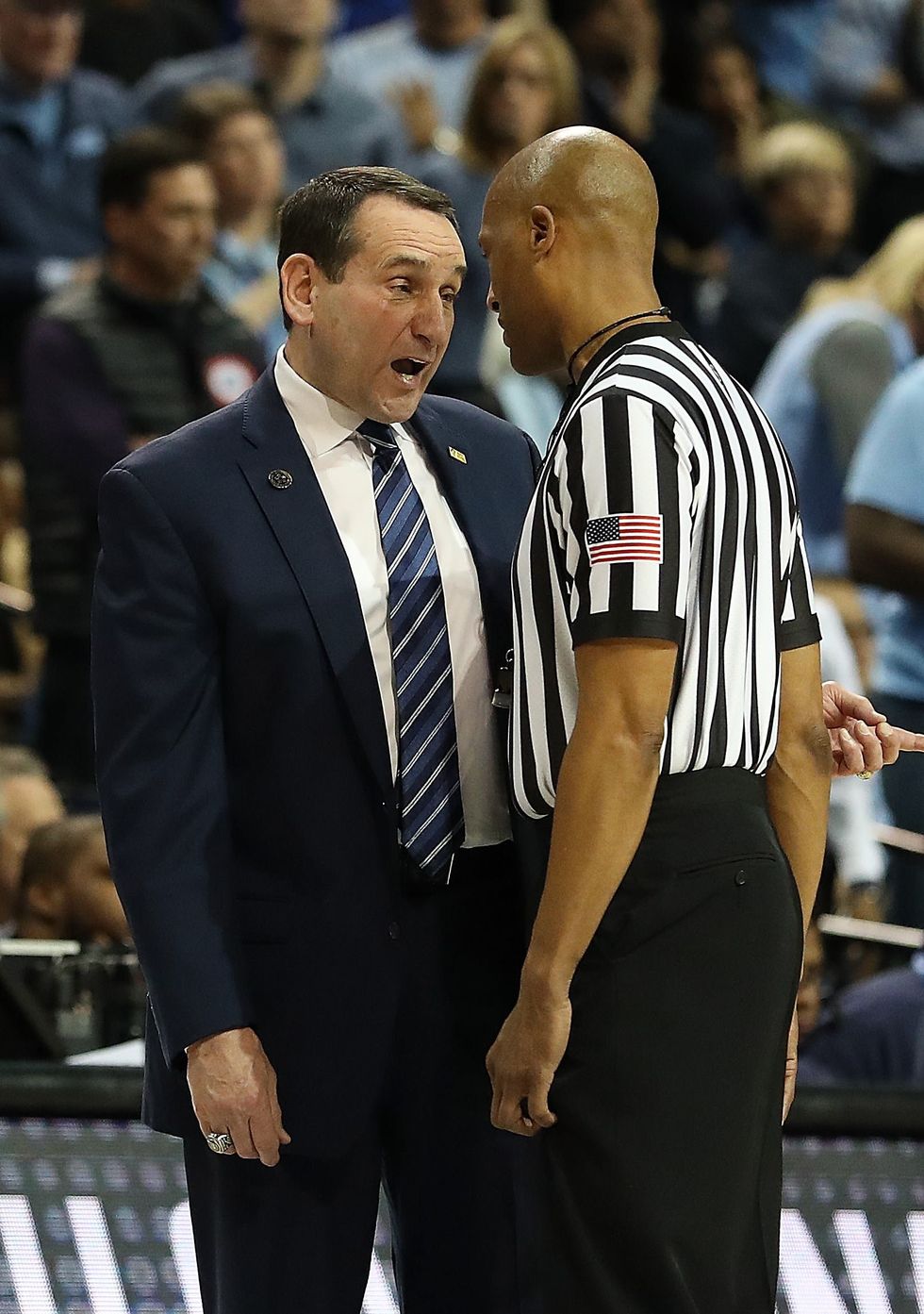 Mike Krzyzewski gives Duke a big edge. Tim Bello/Getty Images
THE TOP 4 SEEDS
Kansas, Duke, Michigan State, Auburn
WHO SHOULD WIN 
Duke

Duke has a lot of the things you look for in a champion. They have a great coach, they have more freshman talent than anyone in the country, and they have a senior guard to hold it all together. They are the only team in the country that finished in the top 10 of both adjusted offense (3rd) and adjusted defense (7th). They have been even tougher to score on since switching to a zone at the end of the season. They also have a head to head win over Michigan State.
IF NOT THEM
Michigan State

Sparty doesn't draw a cakewalk in the first round, as Bucknell is going to give them a run for their money, but they do get to play their first two games in Detroit. The Spartans have two superior talents in Miles Bridges and Jaren Jackson, and both guys are still getting better. Bridges came back to play for a title, and he will not be short on motivation. If the last few weeks are an indicator, Jackson will be a feature of the offense, and will likely see some time at center. Tom Izzo also gives the Spartans an edge that most teams don't have. 
PLAYERS TO WATCH
Marvin Bagley, III- Duke

Arguably the best player in the country, Bagley will hope to turn a deep tournament run into an audition for NBA scouts. He averaged 21.1 PPG and 11.5 RPG while shooting 61% from the floor. The ACC player of the year turns 19 on Wednesday, but already has the on-floor IQ of a veteran. He is incredibly athletic for a big man, and will create matchup problems in every round. 
Devonte' Graham- Kansas

Graham has established himself as one of the best clutch players in the country, not just this year but over his entire career. The senior averaged 17.3 PPG and 7.5 assists to lead the Jayhawks to a 1 seed. The Big XII player of the year came up big in the conference championship game, scoring 18 to go along with his 13 assists and only two turnovers. 

Trae Young- Oklahoma

If Young had not faded down the stretch, the Sooners wouldn't have been such a controversial inclusion to the tournament. He struggled down the stretch, but his early season was so outstanding that he still led the country in scoring (27.4 PPG) and assists (8.8 APG). He has to control the turnovers and needs to shoot a better percentage for Oklahoma to have a chance, but he can dominate a game on any given night. 
BEST FIRST ROUND MATCHUP 
Rhode Island vs. Oklahoma
This is an interesting style matchup, as Lon Kruger's Sooners will look to push the pace against the much more methodical Rams. Oklahoma lives and dies with Trae Young, and he will be the focal point of the Rams' physical backcourt, but junior guard Christian James will be counted on to pick up any slack. Rhode Island's Stanford Robinson is a lockdown defender and the matchup between he and Young could determine who wins this game. Jeff Dowtin and Jared Terrell will look to provide the backcourt offense for Rhode Island, while E.C. Matthews will provide matchup problems for the Sooners down low. The Rams looked unstoppable early in the season and cooled late, while the Sooners limp into the tournament after a hot start. 
UPSET THREAT
New Mexico State
The Aggies are not a great offensive team, but their defense is good enough to keep them in any game. They rank 14th in the country in adjusted defense. They have won six straight going into the tournament by an average of 16 points per game. They also have a special player in Zach Lofton. Lofton is 25 years old, and won the SWAC Player of the Year last season at Texas Southern. He averaged 19.8 PPG and if he can get hot from 3, New Mexico State is a serious contender to pull off the upset. 
 
One of the big factors that led to the Texans' loss to the Jaguars on Sunday was the secondary. Multiple flags for pass interference gave Jacksonville more opportunities to pick up first downs and score points.
Can confirm #Texans backup CB Shaq Griffin was cut.

Griffin started 6 games this year when Derek Stingley was out with a hamstring.
— DJ Bien-Aime (@Djbienaime) November 29, 2023
So it's no surprise that DeMeco Ryans is making some changes to his defense this week. According to several reports, Texans corner Shaq Griffin has been cut.
Nickel corner Tavierre Thomas was flagged for PI more than once on Sunday, and was burned badly by Jaguars receiver Calvin Ridley for a touchdown.
DeMeco was asked after the game if he considered replacing Thomas with Desmond King or Shaq Griffin. Ryans didn't give a definitive answer, but it looks like we got one today.
One has to wonder if Desmond Kings' experience playing nickel was the reason for his promotion to the active roster and why Griffin was released. If Thomas continues to struggle, King looks like the next man up to replace him.
#Texans activate Denzel Perryman, promote Desmond King to active roster, release Shaq Griffin, sign Matt Ammendola and Garret Wallow to practice squad, released Gerrid Doaks from practice squad and placed Tytus Howard (knee-patellar tendon surgery pending) on injured reserve https://t.co/knyyoqo7yC
— Aaron Wilson (@AaronWilson_NFL) November 29, 2023
The Texans also made some other adjustments to their roster on Wednesday, per Aaron Wilson. Linebacker Denzel Perryman returns from suspension, kicker Matt Ammendola and linebacker Garret Wallow join the practice squad. They also released Gerrid Doaks from the practice squad.
The other big piece of news involves left guard Tytus Howard. He heads to injured reserve, ending his season after hurting his knee against Jacksonville.
SportsMap Emails
Are Awesome