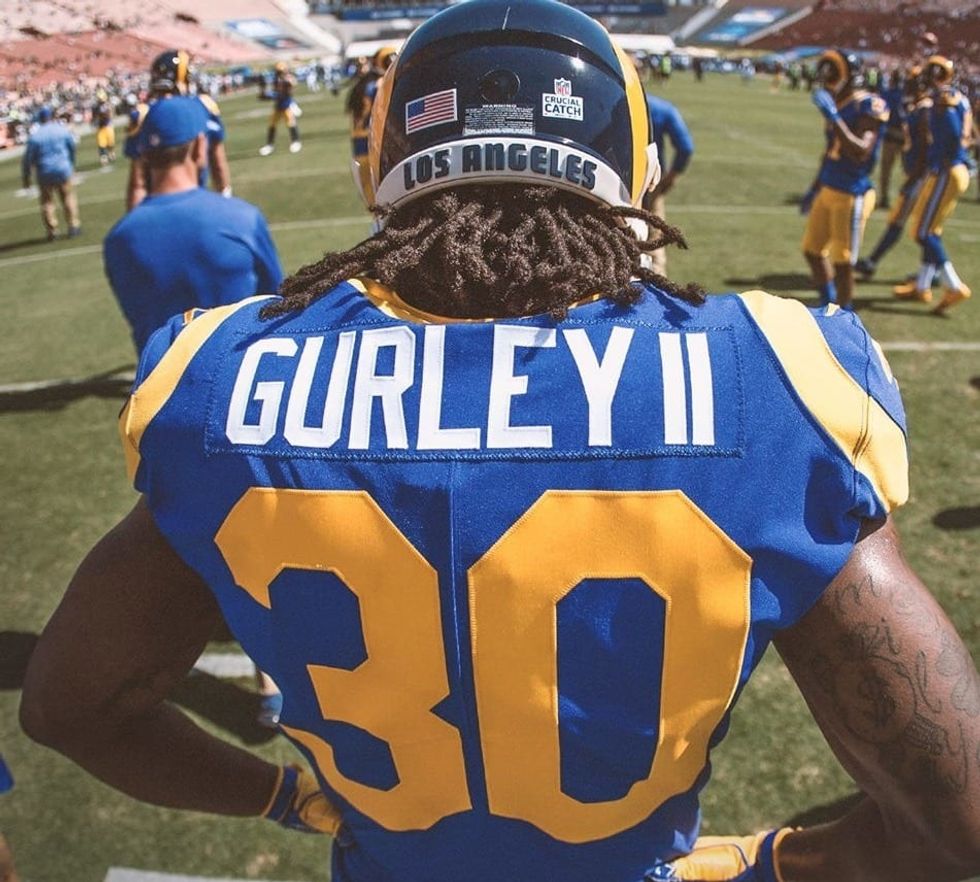 Todd Gurley is a beast. Photo by Rams/Facebook
Week 7 of NFL action was like a football buffet. You had some blowouts, some tightly played games, a few duds, and even a couple "whoops" that cost teams games. Here are my observations from week seven:
The Good
-Rams Running back Todd Gurley continues his march towards an MVP season. He tallied three more touchdowns in yet another blowout (39-10 over the 49ers). He has 14 touchdowns on the season and is on pace to break the single season record of 31 held by LaDainian Tomlinson.
-The Panthers were down 17-0 towards the end of the third quarter to the struggling defending champions the Eagles. Cam Newton knew his Panthers team couldn't fall to 3-3 so he proceeded to march his team down the field for three fourth quarter scores to pull out a 21-17 win. Oh, and the Panthers defense held the Eagles to only 70 yards during that stretch.
-Vikings receiver Adam Thielen had nine catches on 10 targets for 110 yards and a touchdown in their 37-17 win over the Jets. He continues to prove he's one of the better receivers in the game after being an undrafted free agent in 2013. He was a second team All-Pro last year and is making his case for another All-Pro team this year.
The Bad
-The Broncos bullied the woeful Cardinals 45-10 on Thursday Night Football. The worst part of this game: my dumb ass left the Broncos defense on the bench in fantasy football so I missed out on 33 points. Only reason it's not in the "Ugly" is I still won my matchup.
-The Bengals were outgained by 312 yards in their 45-10 loss to the steamrolling Chiefs. The Bengals were 4-2 entering the game and needed to prove themselves against the Chiefs but laid an ostrich-sized egg. Instead of taking a controlling lead in the AFC North, they've now fallen to second place and failed to take advantage of the Ravens unfortunate loss.
-The Bears had a great shot at beating the Patriots Sunday and failed losing 38-31. Early in the second quarter, they held a 17-7 lead after two Patriot fumbles they recovered and appeared to have control of the game. True to form, the Pats went on a 31-14 run the rest of the way and stopped the Bears Hail Mary attempt to tie the game on the one yard line. That's a sucky way to lose.
The Ugly
-Titans coach Mike Vrabel decided to go for the two point conversion and the win, instead of kicking the extra point for the tie and almost guaranteed overtime. Yes, 31 seconds is plenty of time for weird things to happen, but so is a 10 minute overtime period. This is the new leader in the clubhouse for "Idiot Decision of the Year" award in coach's category.
-Dereck Anderson started for the Bills two weeks after signing with them off his sofa at home. He threw three interceptions and lost a fumble, but will start next week despite his four turnover performance in their 37-5 loss to the Colts. Yes, Nathan Peterman is that bad.
-Now 10 of the 32 first round selections of the 2015 draft have been traded or released. Former Raiders wide receiver Amari Cooper was the 10th one when the Cowboys desperately gave up next year's first rounder for a guy who's steadily declined since his rookie year. Teams don't often give up on first rounders that easily. Takes a special kind of suck to be traded or cut three years after being so highly thought of.
How was that buffet? Pretty good variety right? The only thing with a buffet is that I tend to over-eat and go home with "the itis." As I was getting sleepy with "the itis", the only thing that could help me sleep was the Rockets sorry asses. Hopefully next week will be just as good a buffet as this week was. Somebody get me a heartburn pill please. My reflux is acting up. Ate too much.
Luka Doncic had 41 points, nine rebounds and nine assists, and the Dallas Mavericks prevented the Houston Rockets from advancing to the quarterfinals of the NBA In-Season Tournament with a 121-115 victory on Tuesday night.
Kyrie Irving added 22 of his 27 points in the second half for the Mavericks, who had already been eliminated. Their victory allowed the New Orleans Pelicans to win Group B in the Western Conference with a 3-1 record.
Doncic fell just short of his 59th career triple-double. That would have tied him for ninth place all-time with Larry Bird. He shot 15 of 29, 3 of 10 on 3-pointers.
"Sometimes we take him for granted, and we shouldn't," Mavericks coach Jason Kidd said. "He's about winning, but it just so happens he's a walking triple-double.
"The Mavericks, who trailed by nine points in the third quarter, grabbed the lead for good at 99-98 with 6:25 to play on a drive by Irving. Leading 103-100 with 5:25 left, they went on an 8-2 run that included three free throws by Derrick Jones Jr. when he was fouled by Dillon Brooks on a 25-footer with the shot clock about to expire.
Jabari Smith Jr.'s 3-pointer with 8 seconds left pulled the Rockets within 119-115 before Dallas closed it out.
Doncic played after sustaining a low-grade sprain of his left thumb on his non-shooting hand early in Saturday's game. He wore a wrap on the thumb.
Doncic made a hook shot from the free throw line after recovering a loose ball near the baseline.
"I'm 2 for 2 in my career on the hooks," Doncic said, saying the other came while playing for the Slovenian national team against Sweden.
Irving shot 2 for 11 in the first half, 1 for 5 on 3-pointers, with no free-throw attempts. He was 6 for 11 in the second half, hitting 1 of 2 behind the arc, and sank all nine free throws.
"I told the team, 'Played well enough to win, not smart enough to win,'" Rockets coach Ime Udoka said. "We were extra-aggressive, especially at the end of the third quarter. Had multiple players make a few dumb fouls, put Kyrie at the line and got him going when he didn't have a lot going. You can be aggressive, obviously, but slapping somebody on a 3-point shot on the arm is an unintelligent play. It has nothing to do with aggression."
Alperen Sengun had a season-best 31 points for the Rockets, who had six scorers in double figures. Fred VanVleet had 10 points and 12 assists.
The Rockets have lost all six of their road games this season. They went into play leading the NBA by allowing an average of 104.4 points per game.
The Mavericks didn't use the specially built court for either of their home tournament games, citing dissatisfaction with the quality.
UP NEXT
Rockets: Will finish a back-to-back at Denver on Wednesday.
Mavericks: Host Memphis on Friday.
SportsMap Emails
Are Awesome