Nick Sharara: Trying to sneak weed in a tea can? NBA star could use some tips from us
May 3, 2019, 6:54 am
Yes you can buy this online. EBAY.
Hiding Weed in a Fake Beverage Can is Tacky and won't work on TSA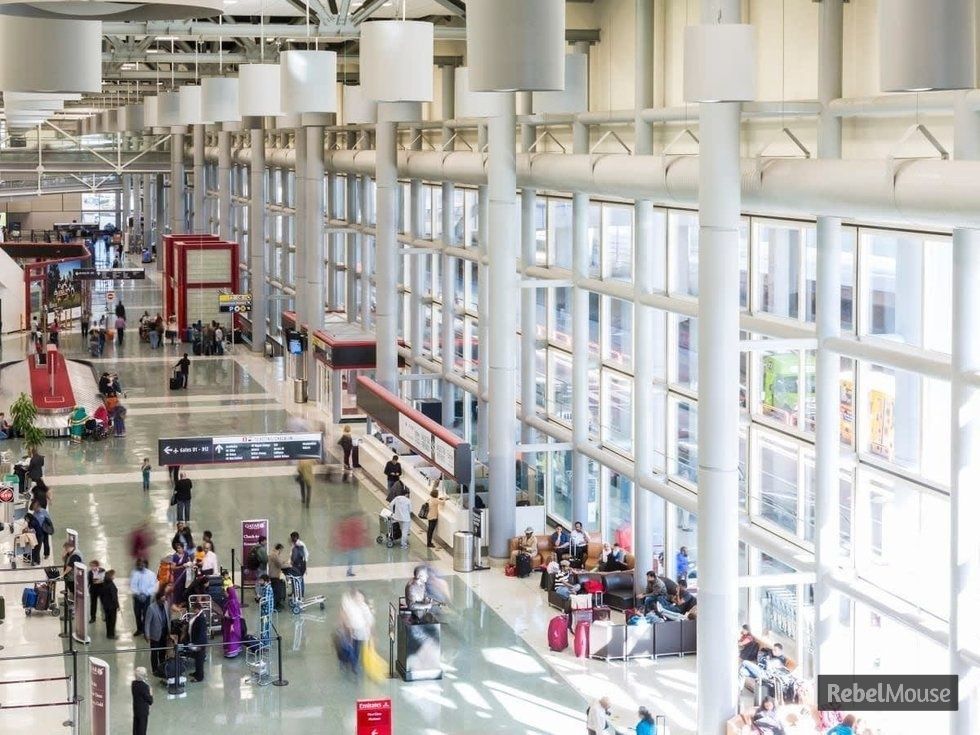 Photo courtesy of Houston Airport System
Brooklyn Nets' All-Star D'Angelo Russell was cited for possession of marijuana at LaGuardia Airport in New York before catching a flight to his hometown Louisville, KY. TSA was able to find what appeared to be an Arizona Iced Tea can in a checked bag. TSA Spokeswoman Lisa Farbstein gave details to Newsday.
"The marijuana was concealed inside a beverage can with a hidden compartment. It was one of those AriZona [Iced Tea] beverage cans with a screw-off lid that people hide things in."
I can't believe people would buy those to get through airport security, or maybe D'Angelo Russell is the only one dumb enough to do so. Wouldn't you use that fake Arizona beverage can with a hidden compartment to hide something from guests or people you knew would not mess with it? You may have seen the old WD-40 stash can. It has been around way too long to fool TSA and the police. If they find that can, they will inspect it. Please tell me why would one invest in a fake Arizona Iced Tea beverage stash can as your means to fool TSA? Maybe Russell has done it before and gotten away with it. It's human nature to repeat habits when you've gotten away with them in the past. In any case, be more creative D'Angelo, you're a restricted free agent now.
Sneak in the Food and the Booze, just don't get caught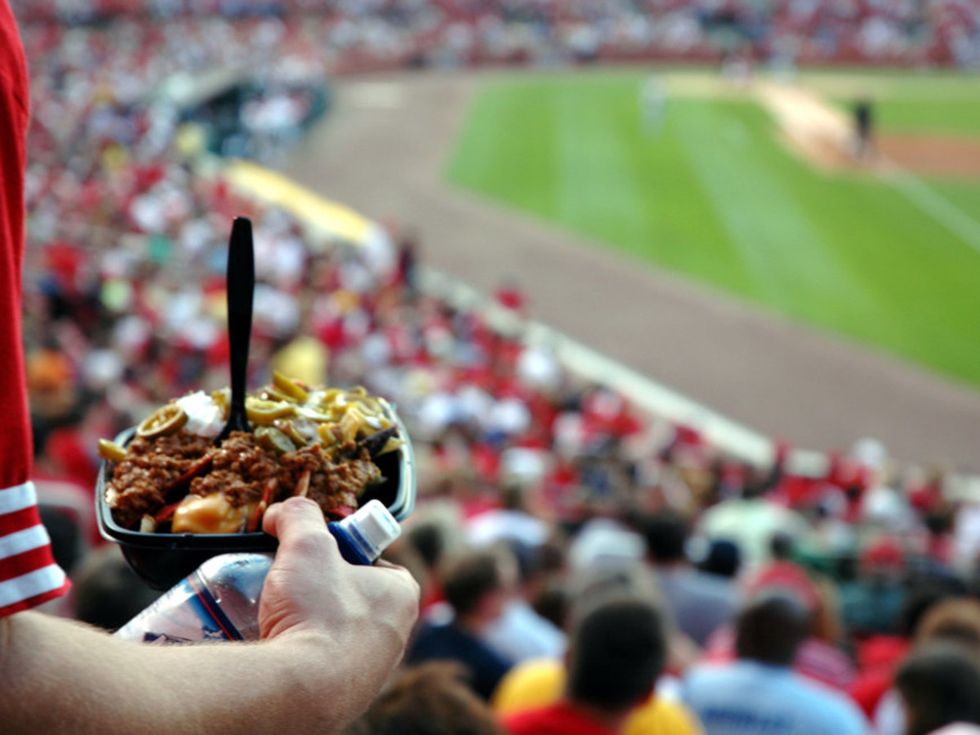 We've all attempted to sneak food or alcohol somewhere and more times than not, if you get away with it, it gives you the confidence to do it again. It's the only explanation I can manufacture for a multi-million dollar NBA athlete like D'Angelo Russell who may have a habit of smoking marijuana and felt an artificial Arizona Iced Tea stash can could be used to hide marijuana from TSA. Perhaps he's somehow gotten away with it in the past and has became a repeat offender. In any case, a risk I usually am not willing to take. Here are a few risks that I am willing to take. It a list of things I believe many of us are or could have been repeat offenders about.
1. Sneaking in candy to movie theater
Sneaking candy to the movie theater seems like the most common confession. It's easy to do. Nobody is really looking for it and the repercussions are minimal. Despite the fact that selling alcohol has become a trend in movie theaters, I would imagine sneaking in alcohol has become a trend to avoid higher prices.
2. Sneaking in alcohol to Texans games back in the day
All throughout middle school and high school the city of Houston did not have a football team. An NFL team eventually returned in the form of the Houston Texans right around the time I was old enough to drink. I'll never forget the first time I went to a Texans game. My entire goal was to go the Texans game, drink and drink on a budget. I bought the flask and quite a bit of alcohol. Skinny jeans weren't a big thing back then and you would be surprised what you could hide. I never stopped doing that until I started doing radio. I never stopped because I never got caught.
3. Sneaking in food to class
I absolutely loved sneaking in food to class when I could get away with it. Depending on where you went to school, this may or may not have been a problem for you. It most certainly was a problem for me at the middle school and high school level. I really hated eating breakfast. Waking up in the morning essentially ruined my appetite as a kid so the timing of my hunger never came at a good time. Normally I tried sneaking in food that did not have loud packaging or was incredibly loud to eat, but I was bold enough to sneak in Doritos and eat them in my day.
4. Sneaking in food and booze to Karaoke bars
At one point, I believed Karaoke bars were a dying industry, but I was wrong. It's still very much a real thing and getting patrons to spend a few bucks before they yell into a microphone can be a challenge sometimes. Some Karaoke bars may even have a two-drink minimum just to participate. A two-drink minimum is also common at stand-up comedic venues. Despite it crossing my mind, I've never had the tendency to sneak in the old flask to comedic events.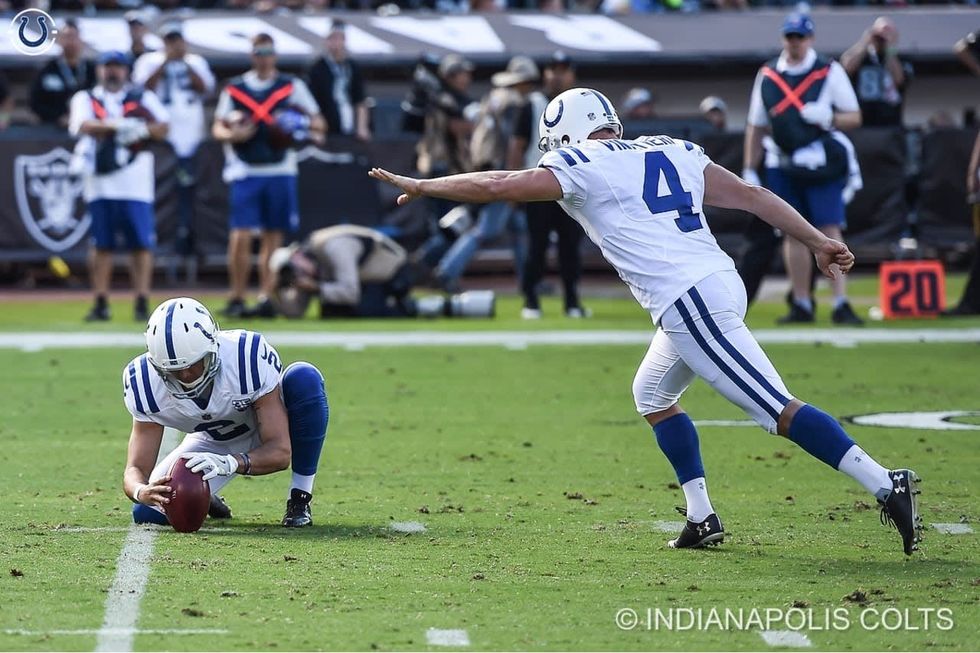 Colts team web site
Joel Blank, Barry Laminack and myself began to debate on the charm level of kickers and punters in the NFL. How well do they do with the ladies? We figured we'd call someone who's played at the NFL level. Chris Kluwe is a self-admitted geek who played eight seasons in the NFL and gave details on the success he's had with the ladies during his athletic career and the reality of that department among punters and kickers in the league. Listen HERE.
James Harden's Eyes could look red for a while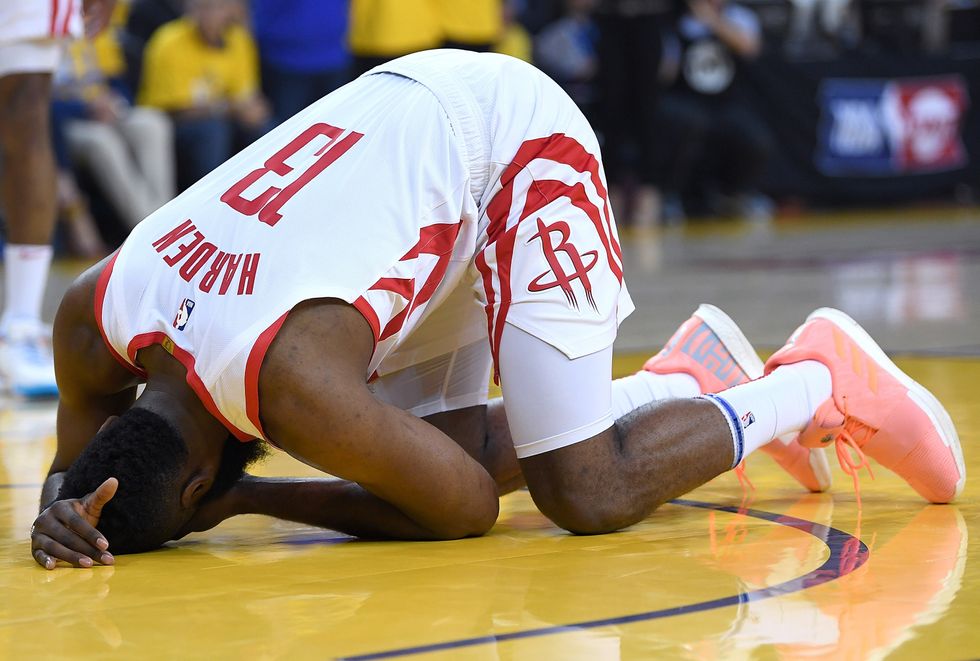 Photo by Thearon W. Henderson/Getty Images
Nobody wants to get poked in the eye. It's definitely going to impact performance regardless of who you are. As a superstar in this league, you would expect James Harden to play through it, and he did. Harden has a laceration in his eyelid and the redness is very apparent. Most likely there are blood vessels that have popped which can take two weeks to no longer be visible. Furthermore, Harden's vision can return despite having extremely red eyes. So as a Rockets fan, don't look at Harden's eyes every time you feel the game is not going Houston's way. It will only make you more angry. Only Harden knows how much this has impacted him. He feels the pain and knows if his vision has not returned to what it once was. Only he knows how sensitive his eyes are to light. He still was able to perform on the road with the injury, I imagine he'll do the same on Saturday at home.