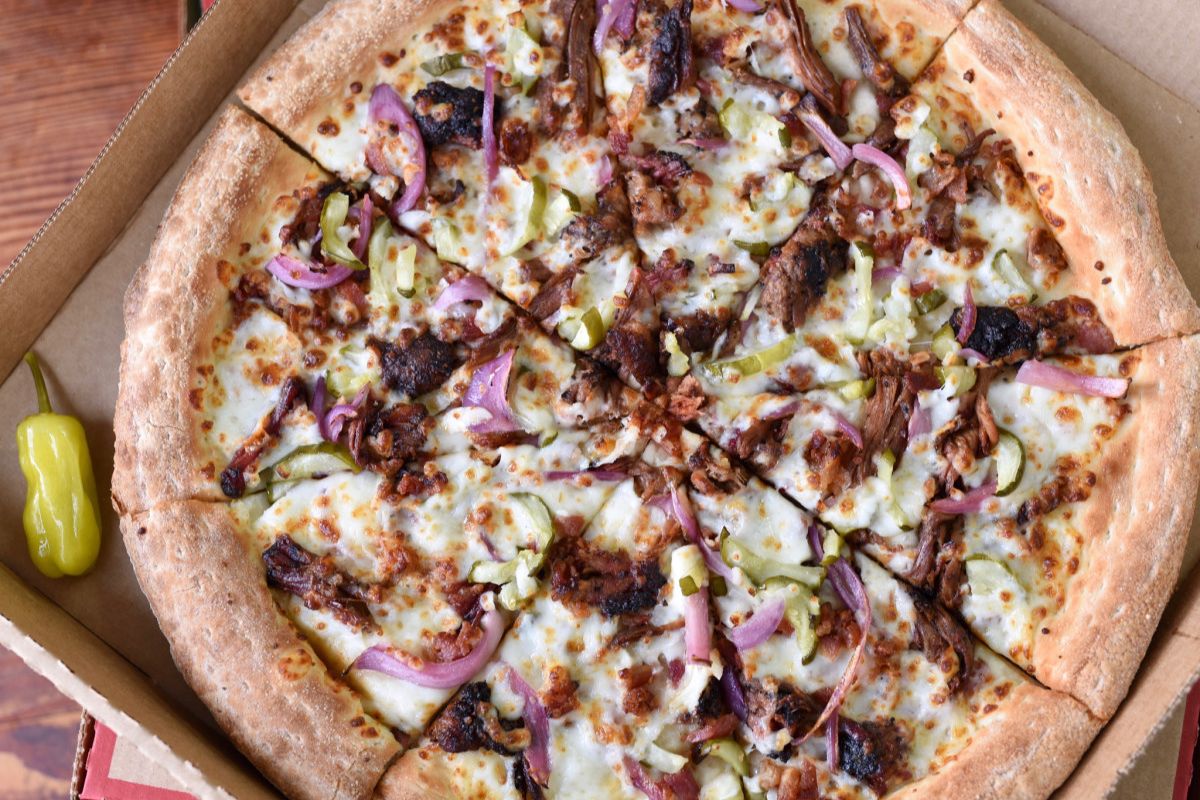 This article originally appeared on CultureMap.
This week, I reached out for out for new — uh oh, worlds are colliding — Killen's BBQ Brisket Pizza from Papa John's ... with an asterisk. This mashup of food giants, Killen's Barbecue restaurant and Papa John's Pizza, is only available at Keith Sullins' "Houston Pizza Venture" group of 77 Papa John's Pizza locations in the Houston area.
Even though Killen's BBQ Brisket Pizza is not sold system-wide at Papa John's, Sullins still had to get national corporate approval for his Killen's collaboration.
"This was about an eight-month process," says Sullins. "It started when I was talking with Ronnie Killen at a Texans football game. Papa John's and Killen's Barbecue are both inside NRG Stadium. Jamey Rootes, the Texans' president, saw us talking and suggested that we should do something together. Ronnie visited our store down the street from his restaurant in Pearland, and that's how it started. Papa John's corporate gave us the go-ahead after checking everything out for food safety and other details."
Here's the blueprint: about 7 ounces of Killen's slow-smoked brisket, standard issue cheese, a ladle of pizza sauce, and a ladle of Killen's signature barbecue sauce on either thin crust or hand-tossed crust. It's a unique flavor, for sure.
While we don't have exact nutritional numbers, a typical Papa John's pizza with meat toppings has about 300 calories and 16 fat grams per slice. We do have the precise price: $17.99. Expensive, but you're getting real-deal, internationally celebrated Killen's brisket without having to wait in line outside his restaurant. Time is money.
CultureMap food editor Eric Sandler recently had the brisket pizza delivered. Here's his take:
Part of what makes brisket taste good is its rich, fatty texture, but shredding the brisket mostly ruins that. On the plus side, the smoke comes through strongly enough to cut through the dominant flavors of the cheese and sauce. The pickles and onions provide some welcome crunch and pops of acidity that help balance out the flavors, too.
As delivery pizza goes, it's solid. If I had to choose, I'd lean towards Cane Rosso's new Tuesday night special that uses brisket from Truth Barbeque — they cut it into cubes to preserve the texture — but that's only available in one place on one night of the week. Full credit to Ronnie Killen and Papa John's for figuring out how to make their pizza available for lunch and dinner citywide.

Bravo, Eric. Now here's my take:
Going in, I had one chief concern: would this be actual Killen's barbecue, or just some knockoff that Killen put his name on for a money grab? It's like that with Nathan's Famous hot dogs, one of my favorites, but only at a legit Nathan's hot dog stand. When you buy Nathan's hot dogs in the supermarket, the name's the same, but all similarity ends there.
Sullins assures me, the Killen's brisket on Papa John's pizzas is honest-to-goodness Killen's brisket. Well...it's brisket prepared according to Killen's obsessive specifications by J Bar B Foods in Waelder — as Sandler recently reported.
It's a quantity thing. Seventy-seven Papa John's restaurants demand lots and lots of brisket. As Killen told Sandler, after reaching confidentiality agreements, Killen gave the J Bar B staff his recipe and exact instructions how to prepare and cook the brisket. It was Killen who came up with the 50-50 sauce. He wanted to maintain some old school pizza flavor in his new barbecue pizza.
Continue reading on CultureMap to find out Hoffman's verdict on the pizza.
When Bryce Young and CJ Stroud were drafted with the first two picks of the NFL Draft, we knew they would be compared to one another for years to come.
And here we are just 11 games into the season and one quarterback has already seen his head coach fired. Panthers owner David Tepper spoke to the media on Wednesday and discussed his decision to fire Frank Reich, and also set the record straight on how they arrived at the decision to draft Young.
In so many words, Tepper basically blamed the Texans for how the top of the draft played out. He mentioned Stroud by name and said the Panthers were ready to draft him at No. 2 overall until the Texans backed out of the three-team trade with the Bears.
Tepper made a point of saying everyone in their building had Bryce Young as the top player on their draft board, despite rumors about Frank Reich preferring Stroud.
CJ Stroud and the Texans have been so much better than Bryce Young and the Panthers that Tepper clearly felt it was necessary to defend himself, and the decisions he's made for the organization.
In the end, the person that gets the worst end of the deal is Bryce Young. Coaching changes can be very difficult on young quarterbacks. And it looks like he'll have to learn a new offense in his second year when the Panthers hire a new coaching staff.
How fortunate we are as Texans fans to have DeMeco Ryans and CJ Stroud leading the team moving forward.
With all of this in mind, is there a reason Texans fans haven't fully bought in to the new-look Texans? JJ Watt was a guest on The Pat McAfee Show this week and was asked about the team's inability to fill the stadium on Sundays.
As a former player for the Colts, McAfee always thought Houston had the loudest and best fans in the NFL. And while the Texans are 9th in attendance this year according to ESPN, even CJ Stroud has asked for the fans to fill the stadium.
So there is something to it. You can see the empty seats in photos. So why aren't the Texans packing NRG with a shiny new franchise QB?
We believe the recent history of the team is why fans are slowly coming back. McAfee wasn't here for:
Bill O'Brien cussing at fans during games
Trading DeAndre Hopkins away for next to nothing
The Jack Easterby disaster
Deshaun Watson allegedly blaming ownership for why he wanted out
The Deshaun Watson scandal
Firing back-to-back coaches after one season, and the list goes on.
Don't miss the video above for the full conversation!
If you enjoy the videos, subscribe to SportsMapTexans on YouTube!
SportsMap Emails
Are Awesome