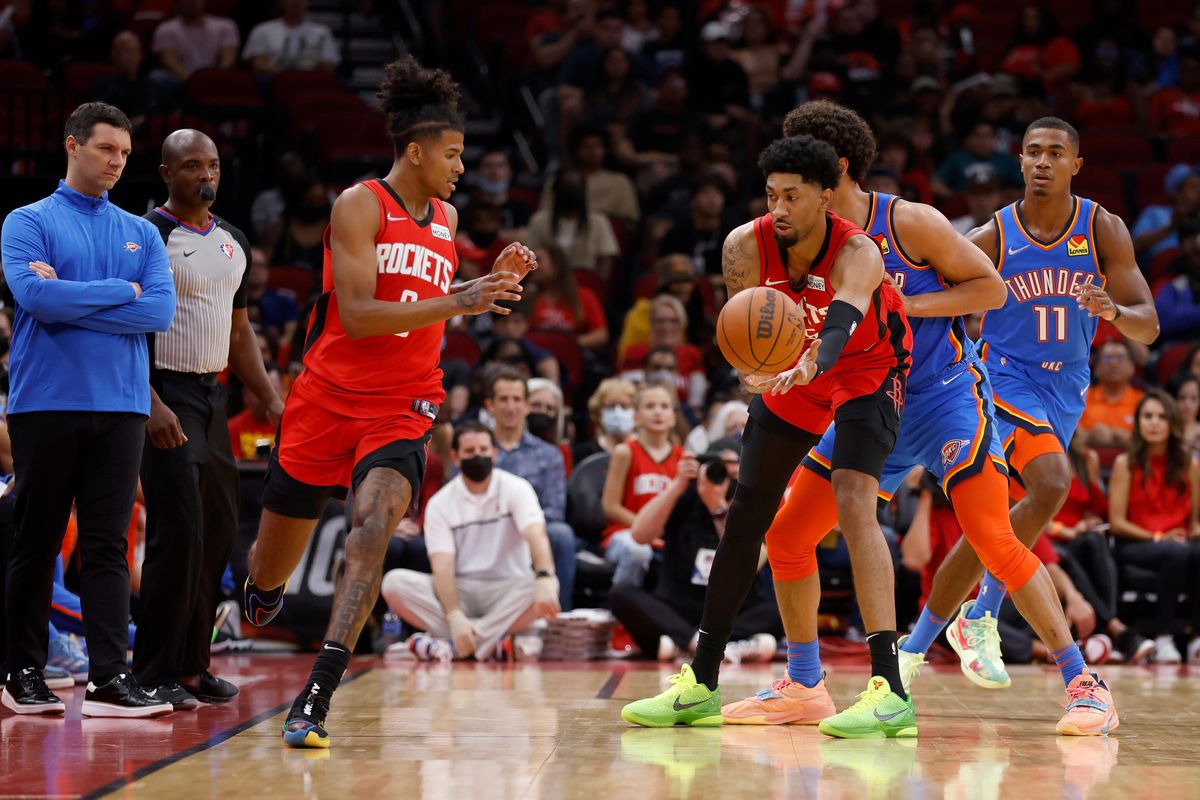 Rockets take care of business in home opener. Photo by Tim Warner/Getty Images.
The Houston Rockets had an impressive outing versus the Oklahoma City Thunder after an embarrassing loss against the Minnesota Timberwolves Wednesday night. They took care of business at home on Friday night, which was a surprising blowout. The Rockets didn't have to worry about Karl-Anthony Towns screaming at Alperen Sengun or Anthony Edwards telling Coach Silas to call a timeout. Instead, they took their frustrations out on the Thunder (another younger core).
"We responded and bounced back from that game 1," Silas said. "I wouldn't say it was taking anything out. It was just learning and applying to what you learn and that's going to be us this year. Applying to what you learn and getting better and having some games like we had the other day. Veteran teams have some games when they don't play as well they want."
Christian Wood led the way, as he controlled the paint on all aspects with rebounding and putbacks. He played an incredible game after having a poor performance versus the Timberwolves. Silas showed complete trust in allowing Wood to open sets, as he walked the ball down the court several times, and in transition too. Wood became aggressive on the perimeter with open shooting and tough shots, and long strides towards the rim. He finished the night with 31 points and 13 rebounds off 66 percent shooting from the field.
The young core for the Thunder had a tough night defending Wood from every aspect. Hopefully, he keeps this play up. Silas loved the space that was created throughout the game for Wood, which included the help from Eric Gordon, as he continued to play better. Wood continues to develop underneath the Silas umbrella. He had a great feel for off-the-dribble shooting a few times. Wood becomes more dangerous when space is created on the court.
"It allows me to show what I can do. It allows the floor to be open and I can create for other guys and create for myself," Wood said.

As Gordon continues to impress, his teammate Kevin Porter Jr was amazed with his performance.
Gordon looked marvelous inside and outside of the paint, as it looked like a time ripple. The younger guards of the Thunder had a tough time staying in front of Gordon. His size and strength gave the Thunder a huge problem. Gordon is shooting the ball better too, as he is shooting the three-ball at 70 percent this season. Although it's a small sample size, Gordon is trying to overcome his shooting struggles from last year. Gordon finished with 22 points on 66 percent shooting versus the Thunder.
"EG is the biggest part of this squad," Porter said. He comes in and just scores. We need somebody off the bench to do that. He is our guy when me and J come out, it's EG time and he knows that, and comes in aggressive. So much energy on the bench, and we need that every night from him if we want a chance to win."
As I recently mentioned Porter, his facilitation did look better versus the Thunder than the Timberwolves. Porter had nine turnovers in his first game but managed to have two Friday night. He made great slip passes and found open teammates in the open corner. Porter forced a good number of passes versus the Timberwolves but looked more relaxed Friday night. The hardest position in the NBA is the point guard position, but Silas will not allow Porter to fail. Instead of nine turnovers, Porter dished out nine assists. Silas said:
"Bounce back right, going from nine turnovers to nine assists… I think he had two turnovers tonight, which is great. He is making plays for his teammates, and he was really focused."
Porter's shiftiness and creative ability allowed his teammates to get open looks near the rim. He had 18 points because of his step-back threes and first step going towards the basket. Thankfully, Porter is a great ball handler, which confuses defenders on different spots on the court. It's almost like watching a ballerina skate on ice in the Olympics. Hopefully, his confidence continues to get better throughout the year. Porter shot the three-ball at 50 percent tonight. Efficiency is key for Porter this year.
"I'm just trying to let the game slow down," Porter said. "I had a lot of turnovers last game and I just wanted to piggyback and learn from them and learn from some of my forced passes and reads. And sometimes I still force it a little bit. My guys hate that, and sometimes I'm still passive and I'm working on that. When to pass and score and bounce it out, and tonight I felt like I did a good job of that."
"Another one!"- DJ Khaled
That's the first thing that came to mind when I heard the news of Tytus Howard being shut down for the season because of a knee injury. They've had more injuries on the offensive line this season than Nick Cannon has Father's Day cards. Almost every member of the offensive line has spent time on the injury report. Howard went down in the same game in which Juice Scruggs was finally on the active roster. He missed the first 10 games due to a hamstring injury. The irony of next man up has never been so in your face.

The other thing that came to mind was the soap opera As the World Turns.
Howard had just signed an extension this offseason. So did Laremy Tunsil and Shaq Mason. They drafted Juice Scruggs, and signed a few guys too. Those moves, along with other holdovers, were expected to fill out the depth chart. Then a rash of injuries struck. At one point, only one of the original five guys expected to start was playing! In fact, they beat the Steelers 30-6 with that backup offensive line!

One can't have the expectation of backups to perform as good as the starters. They're professionals and are on an NFL roster for a reason. However, the talent gap is evident. One thing coaching, technique, and preparation can't cover is lack of ability or talent. The Texans have done a good job of navigating the injury minefield this season. While the Howard injury will hurt, I have faith in the guys there still.
As of this writing, the Texans are in the eighth spot in the AFC playoff picture. The Steelers, Browns, and Colts are all in front of them at the fifth through seventh spots respectfully. They've beaten the Steelers already. They play the Browns on Christmas Eve and their starting quarterback is out for the season. The Colts are relying on the ghost of Gardner Minshew to steer their ship into the last game of the season vs. the Texans with a possible playoff trip on the line. The Broncos and Bills are the two teams immediately behind them. They play the Broncos this weekend. Even though they're on a hot streak, this is the same team that got 70 put on them by the Dolphins. The Bills are the old veteran boxer who still has some skill, but is now a stepping stone for up & comers.
To say this team should still make the playoffs would be an understatement in my opinion. I believe in them and what they have going on more than I believe in the teams I listed above. That includes teams around them in the playoff race that aren't on their schedule. The one thing that scares me a little moving forward is the sustainability of this line. When guys get up in age as athletes, it becomes harder to come back from injuries. The injuries also tend to occur more frequently when it's a knee, foot, ankle, shoulder, elbow, or another body part critical to blocking for C.J. Stroud.
I know they just re-signed three of those guys and drafted one they believe can be a starter, but depth and contingency plans are a way of life in the NFL. We see how important depth was this season. Why not plan ahead? Don't be surprised if the Texans spend valuable draft capital on the offensive line. By valuable, I'm talking about first through third or fourth rounders. Those are prime spots to draft quality offensive lineman. Whether day one starters or quality depth, those are the sweet spots. The only guy on the two deep depth chart for this offensive line that wasn't drafted in one of those rounds was George Fant, who was an undrafted rookie free agent. While I highly doubt they spend any significant free agency dollars on the group, I'm not totally ruling it out.
The bottom line is, this team will be okay on the line for the remainder of this season. The only way that doesn't happen, more injuries. Stroud is clearly the franchise guy. Protecting that investment is a top priority. I don't care about a number one receiver, or a stud stable or singular running back if the quarterback won't have time to get them the ball. If the pilot can't fly the plane, you know what happens. So making sure he's happy, healthy, and has a great crew is of the utmost importance.
SportsMap Emails
Are Awesome